OPINION | Redefining Lunacy: Hindu Outfit's Threat to Aligarh Schools on Celebrating Christmas
The Aligarh chapter of the Hindu Jagran Manch, an RSS affiliate, wrote a letter to schools asking them not to "force" children to celebrate Christmas. This, they say, might "pollute" the minds of young Hindus and draw them towards Christianity.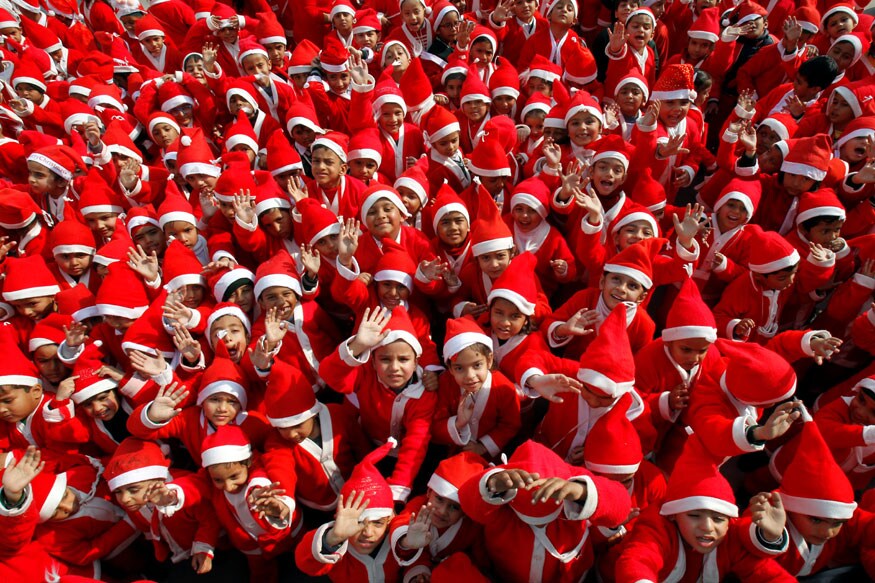 Children dressed in Santa Claus costumes wave as they participate in Christmas celebrations at a school (Representative image/Reuters)
These days, there are moments in journalism when you ask yourself — how does one define lunacy? Which act of the fringe should you ignore and which one should you highlight? But just this once, let us tell you about a lunacy redefining act — of asking kids not to celebrate Christmas. You ask why? They might want to become Christians!
The Aligarh chapter of the Hindu Jagran Manch, an RSS affiliate, wrote a letter to schools asking them not to "force" children to celebrate Christmas. This, they say, might "pollute" the minds of young Hindus and draw them towards Christianity.
The UP police has imposed a very heavy penalty if they are seen near a school spreading trouble.
I speak less as journalist and more as a father as I write this.
I am reminded of my school days and the excitement around the Christmas fete. Neither I, nor my classmates, saw Santa Claus as a Christian trying to play the Pied Piper and luring us into conversion. I can say the same for my children. This isn't X-mas jihad.
Where else would we have learned about all religions and festivals at that age, if not for school? Why do we want to turn our children into assembly line clones when it comes to religion?
"Santa Claus is the most charming endearing character in the lives of all children. They grow up excited to know what gift Santa gets for them. An experience in every child's life till he discovers Santa isn't real. And you have people here who want to make Christmas into an episode for hate," said Congress spokesperson Sanjay Jha.
The real problem here are the likes of Sonu Savita, the man representing Hindu Jagran Manch in Aligarh. There are many like him who haven't fully understood the "conspiracy" they want to fight. But they do certainly want to be seen fighting it.
Earlier this month, Maharashtra Chief Minister Devendra Fadnavis' wife Amruta was trolled on Twitter for launching the 'Be Santa' campaign for underprivileged children in Mumbai. Even Mumbai BJP president Ashish Shelar was trolled for supporting a Christmas event.
Earlier this year, Hindu Jagran Manch activists in Indore made seven children get off a Mumbai-bound train. They were headed for a Bible reading class.
In all these cases, these "saviours" of Hindu religion have cited a deep rooted "international conspiracy" as justification for their act. Most of these cases are highlighted and then forgotten. I am not sure authorities go beyond basic warnings and detentions. To these self-appointed protectors, I would say: Spare our children please.
Aarti Mittal, principal of Mother's Touch School in Aligarh,m says: "It is normal to celebrate festivals in school. And we have never made it mandatory for any child to get Christmas trees and decoration items. The idea is for them to enjoy."
But a warped logic almost always follows on the ground. "Do you get children to learn the Gayatri mantra with the same vigor as Christmas carols?" asks Hindu Jagran Manch's Son Savita
Now how does one counter this logic?
There are some like humhindu.com founder Ajay Gautam, a dial a comment TV guest, who has brought in environmental concerns also. "Schools promote the use of plastic Christmas trees. have they ever asked children to get a tulsi plant?"
The likes of Ajay Gautam and Sonu Savita present their street logic. But if I too get down to their quality of argument, I have a counter question. Where do the environment loving Gautams and Savitas go when tonnes of religious waste wrapped in plastic is dumped into our rivers?
Uttar Pradesh seems to be the perfect political laboratory too for pro and anti-Christmas arguments.
Ghamshyam Tewari of the Samajwadi Party says: "This is the nature of BJP and its affiliates. Hindu Jagran Manch has now become Hinsa Jagran Manch. Pick up their track record of the last 6 months and you will know how they have been emboldened. They run 'ghar wapsi' campaigns, they threaten anyone they can. Many such saviours of Hindu dharma would not even know the meaning of their own Hindu names.
The fear factor is feeling that Hindus are being forced to convert.
Brother Joseph Dias, General Secretary of The Catholic Secular Forum, has a very interesting take. "This issue has never arisen because there is no proof on the ground that Christians got into conversion. In fact, students from all communities pass out from our (convent) schools. But the Christian population has remained 2.3 million. So I ask, where are all these converted Christians? This is only a bogey that has been raised by the fringe elements."
Brother Joseph speaks in the wake of the following incidents.
Police stopped a prayer meeting at a church in Maharajganj district in April this year after the Hindu Yuva Vahini called it a cover for religious conversion. More than 150 people, including 11 Americans, were in attendance. A complaint was filed against the pastor. That's the last one has heard of the case. No progress.
In June, a Catholic nun and four tribal girls were detained, after the Bajrang Dal complained she was trying to convert them. The nun said she was escorting the girls, who hailed from Jharkhand, to study in Bhopal. Again, not much headway in the case since.
In April, three Christians were arrested from a village in Khandwa district, also in MP, on charges of converting people. Not much came out of this either.
"What you are witnessing in the country today is a very well-orchestrated campaign at creating religious unrest. All these things are happening because of the track record of the highly controversial political figures like Yogi Adityanath," says Jha.
I debated this issue on CNN-News 18, which my 6-year-old daughter watched. When I came back home, she detained me at the main gate: "Why were you so angry about Xmas?" Didn't have the heart to tell her the contents of the debate.
Spare our children please.
Get the best of News18 delivered to your inbox - subscribe to News18 Daybreak. Follow News18.com on Twitter, Instagram, Facebook, Telegram, TikTok and on YouTube, and stay in the know with what's happening in the world around you – in real time.
Read full article