GET Stock

Quotes


OPINION | The Hypocrisy Of Ivanka Trump Speaking On Women Empowerment In India
In her greatly inspiring speech, what she conveniently forgot to mention was her business ventures that have longed exploited low-wage workers, mostly women.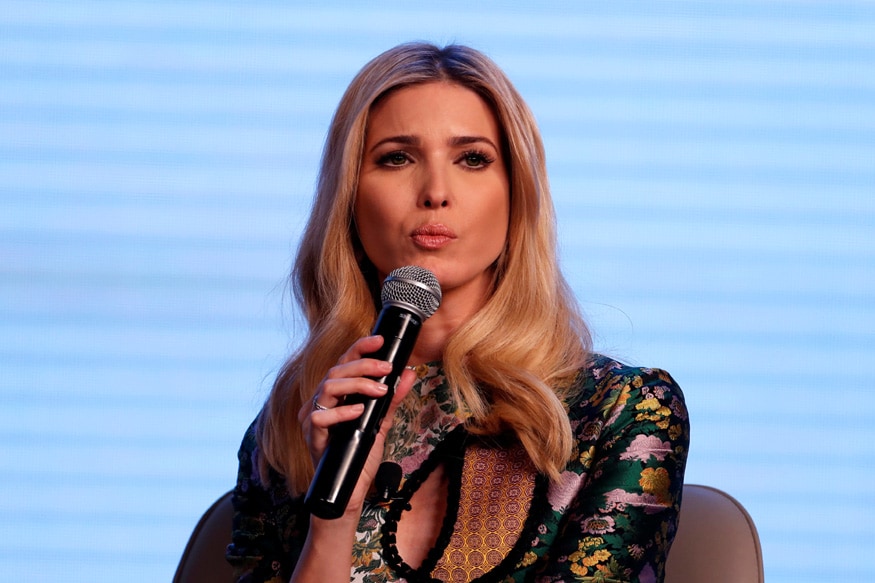 Ivanka Trump attends the Global Entrepreneurship Summit in Hyderabad on Tuesday. (Photo: Reuters)
Ivanka Trump said the word 'women' 48 times in her speech at the Global Entrepreneurship Summit in Hyderabad on Tuesday. When Ivanka, an informal adviser to her father US President Donald Trump said "we must ensure women entrepreneurs have access to capital, access to networks and mentors, and access to equitable laws", there were loud cheers from a packed audience in a heavily-guarded conference center. At some point, Prime Minister Narendra Modi smiled too. No one in that room blinked an eye.
Meanwhile, on the other side of the world, from where Ivanka had arrived - the criticisms didn't stop. Was Ivanka the right person to talk about women's empowerment? Maybe not.
In her greatly inspiring speech, where she said that the US administration is "committed to empowering women entrepreneurs through domestic reforms", what she conveniently forgot to mention was her business ventures that have longed exploited low-wage workers, mostly women, to make the clothing and merchandise that bear her name.
Earlier,
an investigative report from the Washington Post
traced shipments of Ivanka Trump-branded goods using US customs logs and international shipping records. It found the company relies on factories in countries including Bangladesh, Indonesia and China. The Post had reported, citing industry experts, "Trump's apparel company, which she still controls, exclusively relies on foreign factories in places such as Bangladesh, Indonesia, China and India, where mostly female workers are paid a few dollars a day for long hours."
Ivanka's company, in their own words, doesn't inspect the factories where its workers produce its clothes, nor does it, like some other small apparel brands, hire a third-party company to do so. In fact, they don't have any plans to do so either.
While Ivanka kept calling for more support for working women around the world, her silence about the largely female garment workforce in India and other Asian countries that makes her clothing was deafening.
Robert Weissman, President of Public Citizen said that Ivanka's #WomenWhoWork campaign, and her latest remarks in India should "ring hollow" given her record on labour issues. "Another international trip, another empty, platitude-filled speech from Ivanka Trump," he said.
Earlier this year, Ivanka published a book aimed at working women in which she described "inspiring and empowering women who work" as "my mission throughout my entire career."
She then went to Saudi Arabia and told a group of women that her goal is "to help empower women in the United States and around the globe." She went to Japan and spoke about "an avalanche of allegations of sexual harassment in the entertainment and political world". Incidentally, it just revived memories of Donald Trump's boast, "Grab them by the pussy!" In a leaked videotape that emerged during the presidential campaign, Trump had said he could get away with sexually assaulting women.
Ivanks's silence throughout her father's systematic efforts to undermine women's health and rights is disturbing to say the least. Let's admit, standing idly as Trump supports bill after bill taking aim at women's access to everything from birth control to workplace safety while positioning herself as an advocate for women in the workplace is odd.
The organization, which analysed Ivanka's work on women's and working families' issues
in a report card graded her 'F'.
"Ivanka Trump has branded herself as a supporter of women's empowerment and has positioned herself as the point person on women's issues within the Trump administration. Yet, she also wants the luxury of only being judged based on her work on a few signature issues while ignoring the breadth of women's challenges and the very real impact of the administration's actions on women's lives," it noted.
"But she cannot have it both ways. Women do not lead single-issue lives and a women's empowerment agenda driven by the White House cannot continue to ignore the diverse realities that all women bring to the table—from women of color, to LGBTQ women, women with disabilities, immigrant women, and women of different religious, educational, and socio-economic backgrounds," it added.
Is being a champion of women's rights just about photo ops and tweets for Ivanka? Unless she pushes back on the Trump administration's misogynist agenda, is it really 'working for women rights? Is she advocating for all women, or just women like her?
Unless Ivanka fixes the problem at home, a speech on "women empowerment" has no meaning.
| Edited by: Aakarshuk Sarna
Read full article
Countdown To
Elections Results
To Assembly Elections 2018 Results