OPINION | This Wedding Season, Wear Red Like Hadiya to Celebrate Love
On Monday, we finally met the Hadiya whose words made it to the front page headlines of newspapers. Dressed in a red abaya, she stood calmly in the courtroom for her turn to speak.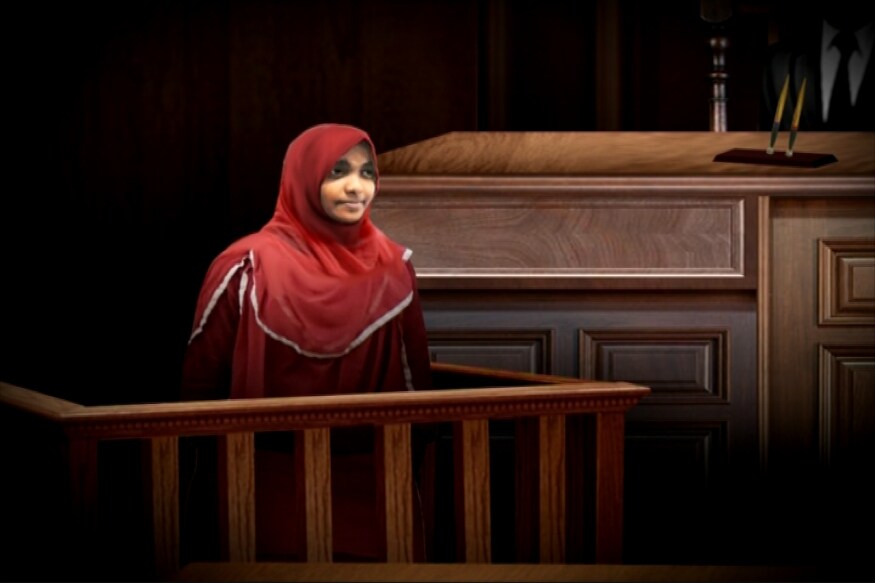 Network18 Graphic.
Men have always worn their loyalties on their heads. Their choice of headgear and clothes are a sign of their internal condition. The sartorial sub-text of Hadiya's appearances in media are worth noting and of personal interest to me as a fashion entrepreneur.
From her first pictures as a glowing bride in pink with white and gold tones, one was demureness, with the pink hijab—firmly bordering her face—announcing her Muslim faith. A faith people questioned. What if the young woman in 'soft' colours had been brainwashed?
Later, we met Hadiya of dark or black hijabs. She was disturbed, separated from her husband. She was placed under house arrest and news reports carried words like 'love jihad', 'restriction', 'indoctrination', 'pressure', 'free will' and 'radicalization'. Her hijabs were often an indication of her condition—dark colors, or mismatched prints.
On Monday, we finally met the Hadiya whose words made it to the front page headlines of newspapers. Dressed in a red abaya, she stood calmly in the courtroom for her turn to speak. For almost two hours, lawyers from both sides debated her personal life and a certain remark was made on her mental condition. But she stood her ground. When her turn came, Hadiya was as assertive as the deep red she wore. "I want my freedom," she said. She was confident and brave in a room full of men, just like the silver lining in the horizon… and her hijab.
Was there a subtext to why Hadiya chose solid reds as she stepped out into scrutiny of the world media after being under house arrest for months? It could either be a conscious choice or a natural inclination.
Either way, both Hadiya's emotions and clothes lent themselves to each other. Not only they made her stand out distinctly but also pronounced that she was not bogged down and that she will continue to stand by the colors of her love.
Clothes have always held great symbolic value. Historian Mushirul Hasan traced the journey of a London barrister's silk hat to the Mahatma's homespun khadi in his book on Gandhi. The Ali brothers sported "grey astrakhan caps" with Turkish symbols. Muslim League ridicule forced Zakir Hussain "to change his cap". In recent times, Prime Minister Narendra Modi's turbans have been a signifier of political messaging. The sartorial sub-text of the politics of fashion cannot be dismissed.
But dressing for a part is easier than living it. Muslim women politicians have always had it more difficult to dress up for their roles. While the men can easily slip into sherwani/kurta.
With the 'censor board' of clerics who hold sway over 'maryada', women politicians have a balancing act to play. Women like Hina Rabbani Khar or Benazir Bhutto have captured imaginations with their choice of wardrobe in neighbouring Pakistan.
Seasoned Indian women politicians have mostly stayed in the elegantly safe zone of Saris like Najma Heptulla or Mohsina Kidwai. Sidibé (Mali), Touré and Boye (Senegal) have been female Prime Ministers sporting turbans. Their choice of dress signaling power play, allegiances, and cultural symbolism.
Sukarnoputri (Indonesia), Jahjaga (Kosovo) and Çiller (Turkey) are examples of Muslim women leading their country in short hair and pearls. Each of these women are successful, assertive and Muslim. And as diverse while representing their country as the Muslim ummah is.
As for Hadiya, her clothes spoke as much as her words. The question is, will we finally listen to her as an individual or will we continue playing politics at the cost of her liberty?
(Nazia Erum is founder of The Luxury Label and author of the forthcoming book, 'Mothering a Muslim')
Get the best of News18 delivered to your inbox - subscribe to News18 Daybreak. Follow News18.com on Twitter, Instagram, Facebook, TikTok and on YouTube, and stay in the know with what's happening in the world around you – in real time.
| Edited by: Huma Tabassum
Read full article