OPINION | Will India Finally Act In Maldives, Picture to Get Clear in Next Few Weeks
Political unrest in Maldives entered a crucial stage in July when the opposition moved an impeachment motion against the Speaker.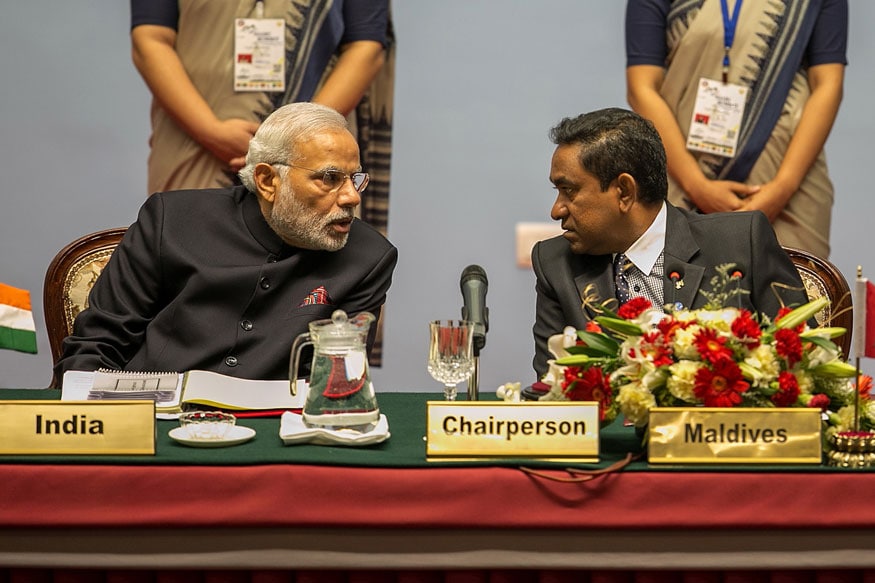 Narendra Modi, Prime Minister of India, speaks to Abdulla Yameen, President of the Maldives (File Photo: Getty Images)
After turning the tables quietly on China in Sri Lanka two and a half years ago, India finds itself on the cusp of repeating this success in another SAARC nation in the Indian Ocean – Maldives. Only if India were willing to go the distance, that is!
It was in January 2015 when China's then staunch friend Mahinda Rajapaksa unexpectedly lost the Sri Lankan presidential election and his former cabinet colleague Maithripala Sirisena emerged from nowhere and pipped him to the post to become the president. Sirisena couldn't have managed this feat without a helping hand from India. Suddenly, China lost a powerful friend and the Chinese influence in Sri Lanka took a back seat overnight.
Now, another great friend of China, Maldivian President Yameen Abdulla Gayoom finds his foot on the banana peel and has been hemmed in by an increasingly strident Opposition led by his predecessor Mohammed Nasheed, a known friend of India and a fierce critic of China.
But before we take this point further, it would only be proper to give an update on the ongoing Maldivian political turmoil for the uninitiated, what India can do and has actually done so far.
Yameen has been so badly pushed to the wall in trying to stave off impeachment of Majlis (Parliament) Speaker Abdulla Maseeh Mohamed, his crony, that he may himself get impeached. He knows that this is precisely what the Maldivian United Opposition has been striving for. Therefore, he has tried every possible trick to not let the Opposition's hands reach the throat of the Speaker, Yameen's last wall of defence.
Political unrest in Maldives entered a crucial stage in July when the opposition moved an impeachment motion against the Speaker. As many as 45 Members of Parliament, including 15 defecting MPs of the ruling party, signed the motion. This development effectively meant that the Yameen government had lost majority in the 85-member parliament.
On 24 July, the day when the Opposition's no-confidence motion against Maldivian Speaker was scheduled to come up, Major General Ahmed Shiyam, the chief of the defence forces, ordered his troops to seal off and then storm the Parliament. Since then the military has prevented Parliament twice more from taking up a motion to impeach Speaker by locking down the premises.
The Yameen government came up with a virtual midnight political coup on August 25 when major opposition leader Jumhooree Party MP Qasim Ibrahim was sentenced to 38 months in jail in absentia. Ibrahim's sentencing is part of persecution of the Maldivian opposition since submission of impeachment motion against parliament Speaker. Ten more Maldives opposition MPs are on trial, three more have had their passports seized, while MP Faris Maumoon remains arbitrarily detained.
The Maldivian Majlis or parliament is the strongest institution in the country which can impeach even the president provided the motion is carried through with two-thirds majority. For this, the opposition requires the support of 57 MPs, not an undoable thing if they get rid of the Speaker.
Yameen's game plan is simple: not to allow the opposition have its way and if you can't defeat them politically then put them in jail so that they are not in a position to fight. Yes, the presidential elections in Maldives are due next year but if Yameen were to stick to power by hook or crook and keeps the opposition reined in till then who knows whether he would hold the presidential elections at the scheduled time in the first place.
Now, let's come to the vital part of the story: what India has done so far and can do in near future. Well, India has maintained a stoic silence since Nasheed lost power in a political coup four years ago and since his incarceration began shortly thereafter. Indian reactions/statements on the Maldivian political developments have been extremely rare, largely because India didn't want to give an impression of interfering in the internal developments of a small neighbour.
Significantly, Maldives is the only SAARC country which Prime Minister Narendra Modi hasn't visited thus far. This tells volumes about India's unease with the Yameen-led Maldives.
But now the Indian government has made a significant move quietly. Nasheed was invited earlier this week for attending a foreign ministry-sponsored seminar and he came, his first visit to India in three years.
It's a very significant move of diplomatic symbolism. Yameen would be blind not to see the obvious message. The move signals that India is now openly willing to embrace Nasheed. And for his part Nasheed did his bit by telling the Indian media that he and his Maldives Democratic Party (MDP) have been wooed by China in the recent past but he has consistently fobbed off Beijing.
This should give hope to lots of Maldivians who have been clamouring for a pro-active Indian support but not getting it all these years. The iron is hot. If the Indians exert more pressure on Yameen he will be forced to hastily prepare an exit plan. But the million dollar question is: will New Delhi push the envelope? Next few weeks should be interesting to watch!
(Rajeev Sharma is a strategic analyst and columnist who tweets at @Kishkindha. Views are personal)
Read full article