OPINION | Here Are 22 Solutions That Can Fix Delhi's Toxic Air Problem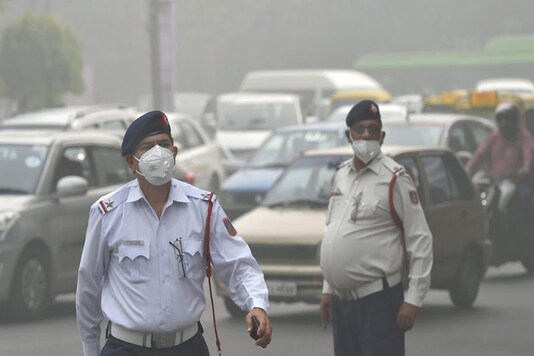 Representative image.
As the Delhi government is trying to find ways to curb pollution, here's a list of 22 things that the government can do to fix the pollution problem.
Nothing is looking better in Delhi — that is if you can look beyond the smog. The odd-even rule is coming back, trucks have been kept off NCR roads and parking fee has been hiked to deter the use of private cars.
As the Delhi government is trying to find ways to curb pollution, here's a list of 22 things that the government can do to fix the pollution problem:
1. Stop trucks from plying within Delhi city limits between 6am and midnight.
2. Strict enforcement of lower pollution norms: Trucks and buses mixing kerosene and diesel should be impounded, and fined.
3. Buses from other states should be allowed to enter Delhi only if they meet certain pollution norms. Right now, they're spewing horrible black smoke with carbon particles and there's no pollution check on them.
4. Constant monitoring of garbage dumps such as those in Bhalswa and New Ashok Nagar and any fire incidents at these places need to proactively put out. Remember what the Chembur dump fire did to Mumbai? Not as bad with Bhaslwa, but still pretty bad.
5. Complete ban on burning of leaves in Delhi through the year. MCD workers do this all the time, through the year.
6. Shut down the Badarpur power plant. Delhi government has a solar plan, speed that up.
7. All construction activity in Delhi should be done with draping, to ensure that dust and dirt doesn't fly into the air. This is done everywhere else in the world.
8. Dust soppers can be run through Delhi roads regularly, every morning.
9. Increase frequency of metro trains through the year, not just when there is more pollution. Single card/token for bus + metro to make travel convenient.
10. Disallow all vehicles older than 15 years in Delhi. I still see old Bajaj Chetaks spewing smoke.
11. All commercial transportation vehicles need to be CNG or electric. Lots of goods carriers in Delhi do not have CNG, but also not meet pollution norms.
12. Improve short-run feeder services to Delhi Metro stations. Right now, this is grossly insufficient. The electric vehicles guys actually charge more than the metro does.
13. Ban firecrackers through the year for next 5 years, not only during Diwali. After 5 years, for Diwali, designate an area in each district for bursting firecrackers, if at all.
14. Set up a realtime-pollution monitoring system across Delhi: at least 100 sensors should be live in Delhi-NCR. Right now, the data is different for different systems, and quite often, sensors don't work.
15. Have a protocol for govt action for different pollution levels which should be enforced and followed. Govt is failing in doing this, even though there is a protocol. That's just irresponsible of the govt.
16. To prevent burning of wood etc during peak winters, build shelters for the homeless to sleep at night in the winters. Some of this has been done by the govt. More needs to be done.
17. Increase fines on vehicles not meeting pollution norms. Fine them so heavily that they'll not risk it. Enforcement is key, and Delhi Traffic Police doesn't do a good enough job here.
18. Government vehicles, especially MCD vehicles, clearly do not meet pollution norms. Better enforcement here. Never seen Delhi Traffic Police fine a government vehicle. In fact, even police buses don't appear to meet pollution norms.
19. Force Ola/Uber to do a certain number of pool rides, to allow them to ply in the city. Forces them to incentivise pooling. Might make regular rides more expensive, so let them subsidise car-pooling. No carpooling allowed right now from airport. Strange.
20. Allow setting up of offices in residential areas in Delhi and Noida. Currently, not enough office space in Delhi/too expensive because of scarcity, and more people have to commute across the city, or to Noida/Gurgaon.
21. Move Brick kilns out of Delhi within 3 years. This was done with tanneries almost 20 yrs ago.
22. Finish the eastern expressway (Central government has to do this). Nitin Gadkari had promised this within 400 days, back in September last year.
Author is the founder of MediaNama. Views are personal.
Next Story