Orphaned But Won't Be Cowed Down, Shujaat Bukhari's Team Writes In Fitting Tribute
The Rising Kashmir team also reproduced excerpts of Bukhari's weekly column, On The Record.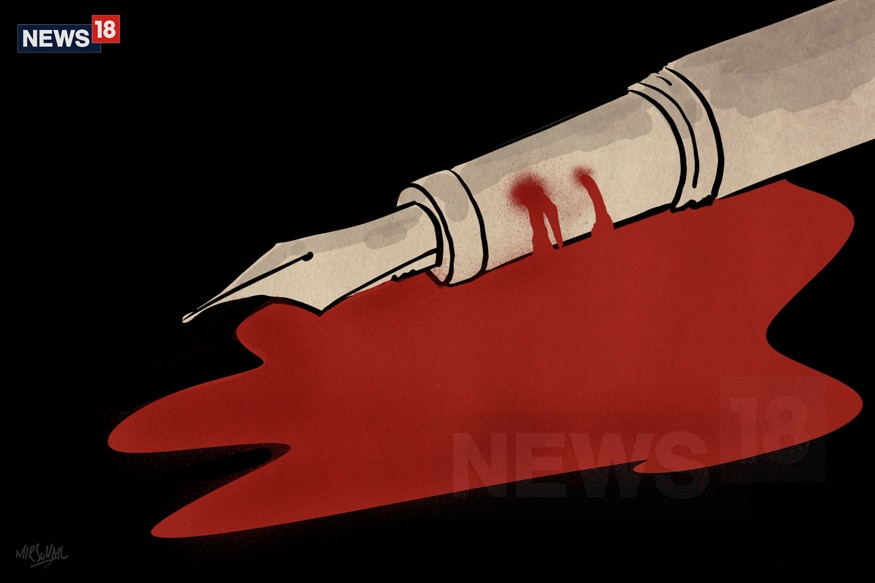 A News18 Creative by Mir Suhail
New Delhi: In one of his last tweets, veteran journalist Shujaat Bukhari wrote, "In Kashmir, we have done journalism with pride and will continue to highlight what happens on the ground."

A day after he was brutally murdered by bike-borne men, journalists in Kashmir held on to what Bukhari said.

In a fitting tribute to the man considered a voice of reason and a mentor by many across the country, newspapers in the Valley captured Bukhari's life in words that he had written and more.

On Friday, his team at Rising Kashmir, a daily he founded in 2008, carried a front-page photograph of him.

"You left all too sudden but you will always be our leading light with your professional conviction and exemplary courage. We won't be cowed down by the cowards who snatched you from us. We will uphold your principle of telling the truth howsoever unpleasant it may be…," the paper captioned it.

As they showed phenomenal grit by bringing out the paper in full, with all the happenings in the Valley and beyond, the Rising Kashmir team also reproduced excerpts of Bukhari's weekly column, On The Record.

His writings included those on Kashmir being at the altar of India-Pakistan relations, how justice was buried halfway in the Machil fake encounter and on why talks must go on.

"His demise is an irreparable loss to the institution, the Rising Kashmir family, journalism fraternity and the voice that relentlessly endorsed the path of peace and reconciliation… He believed in the strength of institutions and was committed to the cause of institution building… He also endorsed vernacular press and represented a strong voice on preservation of culture and language…," Rising Kashmir further wrote.

The paper also carried a collage of photographs of bereaved family members, the site of the murder and the hospital, wherein they titled the page as "Rising Kashmir Family Orphaned".

Another leading daily, Greater Kashmir, too started its publication with a tribute to the veteran journalist.

Many have called it a black day for journalism, and Greater Kashmir carried its tribute to Bukhari in the same colour.

Calling him a versatile voice, the paper wrote in depth about his life and his relentless efforts in reviving Kashmiri culture and language.



Read full article
Countdown To
Elections Results
To Assembly Elections 2018 Results