Over 300 Held as Maratha Quota Activists Hold 'Jail Bharo' Agitation
In Mumbai and elsewhere, at least 335 persons were detained during the day.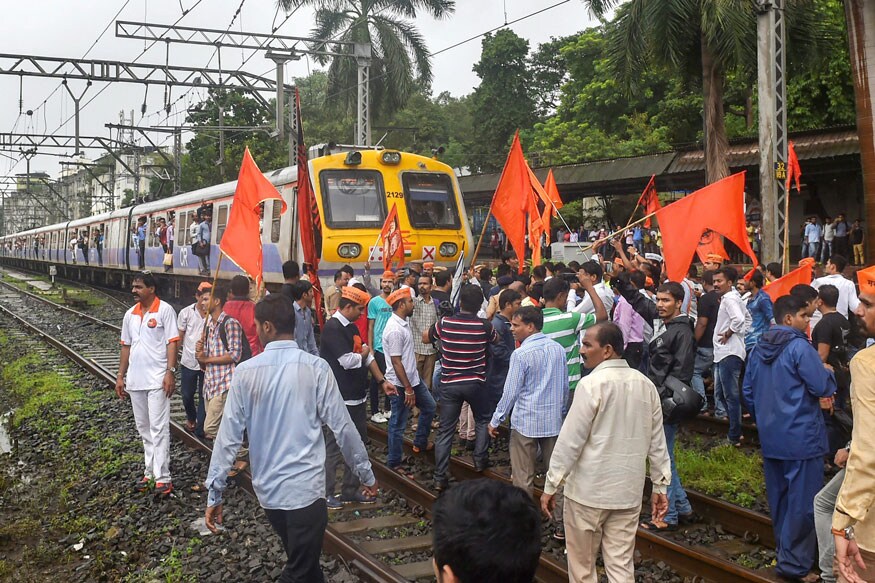 File photo: Maratha Kranti Morcha protesters stop a train during their statewide bandh, called for reservations in jobs and education, at Thane in Mumbai. (Image: PTI)
Mumbai: Maratha activists held 'Jail Bharo (fill the jails)' protest at various places in Maharashtra on Wednesday, demanding immediate introduction of reservations in jobs and education for the community.
In Mumbai and elsewhere, at least 335 persons were detained during the day. They were released later. No violence was reported from any place, police said.
Pro-quota groups led by Maratha Kranti Morcha organised Jail Bharo at Azad Maidan in south Mumbai, where police detained 34 persons. They were released later, a police official said.
Rail and road traffic in the city was not affected by the protest. Police had made adequate security arrangements in view of the agitation, said the officer.
"We have lost confidence in Chief Minister Devendra Fadnavis. His assurances of offering reservation are hollow," Kedar Shinde, a protester at Azad Maidan, said.
Agitators also staged a demonstration outside the residence of Labour Minister Sambhaji Patil-Nilangekar in Latur district.
Protesters blocked a portion of Pune-Solapur National Highway in Solapur, police said.
Farmers in Hingoli district in the Marathwada region, which has witnessed most of the aggressive protests in the last 10 days, organised a bullock-cart march to demand quota for the community.
At least 65 protesters were detained in Pune district, a rural police official said. Pro-quota agitators also organised a rally at Junnar in the district, he added.
In Madha in Solapur district, at least 50 protesters were detained.
Eleven protesters were detained at Pandharpur when they locked the gate of the Tehsildar office under a "Tala-thoko" agitation. Police took agitators in custody after opening the gate.
Over 150 protesters were detained at Malegaon in Nashik district and 25 at Ambejogai in Beed district.
In every case, protesters were briefly detained under the Maharashtra Police Act and were let off after being "reprimand", police said.
The politically influential Maratha community constitutes 30 per cent of the state's 12 crore population. The quota agitation had turned violent in the last 10 days.
The community's demands include 50 per cent reservation in jobs and education, implementation of the capital punishment given to accused in the Kopardi rape case and amendment of the SC/ST (Prevention of Atrocities) Act to prevent its misuse.
So far, six people have committed suicide in the state during the ongoing agitation. Eight persons tried to set themselves on fire in Latur district during a protest yesterday, but police foiled the attempt.
Read full article
Countdown To
Elections Results
To Assembly Elections 2018 Results