INDIA
9/11 terrorist's passport found in Pakistan province
Documents hint Said Bahaji was in Karach on September 4, 2001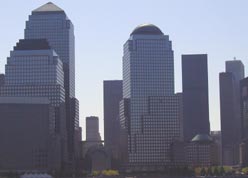 Documents hint Said Bahaji was in Karach on September 4, 2001
Washington: Pakistan has found the passport of a member of the Hamburg cell of al-Qaeda, suspected to have planned the September 11 terrorist attack, during the assault in South Waziristan this week, The New York Times reported.
In a village in South Waziristan, soldiers found a German passport belonging to Said Bahaji, an associate of Mohammed Atta, the leader of the 9/11 hijackers.
The passport was issued in Hamburg in January 2001 and was accompanied by a Pakistani visa dated March 2001. The documents indicated that Bahaji landed in Karachi from Istanbul on September 4, 2001.
"The apparent presence of Bahaji in the tribal areas of Pakistan is a clear indication that members of the Qaeda network--including participants in the 9/11 plot--have taken refuge here, as American officials, like Secretary of State Hillary Rodham Clinton Thursday, have charged," the NYT report said.
Authorities said there were no indications that Bahaji had left Pakistan.
Bahaji had lived for eight months in Hamburg with Atta and Ramzi bin al Shibh, according to the 9/11 Commission Report.
He was described in the report as "an insecure follower with no personality and with limited knowledge of Islam".
It added: "Atta and Binalshibh used Bahaji's computer for Internet research, as evidenced by documents and diskettes seized by German authorities after 9/11."
A US counterterrorism official was quoted by New York Times as saying the documents "appear to be this guy", and that American officials believe "he's in Pakistan and is a senior Qaeda propagandist".
Soldiers also found a Spanish passport belonging to Raquel Burgos Garcia, who is believed to be Bahaji's wife. She wore an Islamic headscarf in her passport photo.
The army has mounted a major offensive against the Taliban in South Waziristan. The Taliban has carried out a series of terror strikes across Pakistan, including capital Islamabad. Nearly 200 people have been killed in the terror attacks that includes powerful bombings.
Support the daily wage earners who have been hit the hardest by the COVID-19 crisis. Click here to contribute to the cause. #IndiaGives
The daily News18 Coronavirus COVID-19 newsletter - Get your copy here.
Subscribe to News18 Daybreak. Follow us on Twitter, Instagram, Facebook, Telegram, TikTok and on YouTube
Read full article