GET Stock

Quotes


Pakistan adjourns trial of 26/11 attack accused
The trial at the Adiala Jail in Rawalpindi will now start on October 10.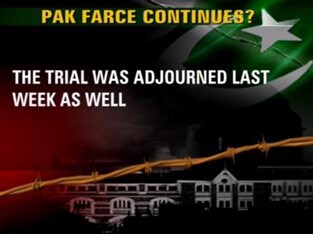 The trial at the Adiala Jail in Rawalpindi will now start on October 10.
New Delhi: A Pakistan anti-terror court on Saturday adjourned the trial of 26/11 Mumbai terror attack accused for the second time in just over a week.
The trial, which is to take place inside the high-security Adiala Jail in Rawalpindi, will now start on October 10.
Lashkar-e-Toiba chief Zaki-ur Rehman Lakhvi and communications expert Zarar Shah are among the seven accused of masterminding the attack who will face the trial.
The trail was adjourned on September 26 as well after the judge failed to turn up in court.
Special Public Prosecutor in the 26/11 case Ujjwal Nikam had on Friday asked the Pakistani authorities to conduct the trial in an open court.
"If the trial in 26/11 case is being conducted in an open court in Mumbai then what prevents Pakistan from not doing so?" Nikam said in Vadodara.
Pointing out the security arrangements for the 26/11 trials in Mumbai where Ajmal Amir Kasab, the lone terrorist captured alive during the terror strikes, were foolproof, Nikam added that open trial in the case only make it more transparent and leave no ground for raising doubt over credibility and reliability of trial.
Pakistani Foreign Minister Shah Mahmood Qureshi had said that the trial would begin on October 3 during his meeting with Indian External Affairs Minister SM Krishan in New York recently.
Among other promises made by Qureshi during the meeting was that Islamabad would file FIRs and chargesheets against 101 other suspects.
He also said FIRs and chargesheets will be filed against 20 proclaimed offenders.
India has already prepared six dossiers on the Mumbai terror attacks and given it to Pakistan. The dossiers include information on investigations carried out on the 26/11 terror attacks.
Read full article