GET Stock

Quotes


Powered by


Pak SC Verdict: Understand What it Means For Sharif, And its Impact on India
The Kulbhushan Jadhav case was seen by many as an attempt by the new Army Chief Qamar Javed Bajwa to assert himself.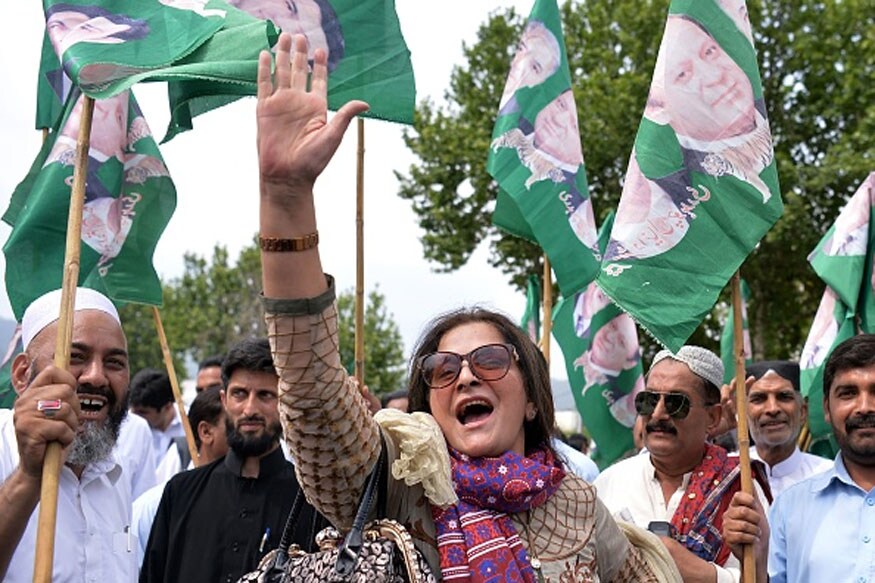 Pak PM Nawaz Sharif's supporters celebrate Supreme court decision on Panama Papers (Getty Images)
Pakistan's Supreme Court has ordered a probe into allegations against Prime Minister Nawaz Sharif by a Joint Investigation Team with a 60-day deadline. While the Sharif family is celebrating it as a victory, his fate remains uncertain. News18 speaks to defence and foreign policy experts to understand what lies in store for Sharif and what could be the possible ramifications for India:
'Pak Army happy with the way things are'
PRADEEP VASANT NAIK, FORMER AIR CHIEF MARSHAL: I do not think the verdict will have any effect on India-Pakistan Defence relations. We should not forget that the mass population of Pakistan is this rich Punjabi class and the principal opposition, Imran Khan, lacks popular support besides having support of money. Hence, no drastic reaction would emerge. Even the Pakistan Army does not look bent towards adventurism and is happy with the way things are. It's probably not going to impact the military policy. But having said all of this, India still needs to be careful.
'Kulbhushan Jadhav case shows Pak's new Army Chief asserting himself'
ASHOK BEHURIA, SENIOR FELLOW, INSTITUTE FOR DEFENCE STUDIES AND ANALYSIS: Every political party in Pakistan will want to interpret this verdict in its own way. The PML(N) will portray it as a victory, while Imran Khan will try and spin it as a success for his party. The Pakistan Peoples' Party may not want to join Imran, because many of its leaders are corrupt, but it might be equally happy. The question to ask is, how this changes Nawaz Sharif's relation with the Pakistan Army? Will the Army take advantage of a weakened Sharif to dominate the country's politics? And what does it mean for India-Pakistan relations?
The Kulbhushan Jadhav case was seen by many as an attempt by the new Army Chief Qamar Javed Bajwa to assert himself.
This was the first case, 5-6 months after taking over, where Bajwa asserted himself and it remains to be seen if the Army will assert itself yet again against the civilian government. Indo-Pak relations are a function of the Pakistan Army's attitude towards India. I don't think the Panamagate verdict will either improve or worsen Pakistan's relations with India because things are already in a bad state and will continue to be in a bad state regardless.
'I would be extremely surprised if JIT submits report in two months'
SAURABH JOSHI, EDITOR, STRATPOST: I do not feel this verdict is a surprise for the Sharif family. The order to set up a Joint Investigation Team (JIT) is not a huge decision… as much as Imran Khan would like to take advantage of it. I guess the situation will be different now if the Army decides that it is not satisfied with the current dispensation and would like to take matters in its own hands.
Any kind of uncertainty in Pakistan is always problematic for India. It can lead to instability across the Line of Control. We cannot deny that more the environment is uncertain in Islamabad, more the nefarious actors would emerge to use the situation to their advantage. Honestly, I would be extremely surprised if there is any report submitted by the JIT in two months as first there will be a battle as to who will be on the JIT panel… this will be a long drawn thing.
'Pak's Kashmir, India and nuclear policy in the hands of Army and ISI'
RAJESH RAJAGOPALAN, PROFESSOR, INTERNATIONAL RELATIONS, JAWAHARLAL NEHRU UNIVERSITY: Irrespective of what happens domestically in Pakistan, its Kashmir, India and nuclear policy are in the hands of the Army and the Inter-Services Intelligence (ISI). The ups and downs of domestic politics in Pakistan do not have an impact on India-Pakistan relations. Pakistan's India policy will continue as it is today, regardless of what happens or does not happen at the end of the 60-day period. I am not sure if India-Pakistan relations will get worse because of the Panamagate verdict because they are already pretty bad.
Also Watch
| Edited by: Nakshab Khan
Read full article