Palestine Recalls Ambassador to Pak for Sharing Stage With Hafiz Saeed
Waleed Abu Ali, the Palestinian Ambassador to Pakistan, had on Friday attended a rally called by Hafiz Saeed, also a key leader of Difa-e-Pakistan Council, a coalition of more than 40 hardline Islamic parties that advocate conservative policies and often targets India.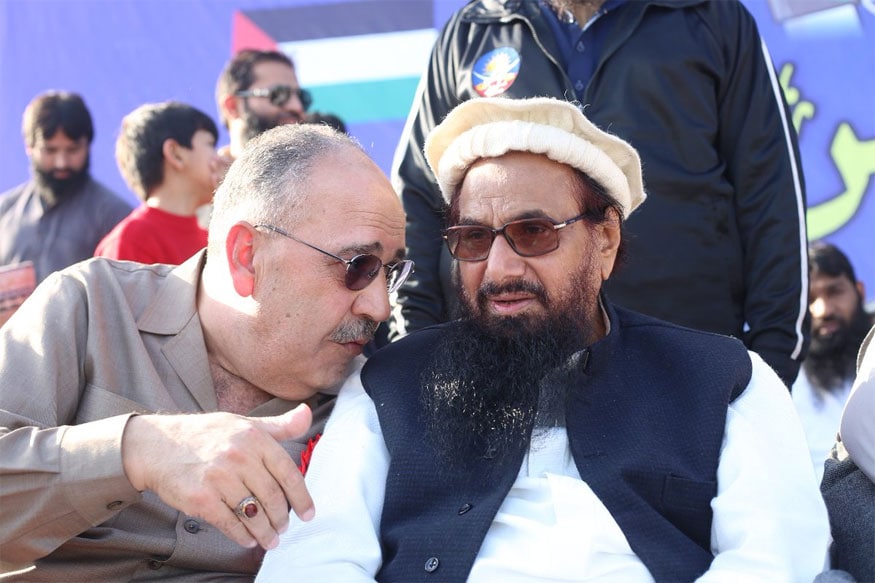 Photo tweeted by Pakistan MNA official handle.
New Delhi: Palestine has decided to recall its ambassador to Pakistan a day after he shared the stage with 26/11 Mumbai attacks mastermind Hafiz Saeed at an event in Rawalpindi.
Palestinian ambassador to India, Adnan Abu Al Haija, confirmed the decision soon after the ministry of external affairs said it had conveyed to him that Waleed Abu Ali's meeting with Saeed was unacceptable.
India's Secretary (economic relations) Vijay Gokhale in the external affairs ministry called Palestinian ambassador Haija to the South Block after which the ministry said, "the concerns were conveyed both in New Delhi to the Palestinian Ambassador and in Ramallah to the Minister of Foreign Affairs and Expatriates, State of Palestine."
Palestine expressed "deep regret" and assured the Indian government that it had taken serious cognizance of their ambassador's presence at Friday's event that was called by Saeed, who has been declared a "global terrorist" by the United Nations and is the founder of terrorist outfits Lashkar-e-Taiba and Jamaat-ud-dawa.
Asserting that Ali's action was not "acceptable" given the close and friendly ties between India and Palestine, the top envoy to India said Ali has been given couple of days to pack and return from Islamabad. "The Palestine government has told Ali that he was not its envoy to Pakistan anymore," Haija said.
"It was also conveyed that Palestine highly values its relationship with India and stands with us in war against terrorism and will not engage with those who commit acts of terror against India," the MEA said in a statement on Saturday.
Waleed Abu Ali had on Friday attended attended the Difah-e-Pakistan Council-organised rally in Liaquat Bagh in Rawalpindi on Friday. Difah-e-Pakistan Council is an association of religious and extremist groups in Pakistan, headed by Saeed. The hardline Islamic parties advocate conservative policies and often target India.
Saeed, who has been declared as a global terrorist by the United States State Department, carries a bounty of $ 10 million on his head. But more importantly, he is wanted by India on charges of being the mastermind of the 2008 Mumbai terror attacks, in which ten terrorists from the Lashkar-e-Taiba claimed over 160 lives and injured over 600 people.
This appearance by the Palestinian envoy came just days after India voted in the United Nations in support of Palestine and against the American decision to move its embassy from Tel Aviv to Jerusalem and recognising the disputed city as the capital of Israel.
Get the best of News18 delivered to your inbox - subscribe to News18 Daybreak. Follow News18.com on Twitter, Instagram, Facebook, Telegram, TikTok and on YouTube, and stay in the know with what's happening in the world around you – in real time.
| Edited by: Huma Tabassum
Read full article