Old Friends Palestinians Bugged as PM Narendra Modi Enjoys New Dosti in Israel
Palestinian Authority Deputy Foreign Minister Tayseer Jaradat asks why Prime Minister Narendra Modi didn't visit Palestine during the Israel tour.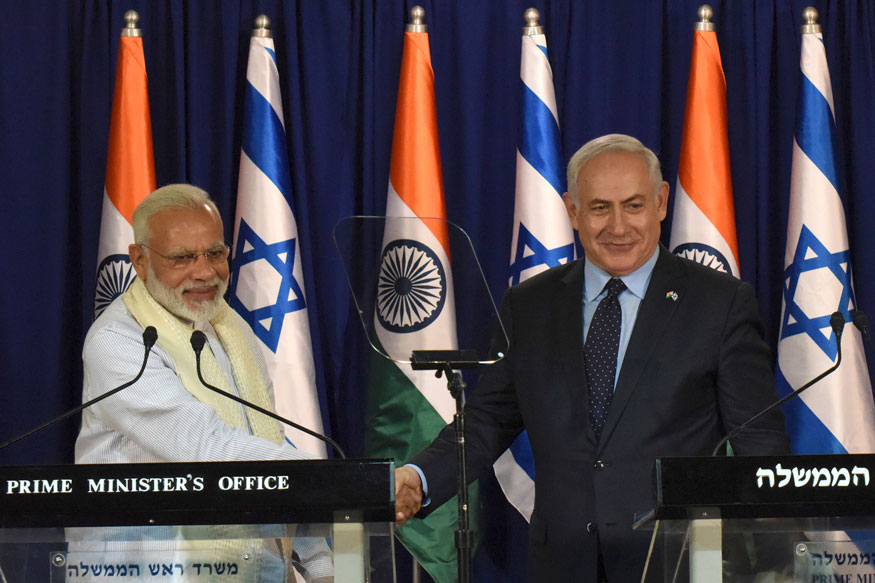 Prime Minister Narendra Modi, left, and Israeli Prime Minister Benjamin Netanyahu shake hands at Netanyahu's residence in Jerusalem, Israel. (Image: AP)
New Delhi: As Prime Minister Narendra Modi hugged his 'friend' Israeli Prime Minister Benjamin Netanyahu, he seemed to have angered Palestine.
A report in CNN has put the spotlight on the absence of Palestine. The report further states that it is upset with Modi.
Palestinian Authority (PA) Deputy Foreign Minister Tayseer Jaradat told CNN, "We would prefer it if the prime minister of an important country, like India, who is visiting the region, should also visit Palestine when he visits Israel."
The article further says that the Palestinian frustration with India started more than a year ago when India abstained from a UN Human Rights Council vote, which shocked the Palestinians. Historically, India was one of the main supporters of the Palestinian political movement.
Jaradat is quoted as saying the Palestinians feel that India has decided to enhance its cooperative relationship with Israel at the expense of the Palestinians.
In May, Modi hosted Palestinian President Mahmoud Abbas for a state dinner in New Delhi. The Indian Prime Minister had then reaffirmed the country's commitment to a two state solution and the Palestinian cause.
In an interview with the Times of Israel, Indian Ambassador to Israel, Pavan Kapoor, said, "We will continue to work with the Palestinians because we do support their cause. But at the same time we want to keep our relations with Israel independent of their relationship with Palestine."
| Edited by: Aditya Nair
Read full article