There is a phrase in Kashmiri called 'Yirwin-naav'. Literally, it means a boat caught in a whirlpool. But the phrase is generally used to describe that sinking feeling. Satish Kachroo (name changed), a Kashmiri Pandit, while talking to News18 often used it to describe his life.
Kachroo was 34 years old when, with his family, he fled Kashmir in the mass exodus of 1990. He is 61 now, back in Kashmir and scared again.
"It was a midnight in January '90. I can't exactly remember the date. They announced from loudspeakers to kill us. My cousin wanted to jump out from the window. Two of my friends were murdered. And that madness started just like this… what's happening today. There were stray attacks. People began whispering things when they saw us.
Battan gayi namt pat Yirwin-naav
(We Kashmiri Pandits have been in a whirlpool since 90s)."
Like thousands of other Pandit families, Kachroo shifted to a migrant camp in Jammu after the exodus. He lived there for 21 years. And like 2,000 other Pandit families, he returned in 2010 to avail benefits under the Prime Minister's relief package.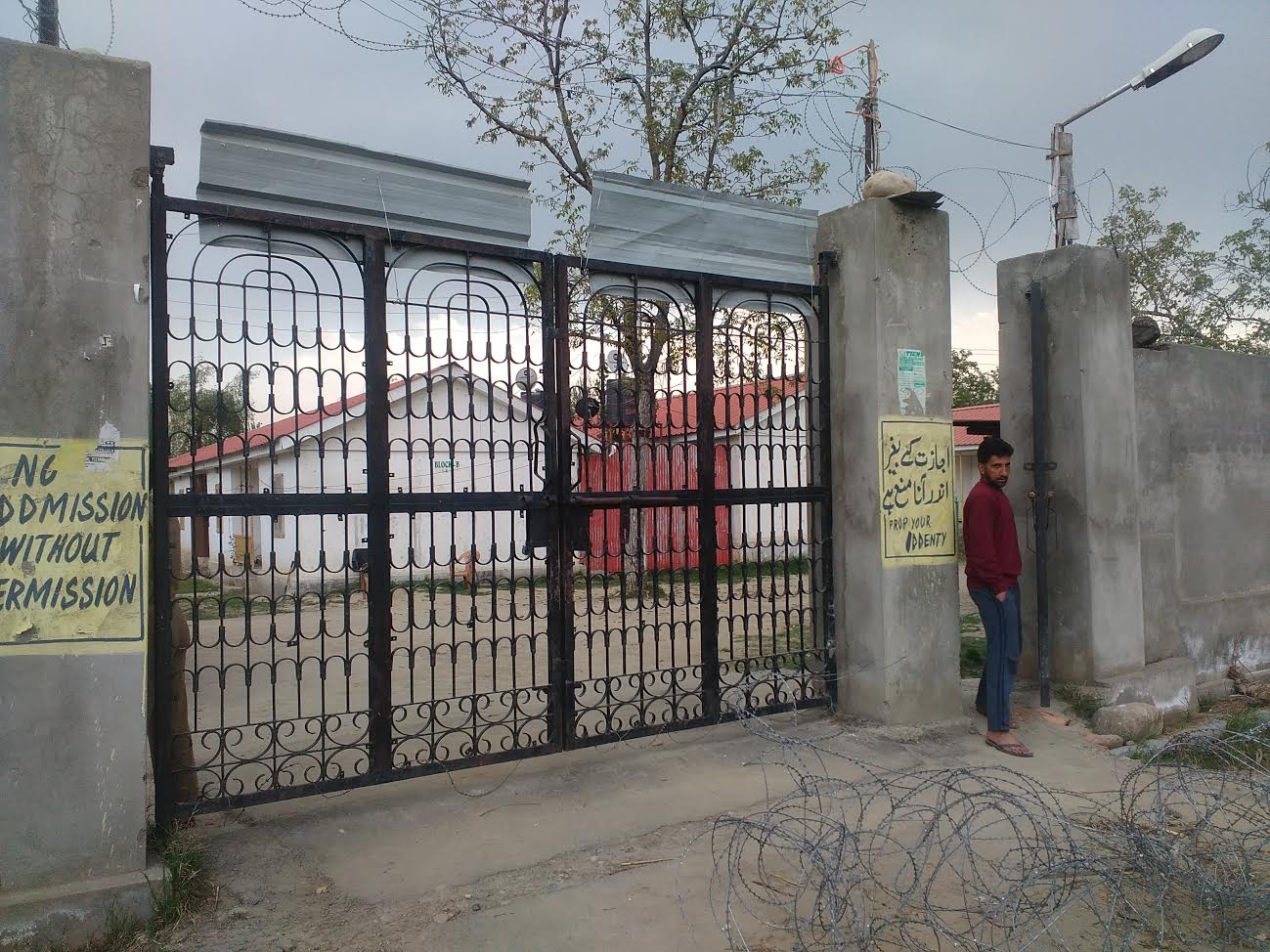 A deserted Kashmiri Pandit camp in Haal. No family stays here after mob attacks on it last July. (Suhas Munshi/News18.com)
But in the protests that broke out in July last year, after Hizbul militant Burhan Wani was killed in an encounter, migrant Pandit camps in Shopian, Anantnag and Vessu were attacked. Only a handful of families have returned to Vessu and Anantnag, but not even one family has returned to the camp in Haal, Shopian.
According to the organisation of resident Pandits in the Valley — Kashmiri Pandit Sangharsh Samiti (KPSS) — Pandit migrant camps, houses, businesses and religious structures were attacked 54 times in 2016 alone.
A Kashmiri Pandit migrant camp in Vessu, Qazigund. (Suhas Munshi/News18.com)
"Stones rained on our camp. Walls of the houses that were facing the road are still pockmarked with the impact of the stones. One boy very close to our camp was killed in retaliatory fire by police. What if another Burhan gets killed tomorrow? Where will we go then?" asked Kanhaiya Lal.
Another resident Sunil said, "We are living a hand-to-mouth existence. We have either to take risks or perish. Sometimes we don't have money to eat and we are forced to take jobs in the Valley. Then there are our children. There is a lot of frustration in our younger lot. They have learnt not to speak in public. Our children are one among hundreds in schools, our daughters travel 15 km every day to their offices.
Hamesha fikr lagi rehti hai
."
Sunil's house in Kulgam was burnt down in '92. He has sold half of his plot to survive through prolonged periods of unemployment.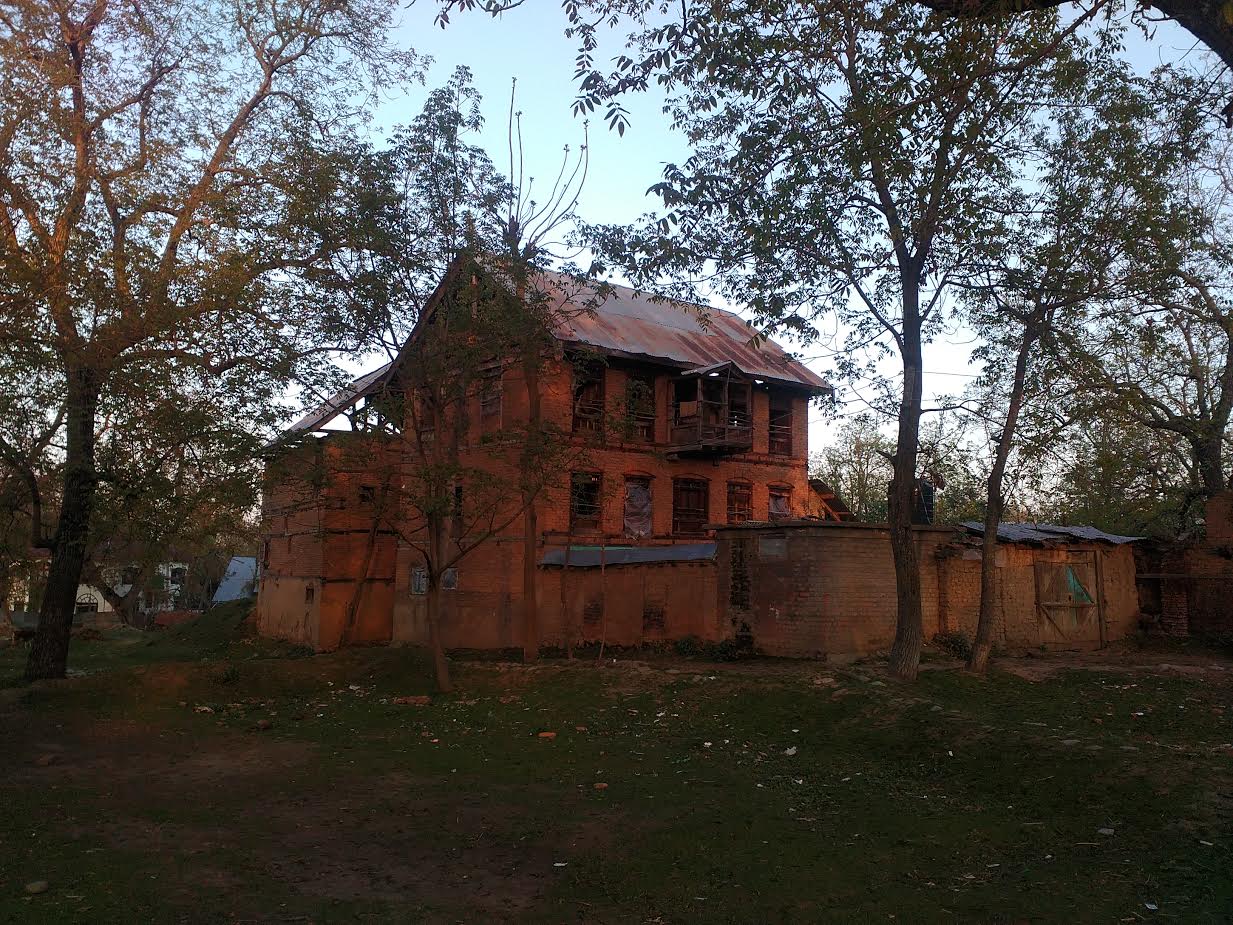 An abandoned house in Haal, Shopian. (Suhas Munshi/News18.com)
Little attention has been paid to the minority Pandit families living in Kashmir, even at a time when the Valley is seething with anger. Many Pandits that News18 spoke to said that neither the state government nor the Centre had even tried to talk to them.
"We are being treated like lab rats. If we survive, the state will claim the experiment successful. If we perish, no one will talk about us," said Kachroo.
With anger against the Indian state boiling over in the Valley, Kashmiri Pandits, who have historically been identified with the state, have again been pushed to the edge.
Sanjay Tickoo, the president of KPSS, chooses a different animal metaphor to describe the condition of Kashmiri Pandits living in the Valley today.
"We have been made into sacrificial lambs by the state. The state asked us to return and then left us to our fate. We are now living in a space from where we can neither live nor escape," said Tickoo.
There is a clear indicator of how hostility against Kashmiri Pandits has risen to unprecedented levels, said Tickoo.
"The situation is worse than it was in '90. I know of 35 families who lived in Qandikhaas, Kupwara, who travelled 225 km on road, through Qazigund in South Kashmir, to reach Jawahar tunnel and escape to Jammu. Similarly, seven families living in Damhaal Hanjipora, Kulgam, travelled nearly 100 km to reach Jawahar tunnel safely. They wouldn't have made it so far if the South Kashmiri Muslims did not want them to. They made it because of help offered by locals," said Tickoo.
But with South Kashmir itself turning hostile with, Pandit establishments in Vessu and Anantnag being attacked, Kashmiri Pandits have fewer reasons to be hopeful about a safe future.
Travelling through South Kashmir today, it is hard to believe that this part of the country once flourished with Kashmiri Pandit houses.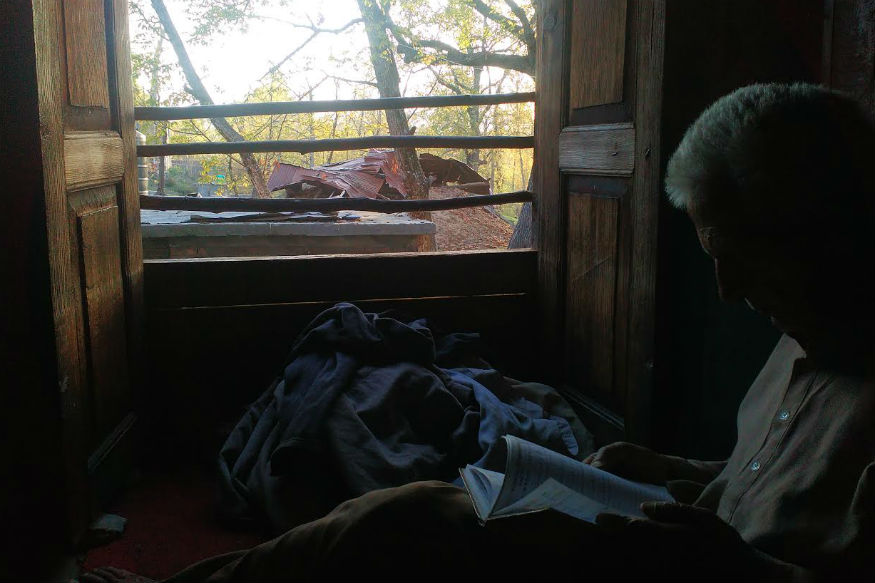 Omkarnath Bhatt, the head of the only Pandit family living in Haal. (Suhas Munshi/News18.com)
Haal in Shopian was one such hamlet of Pandits. Dozens of Kashmiri Pandits lived together here till 1990. Though most Pandits fled immediately, they did not sell their houses, perhaps in hope of inhabiting them again one day. But nobody has returned and the result is that today's Haal lies in ruins. Except for one family — Omkarnath Bhatt's — which stayed put even as one by one all his friends and relatives packed bags and left.
"I want to die where I was born," says 80-year-old Omkarnath Bhatt defiantly, when asked why he didn't leave like others. Bhatt lives in Haal with his two sons, one daughter-in-law and her child.
"All these political parties — BJP, NC, PDP, Congress — only make noises. Nobody ever comes here to talk to us, to ask about us, even as we live alone. Just the other day, a boy was killed in police firing right outside our house. There was a lot of outrage and huge procession. But nobody came to ask us about our condition," said Bhatt.
Bhatt is not the only Pandit who stayed back in Kashmir and feels ignored by the state. Pandit families say that for all the posturing that the state regularly does in asking them to return, it has never cared for those who stayed behind.
"Government has done absolutely nothing to assure the Pandits who stayed back, of their safety and the safety of their interests. We have been ignored by successive governments," said Vijay Dhar who runs Delhi Public School, Srinagar. It is one of the biggest schools of the Valley where more than 3,500 children study.
He is the only Kashmiri Pandit to have made huge investments in the Valley but he feels his interests threatened.
"The government has done nothing to reassure me. The only person I know who paid some attention to the work I have been doing was former president APJ Abdul Kalam. No other person has shown any interest. How do you think more Kashmiri Pandits will be encouraged to return?"
In 2015, the J&K government had told Supreme Court that despite the best efforts by the state, only one Kashmiri Pandit had returned to the Valley. Tickoo claims that the number of Pandit families living in the Valley is reducing by the day. There are only 808 Kashmiri Pandit families in the Valley today, he claims.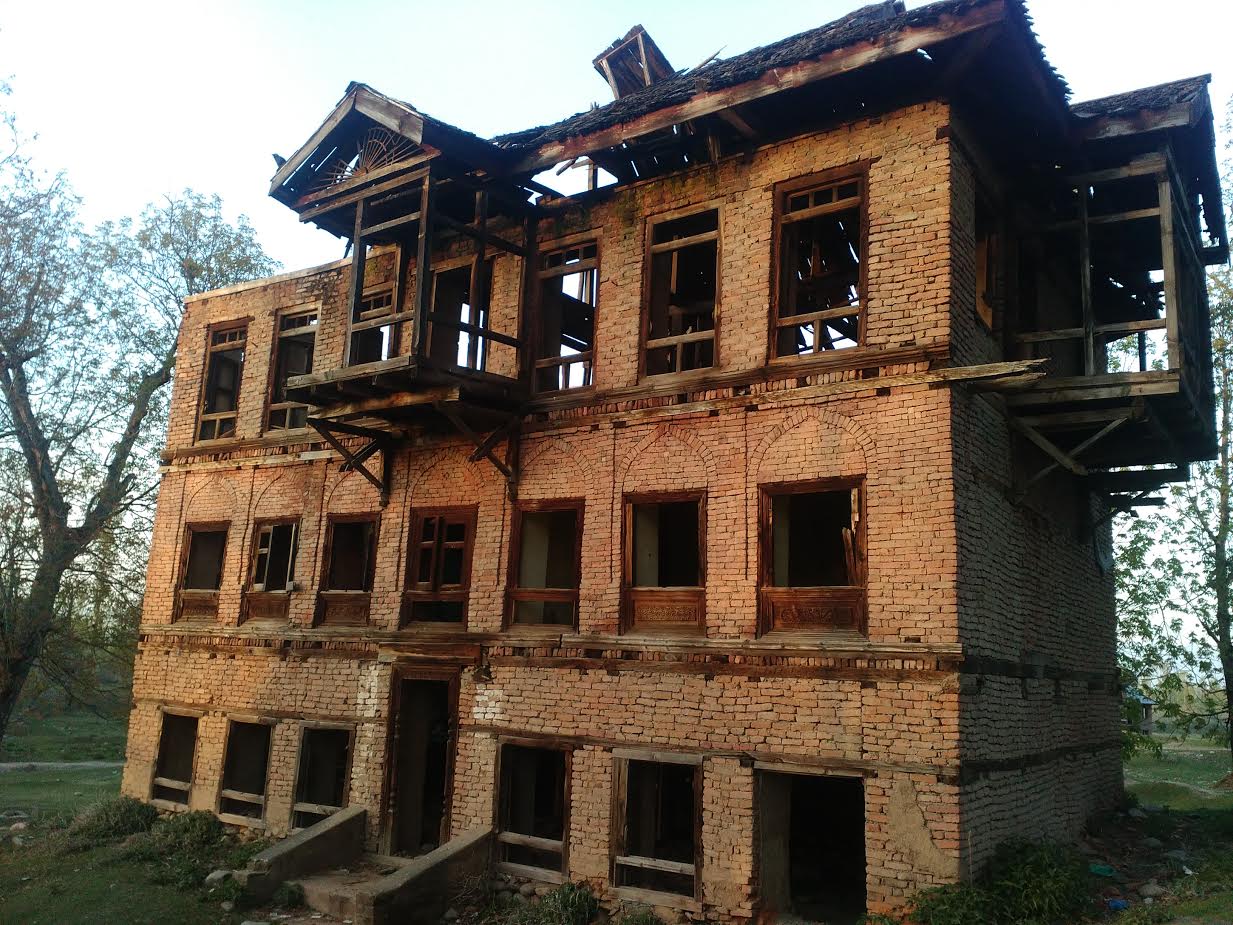 An abandoned house in Haal, Shopian. (Suhas Munshi/News18.com)
But not all Pandits who stayed back in the family are as bitter. Some like Dr Sameer Koul, an oncologist, have a home and an office in the Valley.
Dr Koul is often remembered in the Valley as the 'Kashmiri Pandit who saved separatist leader SAS Geelani's life'. He is as enmeshed and integrated in today's Kashmir as any Pandit can ever be.
After establishing his practice in the Valley, he joined PDP as its spokesperson only to leave it three years later. This April he formally joined National Conference as its official spokesperson. Dr Koul believes that Kashmiri Pandits have undoubtedly suffered but they need to move beyond their grief.
"There is no denying that as a community we have suffered quite a lot. But I think time has to come when we move beyond grief. The Punjabis from Lahore were able to move beyond their miseries and assimilate. Kashmiri Pandits have to similarly look beyond. We need to drop the ideology of being sufferers and work towards our restoration," he said.
But most Kashmiri Pandits in the Valley don't have a flourishing career, a comfortable present or a secure future.
Those like Kachroo share a two-room tenement in Vessu with another family — Tickoos. A total of eight people live in one flat. And all eight have their bags packed at all times.
"We have to lie low. If there is a birth in the family, we quietly slip to Jammu. If there is a death, a wedding or a birthday, we go to Jammu. We live here but not really. Idhar haalaat kharaab hain [situation is bad here right now]," said Kachroo.
A long time ago, one Kashmiri Muslim told his friend, a Kashmiri Pandit, that they were meant to live together but 'not like this'.
'A Pastoral' was a poem written by the poet Agha Shahid Ali, dedicated to another man of letters, Suvir Kaul, hoping that Kashmiris will live in the land of their ancestors, without fear, forever.
'We'll go past our ancestors, up the staircase,
holding their wills against our hearts. Their wish
was we return—forever!—and inherit(Quick, the bird
will say) that to which we belong, not like this—
to get news of our death after the world's.'
(More Sunday Features)