GET Stock

Quotes


Pellets Injured 16 Jammu and Kashmir Police Personnel Too: Amnesty Report
The reports further says there are 88 pellet victims whose eyesight have been damaged by the pellets fired by the Jammu and Kashmir police and CRPF personnel between 2014 and 2017.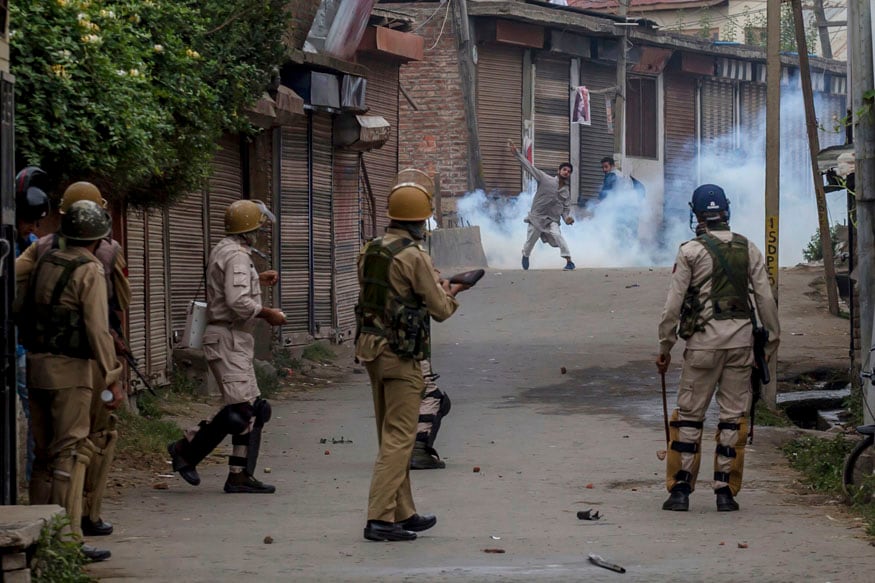 In this file photo, a Kashmiri protester throws a rock at government forces during a protest outside Eidgha, a prayer ground, in Srinagar. (AP Photo/Dar Yasin)
Srinagar
: The indiscriminate use of pellet guns by security personnel in Jammu and Kashmir not only blinded and maimed several hundred Kashmiri youngsters, but also injured 16 policemen during last year's unrest, says a latest report released by the Amnesty International.
'Losing Sight in Kashmir — The Impact of Pellet Firing Shotguns, an exhaustive report released by the non-governmental organisation, says 648 people including 16 men from the Jammu and Kashmir Armed Police in Kupwara district alone suffered different types of injuries while using pellet guns in 2016.
"Fourteen police personnel belong to the 9th battalion of Jammu and Kashmir Armed Police. While one of the 16 policeman has suffered pellet injury in his eye, one each has suffered injuries in chest, left spine, knee, hip, head and hand..." the report reads.
It says pellet-firing shotguns are inherently indiscriminate and their use by security forces also risks injuring other members of the police or armed forces.
The Amnesty claims it wrote to the Jammu and Kashmir Police and Central Reserve Police Force (CRPF) seeking information on whether any of their personnel had been injured by pellet gun firing shotguns and their details.
"No responses were received," the report says.
The reports further says there are 88 pellet victims whose eyesight have been damaged by the pellets fired by police and CRPF between 2014 and 2017.
In this file photo, Kashmiri doctors and paramedics take part in a protest at a hospital in Srinagar against use of pellet guns
(
File photo/ AFP
)
"Thirty one victims have lost vision in both eyes. They include 14 females since 2010 and most of them have received help from the civil society in Kashmir. The pellet victims age ranges from nine to 65 years. Some of the victims, mostly females, were hit inside their homes," Zahoor Wani, senior campaigner at Amnesty International India, said.
Wani said many pellet victims have developed mental and physical problems and many students have quit studies. ''It highlights how dangerous the pellet guns are.''
Life has literally been a curse for Shabroz Mir. She was hit by a hail of pellets inside her home when she was preparing for class X exams in Pulwama district. She lost her vision permanently in one of the eyes.
"Now I am not able to read properly. Whenever I try to concentrate I get pain. Nobody has come to our aid. People come to take photos and leave," Shabroz said.
"In some cases, those injured by pellet-firing shotguns still have the metal pellets lodged in their skulls, near their eyes. Doctors don't want to remove the pellets, fearing that it will affect eyesight, but they are not sure what the long-term effects will be," said Wani.
The Amnesty campaigner regretted that the central government has turned down requests for information about pellet shotguns.
"It is still unclear if the shotguns have been properly tested, or their effects and risks assessed, or whether there is any protocol about how they must be used. The government of Jammu and Kashmir has done little to support those injured and disabled by this weapon," he added.
The NGO has recommended ban on the use of pellet firing shotguns and providing full reparation in line with international standards to the injured and families of those killed.
It also demanded independent and impartial probe into all incidents of use of pellet firing that led to the deaths and serious injuries. Besides, it has asked for proving relevant training on crowd control measures and the use of force and firearms to the security force personnel.
Read full article