Pending for 70 Years, Political Urgency Made Kartarpur Corridor a Low-Hanging Fruit for All
Be it Imran Khan, Pakistan's army, Congress, the Badals or the Indian government, the Kartarpur Corridor fits in everyone's jigsaw puzzle.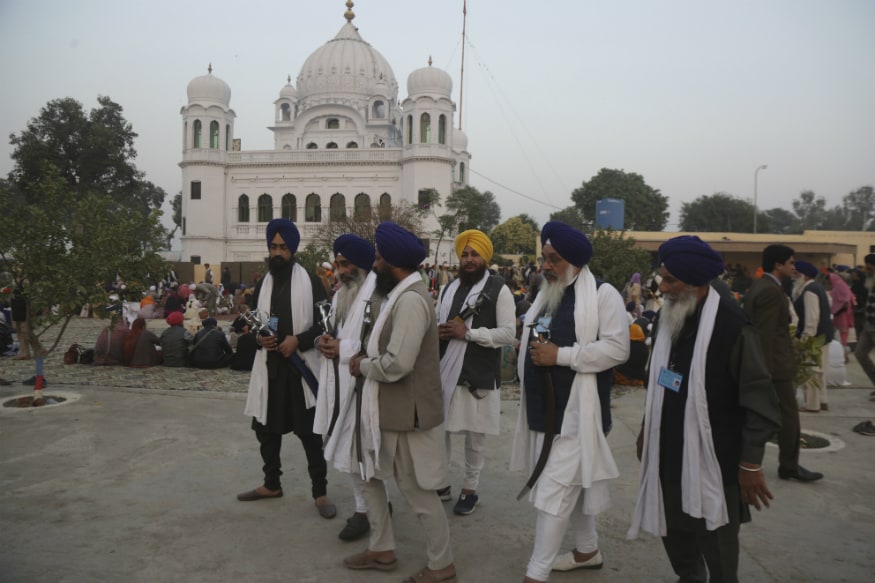 Sikh pilgrims visit the shrine of Guru Nanak Dev in Kartarpur, Pakistan. (AP Photo/KM Chaudary)
Kartarpur/Islamabad (Pakistan): Amid chants of 'Bole So Nihal... Sat Sri Akal', an exuberant and emotional crowd of Sikh pilgrims witnessed the ground-breaking ceremony of the Kartarpur Corridor at Darbar Sahib in Narowal, Pakistan. The long wait for the Indian Sikh community to have easy access to the final resting place of Guru Nanak Dev is now just months away.
Even as work on developing the infrastructure from Kartarpur to Gurdaspur is now formally underway, diplomatic sources in India told News18 that the finer modalities of the corridor with regards to visas or permits are yet to be worked out. They indicated that a meeting to work out the modalities is likely in the next four months.
So, what could be the reasons for the haste with which the decision to build this corridor has been taken by both Pakistan and India? Under political compulsions, the Kartarpur corridor appeared to be a low-hanging fruit.
The demand has been pending for over seven decades. In 1999, the demand for visa-free access was made by then prime minister Atal Bihari Vajpayee. In 2004, this was pressed further by Dr Manmohan Singh who suggested a corridor. On both occasions, there was no positive response from Pakistan.
However, the very day Imran Khan took oath as prime minister, the message was conveyed by Pakistan army chief Qamar Javed Bajwa to Punjab minister and Congress leader Navjot Singh Sidhu. Sources point out that it was more than clear that this decision was taken by the so-called 'deep state' considering it was General Bajwa and not Imran Khan who conveyed this message.
This, according to the sources, could mean that the Pakistan army and ISI are angling at using people-to-people contact as a means to get India to resume the Comprehensive Dialogue with the new Pakistan government.
Pre-empting this possibility, External Affairs Minister Sushma Swaraj delinked the Kartarpur Corridor with resumption of dialogue. "For many years, the Indian government has been asking for this corridor. Only now Pakistan responded positively. It doesn't mean the bilateral dialogue will start because of this. Terror and talks can't go together," she said.
Imran Khan's speech at the event, talking about the broader Indo-Pak relations using Kartarpur corridor as the peg, also clearly conveyed the message that Pakistan is extremely keen on talks. However, with the mention of Kashmir in his speech, saying only decisive leadership could resolve this issue between India and Pakistan, he deviated from course, attracting a sharp rebuttal from India.
The Ministry of External Affairs said it was "deeply regrettable that the Prime Minister of Pakistan chose to politicise the pious occassion meant to realise the long pending demand of the Sikh community to develop a Kartarpur corridor by making unwarranted reference to Jammu and Kashmir which is an integral and inalienable part of India."
Meanwhile, even though sudden, Pakistan army chief's presence at the event also fit in the jigsaw. Imran Khan and his foreign minister Shah Mehmood Qureshi reiterated that the government and army were on the same page as far as dialogue with India is concerned. This perhaps to put to rest Indian concerns that any fresh attempts at talks would be scuttled by the army and the ISI, as has been seen in the past.
And yet again, as General Bajwa stood in Kartarpur shaking hands with a known Khalistani face in Pakistan, Gopal Singh Chawla, Rawalpindi failed in conveying it means well.
But why should dialogue with India be important for Pakistan at this stage? "We have come on a mandate to fix the economy," Shah Mehmood Qureshi told reporters. Opening borders for trade with India will certainly benefit Pakistan and help boost its economy. Imran Khan said it himself in his first address after victory that better trade ties will benefit the region. But, sources point out it will primarily be Pakistan that is set to gain most from bilateral trade. Hence the push.
On the Indian side, despite all the criticism, it appeared Navjot Singh Sidhu may emerge as the man of the match. While he credited his friend Imran Khan for the 'pyaar ka paigam' (message of love), he put his own political and personal credibility at stake by saying Pakistan was willing to open up the Kartarpur Corridor and India should send a proposal. For the Shiromani Akali Dal, that was already seeing its Panthic agenda slipping out of its hands in Punjab after the sacrilege case, this was a critical time to reclaim lost ground.
So Sidhu's political opponents, the Badals, left no opportunity in ensuring they too staked claim in the Kartarpur Corridor issue. Harsimrat Kaur, who represented the Government of India at the event along with Hardeep Puri, choked up as she spoke about the 'ardas' (prayers) of millions of Sikhs which has finally ensured that they will no longer have to confine themselves to just getting a glimpse of the revered shrine from across the border.
With Sidhu and Chief Minister Amarinder Singh taking divergent views on going to Pakistan, the Congress has, even if unintentionally, balanced the Panthic agenda with the national cause quite deftly. All this just adding up to the central government being pushed to not appear opposing a long-standing demand of the Sikh community ahead of 2019 elections while also standing its ground on terror and talks not going hand-in-hand.
Get the best of News18 delivered to your inbox - subscribe to News18 Daybreak. Follow News18.com on Twitter, Instagram, Facebook, Telegram, TikTok and on YouTube, and stay in the know with what's happening in the world around you – in real time.
| Edited by: Nitya Thirumalai
Read full article