Demonetisation Flashback: People Stood in Queues like Zombies, Recall ATM Guards
To recall those moments of chaos and to understand how people on the road reacted to cash crunch, News18 took rounds of a few ATMs and conversed with security guards for this first-anniversary special report.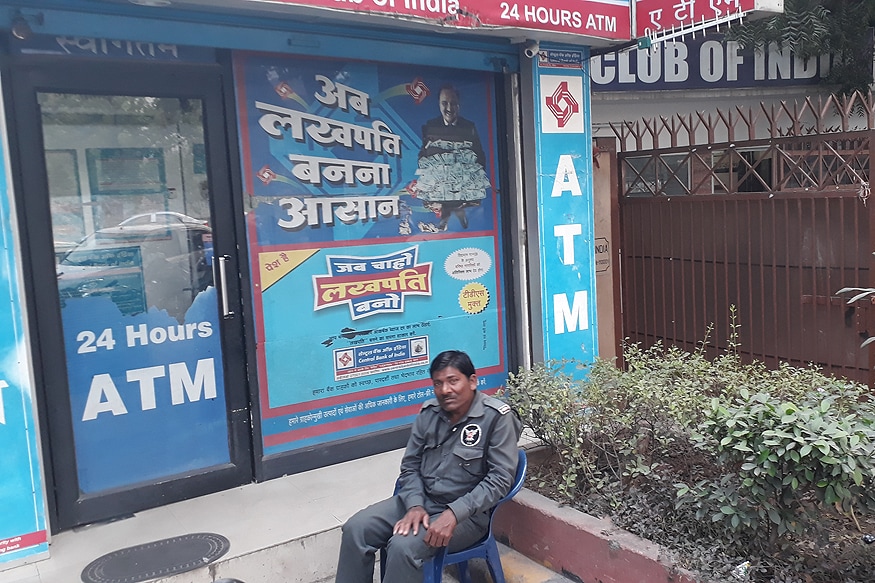 A security guard sits outside an ATM in New Delhi.
It was around 8 on a Tuesday evening. There were only two things to look forward to at that time – news from US where votes had been cast to elect the next President and dinner.
His fellow Indians were beginning to call it a day when Prime Minister Narendra Modi suddenly appeared on television screens everywhere and declared that Rs 500 and Rs 1000 currency notes would become "worthless pieces of paper" in less than four hours. Experts gave a name to what that had just struck everyone in India – they called it 'demonetisation'.
But people had no time for financial nomenclatures. A mad rush to ATMs started that night, one that didn't end for next several weeks. One section of people saw the frenzy unfold in front of their eyes since that evening. It was the people who manned these cash dispensing machines-turned-fortresses and kept a check on people lined up outside them in endless queues throughout the day - the security guards.
To recall those moments of chaos and to understand how people on the road reacted to cash crunch, News18 took rounds of a few ATMs and conversed with security guards for this first-anniversary special report.
THE MAN WHO SAW IT ALL
Shyam Kumar Singh is having his evening snack while relaxing on a revolving chair. It is a Sunday and the HDFC Bank guard, stationed at an ATM on M.G.Road, Gurgaon has a lot of time on his hands. He offers me a seat on a cemented platform right outside the bank as he recalls all that he saw on and after November 8 last year.
"I remember I was on duty when the announcement was made. There are usually not a lot of people in the evening as the bank closes by 6. I was in-charge of security at the neighbouring Canara bank, one that has an onsite ATM as well. That evening was different," recounts the 60-year-old man while munching on his biscuits. In between he also slips-in the fact that he hails from Gorakhpur "the land of Yogi Adityanath", with some pride.
"Suddenly there was a swarm of people who had queued-up to withdraw cash. I had no clue why there was such a huge crowd. Later I found out that Rs 500 and Rs 1000 rupee notes had been banned and banks and ATMs were to remain closed the next day. It was not long before the ATM machine ran out of cash that night. I saw people on motorcycles desperately looking for cash. There was chaos," Singh says.
Singh works for Checkmate Industrial Guards Pvt. Ltd and has been a professional guard since 2005.
"I remember, a couple of days after the announcement, there used to be long queues outside, both the bank and the ATM. Poor and clueless individuals used to come with cash to deposit in the bank where people had no idea how to go about things. Most of them were daily wage labourers who did not have bank accounts. It was tough for them. There was another distinct set of people that I can vividly recall seeing those days."
Singh talks about domestic helps and office boys. "Their employers used to send them with their cash to be deposited in the bank. These helps received a certain amount of their owner's money that they would deposit in their own accounts. The commission was mostly Rs 500 for queuing up for hours those people would tell me," he recollects.
Singh has run out of biscuits as we speak but has a lot many things to say about what he saw and how have things changed in the past year. He continues, "There were the odd arguments among those lined up. But that was bound to happen, considering that almost 60-70 people used to wait from early morning for the bank to open and a similar number would wait outside the ATM," he says.
The bank guard stationed at one of one of the busiest areas of Gurgaon turns to me and says, "I have been working even before you were born. I have been through the 1975 emergency period. I have also seen those days where we had to be in queue for hours for a kilo of sugar, in front of government stores. Look at us now, everything is normal…Similar was the case with demonetisation. There were problems for a few days and everything is normal now."
Being an ATM guard during those trying moments was not really a dream job, but it had its own benefits as well. "I have never felt luckier being an ATM guard," laughs Singh, "I never had to be in any queue during the entire period. Whenever there was a cash refill, I was the first one who withdrew cash."
INSIDE THE HOSPITAL
The next stop was a place that requires money 24*7 and in situations of emergency. The Max Multi Specialty Hospital situated in sector 19, Noida, Uttar Pradesh has an ATM inside its premises, and for this reason perhaps the chaos was far greater here.
Placed right next to the reception, this ATM is manned by the hospital staff, one of who agrees to talk on condition of anonymity. "The fact that this ATM was in a hospital made it imperative for us to somehow make sure that it always had cash. The problem began when apart from people inside the hospital such as care-takers and relatives of patients and our in-house staff, people from outside came in for cash as well. Now you cannot deny them entry especially during this time, can you? We were in constant touch with the third party cash provider to make sure we have a constant supply but again, that was not always possible."
He continued, "At that time there weren't as many point of sale (POS) machines for cards. I remember our pharmacy only accepted cash, no card, no Paytm. Therefore there was a greater cause of worry during those times, if the customers did not get cash, how would they buy medicines or how would the treatment continue? Thankfully the announcement was made that we could accept old notes till 11 November," says the employee.
He went on to talk about a particular day when the cash van did not come. "Our ATM machine was shut for a day because the cash van had not come. It was very chaotic that day. Families of patients had to get cash from ATMs outside and it was understandably tedious for them. There were no fights and arguments at all because I think the people understood that a hospital demands silence. However, those were really scary moments when almost everyone was at their nerves' ends," he says.
AMID THE FLASH-LIGHTS
My next stop was what is popularly referred to as the heart of New Delhi. Out from the needy quarters of the hospital I went straight to hub of leisure - Connaught Place.
Banwari Lal, a native of Etah in Uttar Pradesh has been working as the guard of Yes Bank ATM in H block, Connaught Place for the last three year. Lal is an employee of Fireball Securitas.
Shouldering a 5-kilo gun while sipping tea, Lal says, "There obviously were problems. I was not on duty that night but resumed charge the next working day. I was surprised to see the number of people coming. All asking the same question repeatedly, cash hai? [does the ATM have cash]."
Lal has a 12-hour-job. He starts at 8 in the morning and transfers charge at 8 pm.
"The main problem was caused by those who had multiple cards. Say a man has two cards, his wife has two and his son has two more. He thus has six cards. Imagine, in a place which has limited cash and a man carries 6 cards, what will those get who have also been waiting in the queue for hours," says Lal.
"Cash vans were not that frequent those days. Vans used to come every alternate day but because there are quite a few ATMs in this area, problems were few. People used have their morning tea at 7 in the morning and walk down to form a queue in front of the ATM."
Lal feels that people didn't show enough compassion for their fellow citizens standing in queues. Everyone was going through a hard time, including guard himself, "I myself had to get my share of cash from the neighbouring ATM."
WHEN JOURNALISTS SWITCHED ROLES
Rambi from Madhya Pradesh, who lives in Laxmi Nagar, is enjoying a cool breeze right in front of the Central Bank ATM that he guards. The guard that he mans shares its boundary with the Press Club of India. And being close to the club had its perks.
"Most of the problems here were averted because of journalists in the club. While I used to be inside the ATM allowing only two cards per person, they used to manage the queue outside and maintain peace. Also, I never faced cash crunch because I used to have lunch in the club itself," Rambi says smiling.
"I remember once there were two people who had come and were demanding that the gates of the ATM be opened. There was no cash and thus I had pulled the shutters down but they said that they had seen on some internet app that there was cash in this ATM. I pulled up the shutters and asked them to check for themselves and also give me some money if they found anything," says Rambi laughing at his prank.
Demonetisation produced stories in a measure that probably no other recent event did. Right from fostering digital payments, upscaling cybersecurity and other such macro changes, to affecting day-to-day lives of citizens in unimaginable ways. It has been one year since Prime Minister Modi appeared on the screens, and through these eyewitnesses, we're still perhaps only scraping the surface of its consequences.
| Edited by: Aditya Nair
Read full article
Countdown To
Elections Results
To Assembly Elections 2018 Results