Centre Cuts Petrol and Diesel Prices by Rs 2.50; 13 BJP-ruled States Match Reduction to Give Relief of Rs 5
Apart from the 11 states, Maharashtra has only matched the price cut of Rs 2.50 per litre for petrol while Jharkhand has cut prices only for diesel.
New Delhi: The central government on Thursday gave relief to masses from skyrocketing fuel prices and cut petrol and diesel rates by Rs 2.50 a litre with effect from midnight.
The decision was announced by finance minister Arun Jaitley after he held a closed-door meeting with Prime Minister Narendra Modi and petroleum minister Dharmendra Pradhan. The Centre has reduced central excise duties by Rs 1.50 a litre while oil marketing companies have been asked to absorb Re 1 a litre, Jaitley said.
He also asked the states to match the cut announced by the Centre to give further relief and 13 BJP-ruled states - Gujarat, Goa, Uttar Pradesh, Jammu and Kashmir, Haryana, Chhatishgarh, Madhya Pradesh, Himachal Pradesh, Assam, Uttarakhand, Arunachal Pradesh, Manipur and Tripura – soon followed suit, bringing the total relief to consumers there to Rs 5.
Maharashtra, meanwhile, has only matched the price cut of Rs 2.50 per litre for petrol while Jharkhand has cut prices only for diesel.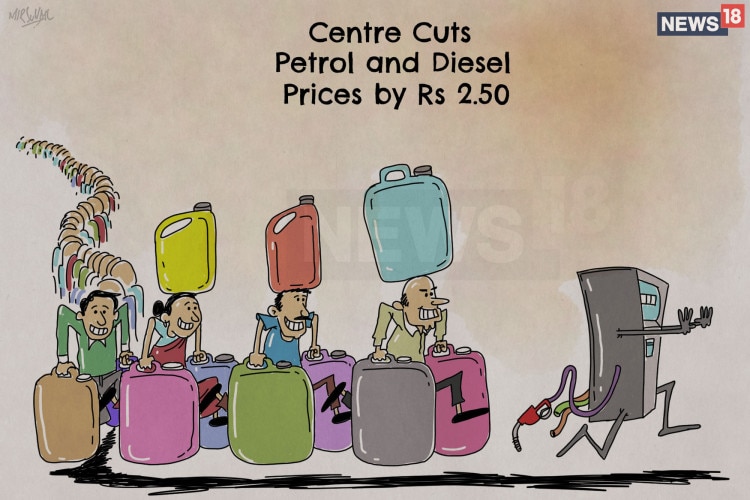 Illustration by Mir Suhail (News18).
Some states - Rajasthan, Andhra Pradesh, West Bengal and Karnataka – had earlier slashed Value Added Tax. Governments in Karnataka, Kerala and West Bengal announced they would not cut the rates after Jaitley's request, while Delhi and Odisha said they will decide in the next few days.
The reduction followed petrol and diesel prices touching new highs on Thursday. In Delhi, where the fuel prices are the lowest among all metros and most state capitals, petrol was sold at Rs 84 per litre and diesel at Rs 75.45 per litre.
In Mumbai, diesel breached the Rs 80-mark for the first time on Thursday while petrol was sold at Rs 91.34 per litre. Petrol is already being sold at over Rs 92 per litre in several districts of Maharashtra as well as Bihar.
Jaitley said the excise duty cut would have an impact of Rs 10,500 crore on central government's tax revenues. Taxes on petrol and diesel, which account for more than a third of retail fuel prices, are one of the biggest sources of income for the government.
The central government charges Rs 19.48 excise duty on a litre of petrol and Rs 15.33 on diesel.
This year alone, petrol and diesel prices have been hiked by Rs 13.91 and 15.59 respectively in the national capital. Prices have seen a similar hike in other cities as well.
"We have taken this step because international oil prices are very uncertain. It is not at all sure what will happen in Iran," Jaitley said, referring to the US sanctions on the west Asian nation, which have led to the rise in prices of crude oil. Crude oil price on Thursday traded at a little above 86 dollars per barrel after touching four-year highs.
The finance minister also clarified that the central government will not go back on deregulation of fuel prices. "We have to react to the situation and give relief without impacting fiscal deficit. We cannot do it at the cost of fiscal position and give it when it can absorb it," he said.
Get the best of News18 delivered to your inbox - subscribe to News18 Daybreak. Follow News18.com on Twitter, Instagram, Facebook, Telegram, TikTok and on YouTube, and stay in the know with what's happening in the world around you – in real time.
Read full article