GET Stock

Quotes


Plea against Magazine's Breastfeeding Cover Junked, Kerala HC Cites Kamasutra and Ajanta Paintings
Earlier, model-actress Gilu Joseph appeared on the cover of Grahalakshmi Magazine to normalise women breastfeeding. Within a week of its release, the magazine had raised a hue and cry on social media.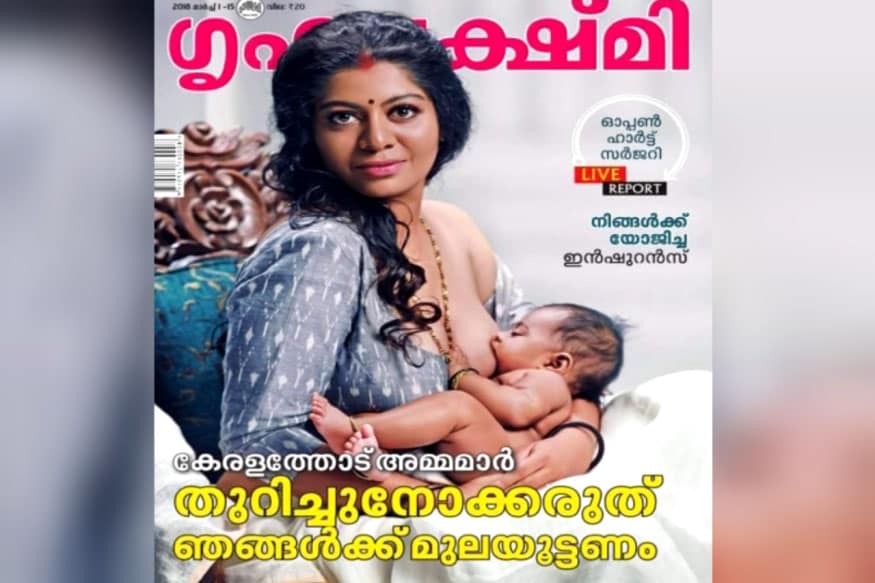 Model-actress Gilu Joseph was featured breastfeeding in the latest edition of 'Grihalakshmi,' a sister publication of leading media group 'Mathrubhumi'.
New Delhi:
In what could be a monumental blow to self-appointed custodians of Indian morality, the Kerala High Court recently quashed a petition against a Malayalam magazine cover depicting a woman breastfeeding.
The
Kamasutra
cover, featuring model Gilu Joseph, was intended to normalise women breastfeeding.
The image, along with the headline,"Mothers tell Kerala,'please don't stare, we need to breastfeed'", appeared on the cover of the magazine's March issue and within a week of its release, it had already raised a hue and cry on social media.

Advocate Vinod Mathew Wilson moved court against the image, claiming it was obscene and derogatory. Petitions were also filed by others, including Felix MA, who alleged that the image amounted to a sexual offence against the infant pictured in Joseph's arms on the contentious cover.

Criminal cases were lodged against both the magazine and the model under sections of Protection of Children from Sexual Offences Act and Rules, section 45 of the Juvenile Justice Act and sections under the Indecent Representation of Women (Prohibition) Act, 1986, and Article 39(e) and (f) of the Constitution of India.

However, the Kerala HC trumped the petitions, saying "one man's vulgarity could be another man's lyric".

The bench, headed by Chief Justice Antony Dominic and Justice Dama Seshadri Naidu, observed on March 8 that Indian art had always celebrated the human body, as was evident from works such as the Kamasutra, the paintings of Raja Ravi Varma and the sculptures in Ajanta.

The bench also observed that the Indian psyche was much more mature than this and that obscenity, like beauty, was perhaps in the eyes of the beholder. It added that it saw nothing on the cover that was offensive to women or men.

The progressive judgment went on to say that the body was not a "tainted appendage" that had to be "whipped into submission" but rather a "divine vessel". It also asserted that the sensuous and the sacred need to necessarily be incongruous.

The judgment comes as a relief for the Grihalakshmi magazine, which had been at the receiving end of severe backlash since the release of the cover, which was part of a campaign to promote the women freely breastfeeding in public.

Gilu Joseph, 27, was also trolled on social media for the cover. In an interview to The Indian Express, she said she was attacked by people who did not even understand the message of the cover, which was to encourage women to breastfeed freely. However, the model said that she had no regrets.

India ranks among the lowest in the world in terms of providing infrastructure for women to freely breastfeed. Less than 50% of children are breastfed within the first hour of birth, and only 55 percent are exclusively breastfed for the first six months.

Early initiation of breastfeeding and exclusive breastfeeding are strongly recommended practices by doctors and can reportedly help to prevent up to 99,499 deaths of children every year due to diarrhoea and pneumonia.

The Kerala HC judgment may open new doors of acceptance for breastfeeding women in the country.

| Edited by: Naqshib Nisar
Read full article