PM Modi Hints at Pakistan Hand in Kanpur Train Derailment
Prime Minister Narendra Modi, speaking at an election rally in Gonda, Uttar Pradesh, on Friday hinted at a possible Pakistan hand in the Kanpur train derailment.
File photo of Prime Minister Narendra Modi. (Photo: Reuters)
New Delhi: Prime Minister Narendra Modi, speaking at an election rally in Gonda, Uttar Pradesh, on Friday hinted at a possible Pakistan hand in the Kanpur train derailment.
"A rail accident happened in Kanpur, culprits and conspirators behind the tragedy have been nabbed by the police. Many people died in that incident. Police have found a huge conspiracy which was hatched by people sitting on the other side of the border," said Modi.
"If the cross-border foes want to carry out their work, is it not necessary that more vigil is maintained in Gonda," Modi asked people as he exhorted them to vote for the BJP.
"Gonda needs to elect only those who are full of patriotism, only then we can do anything good for Gonda," he said.
"There should not be any mistake in this election... be it the SP or the BSP, not a single seat should go to them...100 per cent seats should be won by the BJP," the Prime Minister said.
The NIA investigators have maintained that they are yet to get evidence to establish if Kanpur train derailment was an accident or sabotage.
Bihar police have arrested three people including Moti Paswan in the Ghorasan case and it is alleged that Paswan had also planted bombs to derail train in Kanpur.
UP police have maintained there was no sabotage in Kanpur as no craters, or explosives were found on the track where the Indore- Patna express derailed.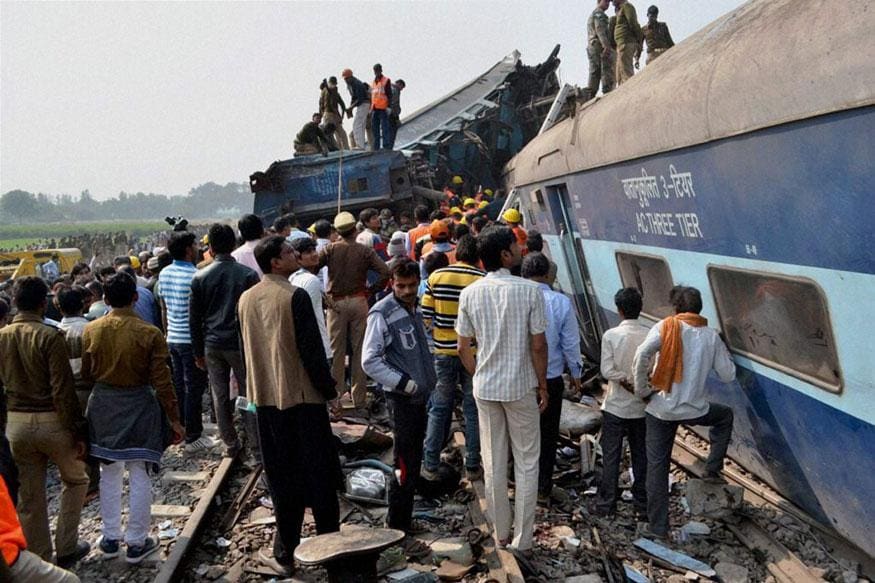 In this November 20, 2016 file photo, rescue workers search for survivors at the Indore-Patna express derailment site in Pukhrayan, south of Kanpur city . (PTI Photo)
UP police also expressed surprise at the revelation made by Prime Minister Modi. DGP Javeed Ahmad told CNN-News18, "NIA has so far not shared any information with us on what evidence they have found in the Kanpur case. We also heard about this in the PM's rally. We will check up with NIA."
The PM, taking a dig at the UP administration, asked in the rally, "If such people, who will help them (conspirators) get elected from here, will Gonda be safe then, will nation be safe then?"
Samajwadi Party's spokesperson CP Rai questioned Prime Minister's motive: "If indeed evidence has been found, is a rally the right platform? Has the PM or the external affairs ministry summoned the High Commissioner of Pakistan and put the evidence of their involvement before them?"
The Indore-Patna Express was derailed in Kanpur Dehat's Pukhrayan on November 21, killing 148 and injuring more than 200.
Allegations of sabotage were levelled after Moti Paswan told Bihar police that an alleged ISI operative based in Nepal, Shamshul Huda had paid him to carry out these train attacks.
Huda had recently been arrested by Nepal police. Nepal police officers claim that Huda has not confessed to his role in the Kanpur case. NIA officers say their Kanpur investigation is at a very nascent stage and they are waiting to get custody of Huda.
ALSO READ | Kanpur Train Accident: Survivors Say They 'Saw Death Whisk Past us'
Get the best of News18 delivered to your inbox - subscribe to News18 Daybreak. Follow News18.com on Twitter, Instagram, Facebook, Telegram, TikTok and on YouTube, and stay in the know with what's happening in the world around you – in real time.
| Edited by: Bijaya Das
Read full article