GET Stock

Quotes


Powered by



PM Modi is a Great Pro-Growth leader: Top Quotes from Donald Trump's Address to Indian-Americans
"We appreciate the great friend India has been to the US in the fight against radical Islamic terrorism." ( Appreciating India's role in combatting terror)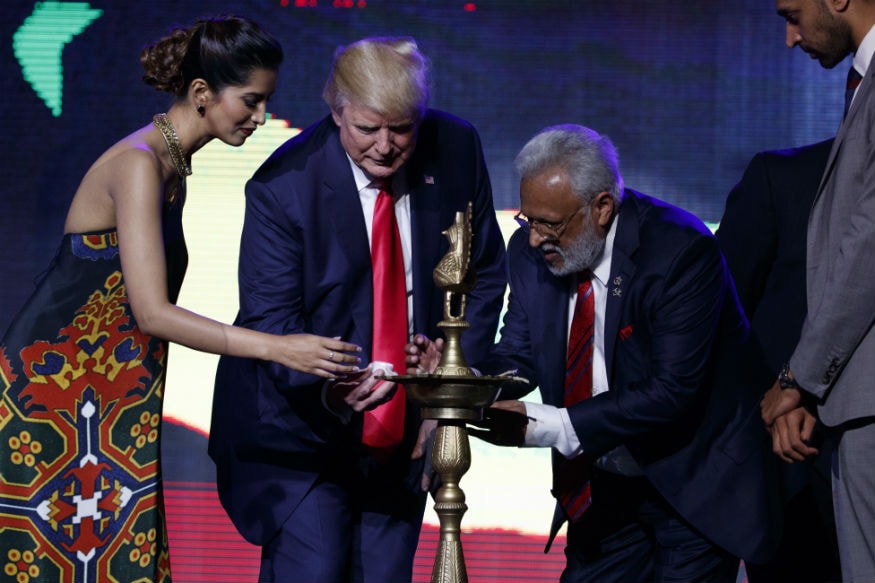 Republican Presidential Nominee Donald Trump lights the lamp before addressing Indian-American community in New Jersey. (Photo Courtesy: AP Photos )
Republican Presidential nominee Donald Trump on Saturday reached out to the Indian-American community with a speech in New Jersey which was full of praises for Prime Minister Narendra Modi and the Hindu community.
Trump termed India as a "strategic ally" and promised that India and United states will become "best friends" should he get elected.
Here are the top quotes from the speech.
# "Your great Prime Minister has been a pro-growth leader for India. He has simplified the tax code, cut the taxes and the economy is strong growing at 7 per cent year. Excellent. Our economy is practically not growing at all in the US. It's about zero. We will have a great relationship with India." ( Praising PM Narendra Modi)
# "I am a big fan of Hindu and I am a big fan of India."
# "If elected, the Indian and Hindu community would have a true friend at the White House." ( wooing Hindu-American community)
# "We appreciate the great friend India has been to the US in the fight against radical Islamic terrorism." ( Appreciating India's role in combatting terror)
# "India is a key, and key strategic ally. And we do not even want to talk about it because it is nothing but a relationship that we will have. I look forward to deepening the diplomatic and military cooperation that is the shared interest of both countries."
# "We are for free trade. We will have good trade deals with other countries. We are going to do a lot of business with India. We are going to have a phenomenal future together."
# "I have two massive developments in India, very successful, wonderful, wonderful partners, very beautiful, I must say. I have great friends and great confidence in India. Incredible people and an incredible country. I was there 19 months ago and look forward to going there many many times."
# "We are going to have great relations with China and Mexico, but we are going to have a great relationship with India."
Also Watch
Read full article