PM Modi's Mother Visits Bank in Gandhinagar to Exchange Old Notes
A TV grab of Heeraben inside the bank in Gandhinagar
Ever since the demonetisation drive on Novemeber 8, there has been a mixed response over the Centre's move.
Gandhinagar: Prime Minister Narendra Modi's mother Heeraben, on Tuesday, reached the branch of Oriental bank on the outskirts of Gandhinagar in Gujarat to exchange her old 500 rupee notes.
The wheel-chair bound 91-year-old Heeraben, who exchanged notes for rupees 4500, was accompanied by her brother Ashok Modi and other relatives.
Her family members helped her navigate through the steps and complete all formalities.
She came to the bank with Rs 500 notes, got the mandatory form filled, put her thumb impression on the form and exchanged her money.
After receiving a new note of Rs 2,000, she also displayed it in front of the media persons, who virtually mobbed her as they sought her reaction.
Hiraba lives with Prime Minister Modi's younger brother Pankaj Modi in Raisan on the outskirts of Gandhinagar. The PM had visited his mother on September 17 this year to take her blessings on his 66th birthday.
Hiraba is known to lead a very simple life and travels in public transport. Last time when she visited Gandhinagar civil hospital for a regular check-up, she was seen going in an autorickshaw.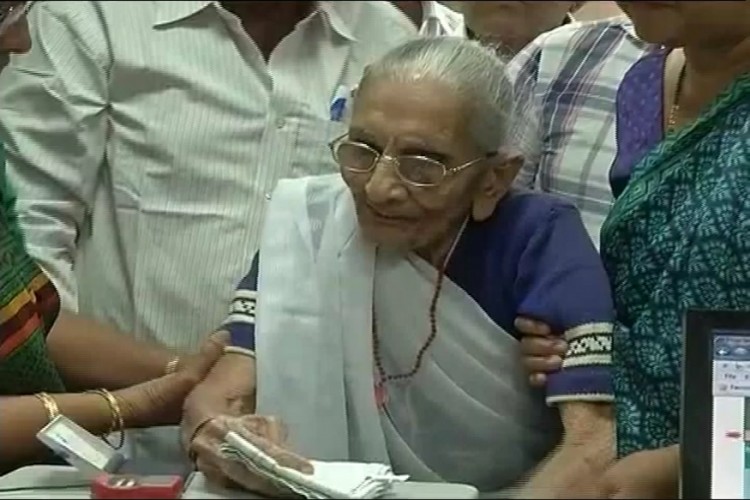 Reacting to the news, Zafar Sareshwala, a close aide of the Modis, told CNN-News18 that the family has lived a very simple life even when Modi was the chief minister of Gujarat.
"I am not at all surprised as I have been with them throughout my life. They have always stayed humble even when Modiji was chief minister," Sareshwala said.
Congress Leader Priyanka Chaturvedi, however, downplayed the whole issue and said that it was not just about PM Modi's mother but every other senior citizen who queues up outside the banks.
"Just because PM Modi's mother has lined up outside a bank doesn't change the fact that the entire demonetisation scheme has been badly implemented," Chaturvedi said.
Priyanka also alleged that BJP was using PM Modi's mother as a PR exercise to sell the whole idea of demonetisation.
Ever since the demonetisation drive on Novemeber 8, there has been a mixed response over the Centre's move with people for and against the drive in equal measure.
The political slugfest over the issue however has reached its peak with Opposition parties attempting to corner the government by highlighting the long queues outside banks and ATMs across the country.
(With inputs from PTI)
Next Story