PM Modi's tour to US, Ireland from 23-29 Sept itinerary
Pm Modi's tour, which starts on 23 September and ends on 29 September, will cover Ireland and the US.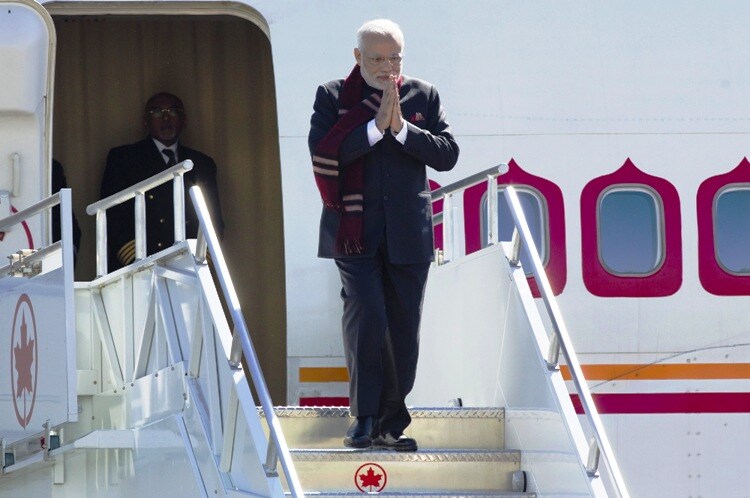 India's Prime Minister Narendra Modi arrives at Vancouver International Airport in Richmond, British Columbia, April 16, 2015. REUTERS/Ben Nelms - RTR4XNZN
New Delhi: Prime Minister Narendra Modi will embark on 7-day official trip from September 23-29 to the Ireland and US. Modi's visit to foreign countries have always gained attention not from only business or political class alike but even the diaspora residing in the particular country.
Here's his itinerary of the highly anticipated trip:
23rd September: He will commence his week-day trip by landing in Ireland. The visit to the Ireland by an Indian prime minister has come after a gap of almost 60 years.
24th September: PM will leave for the United States. He is likely to meet students of Wharton University in New York the same evening.
24th September: Members of Patel community plan to take out a peaceful rally from Indian High Commission to the United Nations headquarters in New York.
25th September: PM will deliver the UN Climate change speech at 10:15pm (12:45pm local time).
26th September: PM will visit TESLA office in San Francisco.
Post 26th Saturday midnight: PM will meet eminent businessmen- Akash and Kritika in San Francisco.
27th September: At 10 pm IST (9:30am Local time), Facebook CEO Mark Zuckerberg to host Q&A with Prime Minister Narendra Modi.
28th September: 6am IST(5:30pm local time): PM to hold Madison square-style event at the SAP Centre in San Jose where he will address the Indian Community .
28th September: PM will meet US President Barack Obama in New York.
Get the best of News18 delivered to your inbox - subscribe to News18 Daybreak. Follow News18.com on Twitter, Instagram, Facebook, Telegram, TikTok and on YouTube, and stay in the know with what's happening in the world around you – in real time.
Read full article