PM Modi Launches Ayushman Bharat Health Scheme: Here's All You Need to Know
As Prime Minister Narendra Modi rolls out the Centre's flagship Ayushman Bharat scheme, here's one-stop guide to all your queries regarding the 'world's largest healthcare programme'.
As Prime Minister Narendra Modi rolls out the Centre's flagship Ayushman Bharat-National Health Protection Mission (AB-NHPM) from Jharkhand, here's all you need to know about the largest healthcare scheme, which is set to benefit nearly 10 crore families.
Who All Are Entitled to Healthcare Scheme:
1. The entitlement is being decided on the basis of deprivation criteria in the SECC database. The beneficiaries are identified based on the deprivation categories (D1, D2, D3, D4, D5, and D7) identified under the SECC database for rural areas. For the urban areas, the 11 occupational criteria will determine entitlement.
2. In addition, the Rashtriya Swasthya Bima Yojna (RSBY) beneficiaries in states where it is active are also included.
3. There is no cap on family size and age in the scheme, ensuring that nobody is left out.
What Do You Need for the Scheme:
One would only need to establish one's identity to avail benefits under the scheme and it could be through Aadhaar card or election ID card or ration card. Having an Aadhaar card is not mandatory.
How Do You Register for the Scheme or Know if You Are Eligible:
The National Health Agency (NHA), the apex body implementing the AB-NHPM, has launched a website and a helpline number to help prospective beneficiaries check if their name is there in the final list. One can visit
mera.pmjay.gov.in
or call up the helpline (14555) to check their enrolment. A beneficiary needs to key in his or her mobile number, which is verified through an OTP and then complete the KYC (know your customer) online without any need for human interface with other documents.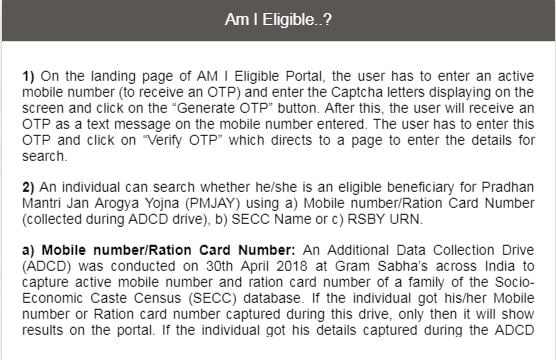 Facilities for Beneficiaries in Hospital:
1. In case of hospitalisation, members of the beneficiary families do not need to pay anything under the scheme, provided one goes to a government or an empanelled private hospital. "The objectives are to reduce out of pocket hospitalisation expenses, fulfil unmet needs and improve access of identified families to quality inpatient care and day care surgeries," a health ministry official said.
2. The Health Ministry has included 1,354 packages in the scheme under which treatment for coronary bypass, knee replacements and stenting, among others, would be provided at 15-20 per cent cheaper rates than the Central Government Health Scheme (CGHS).
3. Each empanelled hospital will have an 'Ayushman Mitra' to assist patients and will coordinate with beneficiaries and the hospital. They will run a help desk, check documents to verify the eligibility and enrolment to the scheme.
4. All the beneficiaries will be given letters having QR codes which will be scanned and a demographic authentication conducted for identification and to verify his or her eligibility to avail the benefits of the scheme.
आज का दिन देश के लिए ऐतिहासिक है आज सुबह 11:30 बजे आदरणीय प्रधानमंत्री जी ग़रीबों के लिए स्वास्थ्य सुरक्षा प्रदान करने वाली विश्व की सबसे बड़ी हेल्थ केअर स्कीम
"आयुष्मान भारत - राष्ट्रीय स्वास्थ्य सुरक्षा योजना" का देशव्यापी शुभारम्भ करने वाले है।

जानिए इस स्कीम के बारे में : pic.twitter.com/zSRvvDnLOF

— Anupriya Patel (@AnupriyaSPatel) September 23, 2018
| Edited by: Sumedha Kirti
Read full article
Countdown To
Elections Results
To Assembly Elections 2018 Results