'Poda Podi' Review: It disappoints the viewers
Silambarasan, in a desperate attempt to be the next superstar, fails miserably in his role.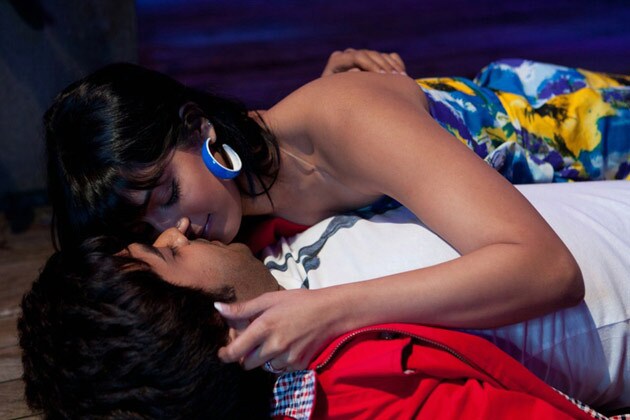 Silambarasan, in a desperate attempt to be the next superstar, fails miserably in his role.
Cast: Silambarasan, Varalaxmi Sarathkumar, VTV Ganesh and Shobana
Director: Vignesh Shivan
Rating: 1 out of 5
Pray to god that he blesses you with immense energy and patience to sit through this disappointing film that is bereft of, forget entertainment, not even moments of laughter. Undeniably, the lead actors in the film are exceptionally good dancers and one can vouch for it. But, what doesn't work in the favour of the film is the hope that the audiences are fools to flock to theatres to watch 10 minutes of impeccable dance performance in a film that runs to almost three hours.
Arjun, played by Silambarasan, calls himself an animation designer in the film, but he is either sleeping or dancing in clubs for most part. Nisha, played by Varalaxmi, is an aspiring salsa dancer with a goal to win a 'Letz Dance' competition in London. Arjun and Nisha meet in a club and share a few drinks one lazy evening.
Few days later, they're madly in love with each other. Arjun, who's an Indian, and moreover a Tamilian by birth, aspires to change Nisha before marriage. Nisha, born and raised in London, is completely against culture and society. When Nisha refuses to change some of her qualities for good, Arjun calls off their relationship. And they sulk for few days before reuniting with the intention of marriage.
Things change drastically post-wedding for Nisha and Arjun. While Nisha wants to closely dance with her salsa partner, Arjun intervenes citing her marital status. With her dance competition just three weeks away, Nisha should choose between her life or dance partner. Who will Nisha choose forms the rest of the story.
The story presents itself as a modern-day love story, but it definitely isn't. The film is a desperate attempt to catapult the actor's image to one of the best dancers in the film industry, while the actress proves her mettle as one of the best dancers in the newcomers' category.
Never in its entire running time does the film strike a chord with the audience. Does the director want to prove that small adjustments in a relationship pave way to a happy and healthy ending? But on the contrary, he crushes his own philosophy by proving that if one gives in to adjustments, then he or she will suffer its consequence forever.
Silambarasan, in a desperate attempt to be the next superstar, fails miserably in his role. His role in this film is completely opposite to the one he played in 'Vinnaithaandi Varuvaaya', but he still seems to have maintained a subtle sarcasm in his acting, which he assumes, is his forte, but it's definitely not. The film throws plenty of opportunities for the actor to dance, but he awaits his moment until the climax.
Varalaxmi doesn't even spare a single moment to dance. Undeniably, she shines as a dancer, but she should definitely find herself a dubbing artist. Her voice reminds me of Rani Mukerji's voice in some of earlier films such as 'Mehndi' and 'Ghulam'. She definitely needs to work on her expressions and most importantly on her diction if she plans to continue dubbing for herself.
As far as music is concerned, barring the 'Love pannlama' track, which is a bad rip-off of Eminem's 'Real Slim Shady', the rest of the album helps the film to maintain some interest.
####
Get the best of News18 delivered to your inbox - subscribe to News18 Daybreak. Follow News18.com on Twitter, Instagram, Facebook, Telegram, TikTok and on YouTube, and stay in the know with what's happening in the world around you – in real time.
Read full article