Podaa Podi: Regressive Tamil film or stark reality?
Is 'Podaa Poda' the most regressive film we have seen in recent times or is it a real picture of our society?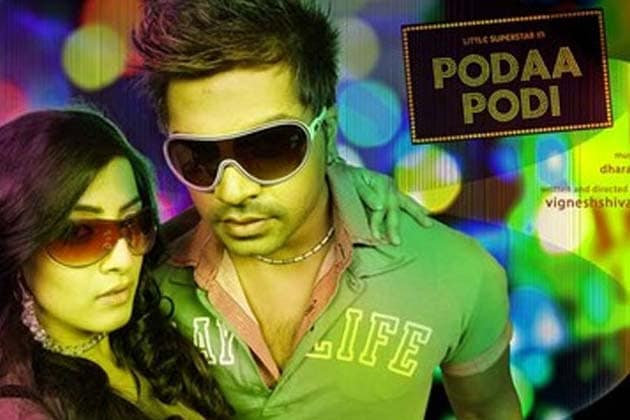 Is 'Podaa Poda' the most regressive film we have seen in recent times or is it a real picture of our society?
Written and directed by Vignesh Shivan, 'Podaa Podi', which released on Diwali this year along with 'Thuppakki', might not have done wonders at the box office, but the film has got people debating its controversial storyline. The story starts out simply enough. A man and a woman fall in love. The woman aspires to become a salsa dancer with a goal to win the famous 'Letz Dance' competition in London. But here comes the twist in the plot that many have renounced as regressive. The woman has to choose between her marriage and career, succumbing to her life partner's jealous demands.
The excerpt on the Wikipedia page of the film had people reacting incredulously on social media websites. Here's a chunk: "After their wedding, Nisha makes it clear that she still wants to dance and enter the UK competition 'Let's Dance', and make a career for herself. Arjun suddenly discovers that he is, at bottom, a 'Pachai Thamizhan' who believes that a woman's place is in the home (preferably the kitchen, but she has the freedom to walk from one room to another if she wants). On the advice of his uncle, he makes her pregnant, so that she stays away from dancing."
The film that starred Simbu and Varalaxmi in the lead roles celebrated male domination in society, said many who watched the film. But director Vignesh Shivan clears the air in a candid chat.
"I wanted to present Podaa Podi in a very realistic way but I didn't want to show it blatantly. Because at the end of the day girls give up everything for the happiness of the boy. Even in today's society, they just understand what boys need and they are very sweet with the boys and I just wanted to show it in that way," he said.
Here's the interview with the director:
Q: 'Podaa Podi' has a very different storyline, what prompted you to make a film on such a theme?
A: I always wanted to do nice romantic comedies, something youthful and which everyone can relate to. That is why I thought of making a romantic comedy and made 'Poda Podi'.
Q: The film ends with Varalaxmi giving up her dream to win the dance competition.
A: In the end they go and give a performance but they just do an Indian number and then again he doesn't want her to dance again and she also decides to give up. I treated it in a very lighter way. I was not doing something, showing that this is how it is, girls should be the winner and boys should be the loser. Any relationship should be very mature. And that's what I wanted to show.
Q: Also the film got negative response from the critics; many felt that film was lopsided, focused towards the man's point of view.
A: It's more realistic, I would say that. That's how boys are. It's not propagating harsh or negative in the story. I didn't see it that way - that it's a villain's approach from the hero, to make her pregnant, so that she can't dance. It's a mixture of whatever boys want, whatever girls want and how they adjust. The family approach is there and that is how a relationship is. Even if we are very broad minded today, there are people like this and at the end of the day, what they look up to is a family life and that's more important, more than the money, fame or whatever.
Q: Did you ever give a thought to what message the film could send its audience?
A: There is a particular scene where he explains what bothers him too much. He says that 'I don't want someone else to touch you' and that's what a typical boy psychology is and at least in the society in which I live, I can see many boys doing that. I'm not saying it's healthy to stop a girl from pursuing her dream. But in the movie I wanted to end the movie in an original way, in a very realistic way, just not to be very ambitious.
Q: Was Simbu's character in the film tinged with a bit of a grey?
A: I didn't write it like a grey character. I have seen how boys are today even if they are broad minded they will support may be her friend to pursue something but when it comes to their own girl they really have problem with lot of things and this all I wanted to show indirectly but not blatantly.
Q. How do you handle the criticism that your film is getting for supposedly promoting male domination?
A: Even my sister felt same thing - that there is male domination in it. What I told her was that's how it is. After I have seen certain things, at the end of the day what a girl does is she will accept it and say 'ok fine'. For them more than the goal, more than the aim and whatever they pursue, they just go for whatever a boy wants. Girls just leave everything for their love.
Get the best of News18 delivered to your inbox - subscribe to News18 Daybreak. Follow News18.com on Twitter, Instagram, Facebook, Telegram, TikTok and on YouTube, and stay in the know with what's happening in the world around you – in real time.
Read full article