Police and Students Clash After Shutdown of Colleges in Kashmir
On Monday, anger swept the Valley college campuses that left scores of students and a dozen policemen wounded in day-long stone pelting clashes.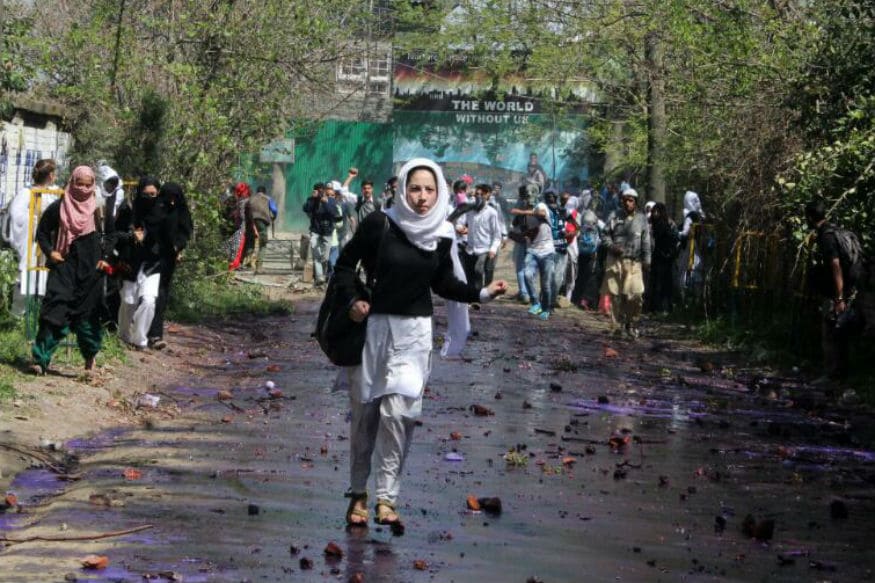 A school girl runs on the road strewn with stones. Behind her are the stone pelters. (Photo: Mufti Islah/CNN-News18)
On Monday, anger swept the Valley college campuses that left scores of students and a dozen policemen wounded in day-long stone pelting clashes.
The Mehbooba Mufti government responded by shutting down colleges and universities for a day and barred mobile Internet, apparently to stop videos and pictures of alleged security forces atrocities from going viral.
Violent clashes between forces and students replayed at many schools and colleges across Kashmir. The trigger was Saturday's clashes between police and students outside Pulwama degree college. Around 50 students and 15 policemen were injured then.
Young boys and girls hit the streets and within hours the protests spiralled out to almost every volatile area.
The Kashmir University Students Union or KUSU gave the protest call against the Pulwama incident in which police fired tear shells inside the college premises.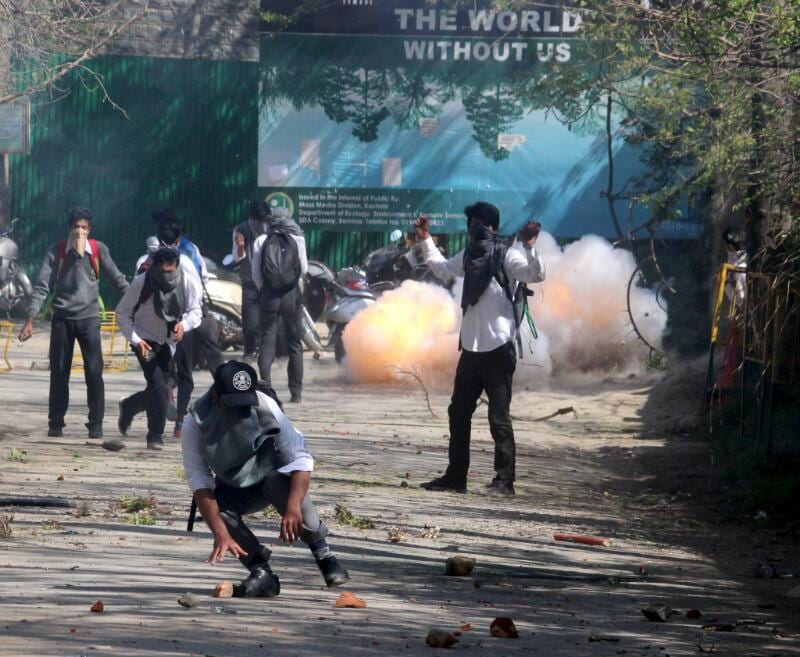 Masked stone pelters collect stones strewn across the road. (Mufti Isla/CNN-News18)
In Srinagar Lal Chowk area, masked students in neat white shirts and grey pants pelted stones on the police after the latter stopped them from marching out. The clashes lasted for several hours disrupting traffic. But while the action was unfolding, shopkeepers continued to work and some passersby were seen catching the scenes on cellphones.
Police burst a number of smoke shells but played a waiting game by not rushing at the students to avoid causalities.
Some students from SP College, Srinagar, threw stones from the main campus entrance while others climbed a wall of a neighbouring women's college to attack policemen.
Apparently, under strict instruction from the government, police did not enter the college.
The students protests fanned out in many volatile townships but there was not any serious injury reported till the evening.
Former chief minister Omar Abdullah criticised the government for failing to curb the violence. He tweeted: "I hope Mehbooba Mufti has thought through the implications of mass student protests across the valley. This is a deeply worrying situation. Why were all colleges/universities not shut for a few days after the Pulwama clashes? Is Mehbooba Mufti not alert to situation?"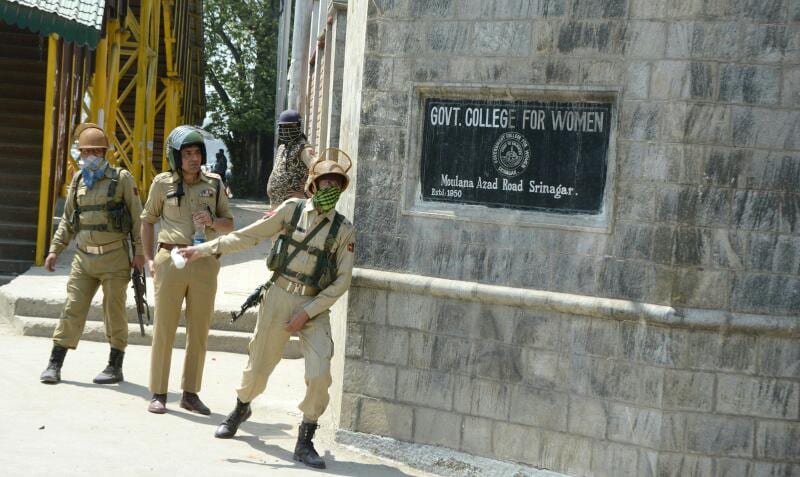 To pacify the students, Mehbooba Mufti's Peoples Democratic Party (PDP) demanded immediate probe and stern action against the personnel involved in disturbing peace of the college and use of any force against students and the staff.
"The party felt that resultant outrage from students on the provocative incident is natural and appealed to student community to maintain calm as peace at educational institutions was paramount to our future," the party's spokesman told News18.
The State Human Rights Commission (SHRC) alleged "disproportionate" use of force against students at Degree College Pulwama and sought report from the police.
Its chairman, Justice Bilal Nazki, directed Superintendent of Police Pulwama to file a detailed report of Pulwama campus violence within two weeks.
The authorities suspended 3G and 4G mobile Internet services across Kashmir but fixed line Internet facility was not taken back.
"E-curfew to be imposed in the valley again. I believe the orders have been issued," tweeted Omar minutes before it was withdrawn.
@media only screen and (max-width:740px) {
.quote-box{font-size:18px; line-height:30px; color:#505050; margin-top:30px; padding:22px 20px 20px 70px; position:relative; font-style:italic; font-weight:bold}
.special-text{font-size:24px; line-height:32px; color:#505050; margin:20px 40px 20px 20px; border-left:8px solid #ee1b24; padding:10px 10px 10px 15px; font-style:italic; font-weight:bold}
.quote-box img{width:60px; left:6px}
.quote-box .quote-nam{font-size:16px; color:#5f5f5f; padding-top:30px; text-align:right; font-weight:normal}
.quote-box .quote-nam span{font-weight:bold; color:#ee1b24}
}
Read full article