Police Crackdown on Jallikattu Protests Turns Movement Violent
The Jallikattu protests, for the past six days, have been grabbing attention for being peaceful so far.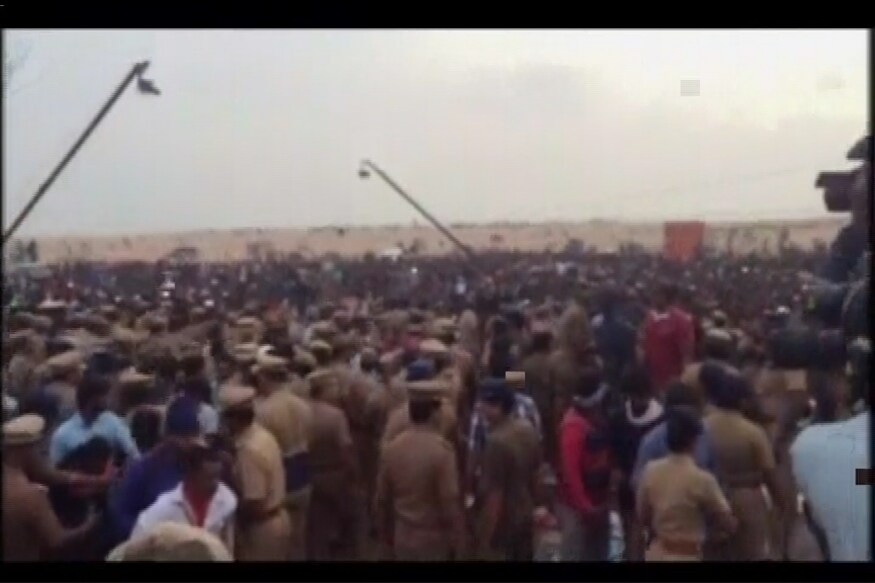 Protestors and police locked in a battle in Chennai over the Jallikattu issue.
Chennai: The Jallikattu protests, for the past six days, have been grabbing attention for being peaceful so far.
But things took a turn for worse when, in the early hours on Monday, police personnel were seen driving away protestors from the place.
Subsequent talks with the agitators yielded no results, and the police had to resort to lathicharge to evict the protestors. The roads leading to Marina were blocked by the police resulting in altercations between the protestors and the police. With the agitators indulging in stone pelting to clear the barricades, police had to use force to restore law and order.
The lathicharge incident was met with strong criticism and anger by the public in Chennai, and many staged road blocks in various parts of the city.
Traffic came to a standstill and protestors were urged by police and various members of the protesting committee itself to disperse and celebrate the victory of Jallikattu. Major roads of the city have been blocked, with the Old Mahabalipuram road experiencing no movement of traffic for more than five hours.
A police station at Icehouse, Triplicane and vehicles parked in front of the station were set on fire with the use of petrol bombs.
It is not officially confirmed as to who is behind the arson, and protestors are pointing fingers at various fringe political parties that had reportedly infiltrated the protests at Marina.
There have also been various incidents of violence and vandalism at three other police stations at Triplicane, which is situated close to Marina.
Police also lathicharged protestors at Gandhipuram, Coimbatore.
The Tamil Nadu Assembly has planned a special session at 5 pm in order to pass a bill to make the ordinance a permanent feature of law.
The Governor, on Monday, asserted that a state bill will be passed to replace the ordinance. DMK, Congress and IUML walked out of the assembly.
The situation in the city is palpably tense and the police is on high alert throughout the city. The protestors, who have been demanding an amendment to the PCA act and for a permanent solution to the Jallikattu issue, refused to budge from Marina beach even when supporters of Jallikattu like Hip Hop Thamizha Adhi, Raghava Lawrence and Siva Senapathy requested the agitators to call off the protests.
The protests in other parts of the state have been mostly called off.
The village of Alanganallur also witnessed lathicharge by police forces and the protestors have decided to call off protests.
The Jallikattu committee at Alanganallur has confirmed that the sport will be conducted on Feb 1.
With the police using pipes, sticks and teargas shells to disperse the protestors, the size of the protesting crowd has reduced considerably.
| Edited by: Ashutosh Tripathi
Read full article