PolicyX - The Platform Which Is Assisting In Choosing The Right Insurance Policy
here are multiple needs and to cater all of them, people usually go for multiple insurance policies which are health insurance, car insurance, term insurance & two wheeler insurance among others.
File image.
Insurance is one word that describes the emotion of having protection for ourselves and our family against several unwanted contingencies of life. It is true that we all want to have a secure stable life along with the required protection through which we can fight against different unwanted situations that can be health issues, accidents, disability, road accidents, death, etc. There are multiple needs and to cater all of them, people usually go for multiple insurance policies which are health insurance, car insurance, term insurance two wheeler insurance among others.
Why You Need an Insurance Policy?
All the above-stated policies are basic insurance plans which a person should add in their investment portfolio. If you check the basic needs of a person then what would it contain? A healthy life, security for family and protection from unwanted emergencies that can be road accidents. To stay protected against such emergencies, it is always good to invest in multiple insurance plans to have complete coverage.
We all are aware of the different uncertainties of life. There are several unwanted emergencies that must be waiting for us in the future. Would you dare to stand against them without the needful financial support that can also keep you motivated to fight against them and provide the needful peace of mind?
In this article, we will discuss most common but necessary insurance plans that a person should have for a secure future.
Let's start with the Health Insurance
• Health Insurance
Health Insurance is the basic yet necessary insurance policy that a person should have. But why? We all are living in a world which is completely not healthy, having a lifestyle that invites several diseases and sometimes the critical ones as well. Moreover, the growing inflation rate in the healthcare industry doesn't allow a person to get quality treatment on time. Because of fewer funds, many people fails to get the required health treatment on time.
Even the government hospitals are facing several issues just because of the population and growing number of diseases which make it difficult for them to offer required treatment to all. To protect yourselves and your family from such unwanted situations you must buy a health insurance plan. There are several health insurance plans in india and you can go for an individual insurance plan or the family floater that would offer coverage to the whole family under a single premium.
You can take help of PolicyX.com in choosing the best health insurance policy as it will offer you free insurance quotes from top health insurance companies of India that you can compare according to your needs and can choose the best one easily.
• Car Insurance
Well, when it comes to car insurance then you must be aware that it is a compulsory document that you have to carry to drive legally on the roads of India. Apart from this mandatory feature, you have to agree that it provides the needful assistance which saves you from several unwanted emergencies on roads. Plus you and your vehicle will remain protected against damages caused by man-made and natural disasters that include earthquake, floods, etc. Moreover, In India, there are two forms of car insurance-Third party liability and comprehensive insurance policy.
The third-party liability is the compulsory one but will not offer complete coverage. It will offer coverage to the third party liability only, the insured and his/her vehicle will not receive any benefits from this policy. Whereas, the comprehensive insurance plan is there to offer complete coverage to the insured and third-party liability as well. By paying a nominal premium you will be able to get the best plan for complete safety. Don't forget to renew car insurance plan online before it lapse as it can bring several difficulties for you.
• Term Insurance
One of the most effective insurance plans for those who want to offers complete safety to their family even after his/her demise. Term insurance is basically a traditional life insurance policy which is designed in a way that can offer the required financial assistance to the family of the insured after his/her demise through which they can easily maintain their standard of living and can afford their daily requirements as well.
Apart from this basic feature, one of essential feature that a term plan carries is the coverage against insured's disability where he would not be able to earn any more. Yes, this is an impressive feature, but it varies from plan to plan. Some insurance company offers it as an inbuilt feature and some might can ask you an extra premium for this coverage. It depend upon you to choose the best one that goes well with your needs. You can take help of an online insurance web aggregator such as PolicyX.com which can easily help you in term insurance plans comparison from top insurance companies of India and can buy the best one accordingly.
• Two-Wheeler Insurance
Again, one of the most common yet essential insurance plan which is compulsory to buy to drive legally on the roads of India. Yes, it is a crime if you drive without a valid insurance policy under the Motor Vehicle Act. In India, two wheeler insurance is divided into two parts-Third party liability and the comprehensive insurance plan which is also popular by the name of package policy. Investing in third-party liability will offer coverage to the third party only not to the insured or his/her vehicle.
But under a comprehensive insurance plan, you will get wider coverage. With this, you will be able to get the needful financial assistance in case of the road emergency. It will protect you from unwanted emergencies and will pay for all repairs to damages that take place because of natural and man-made calamities. It will offer the needful assistance in case of theft or stolen vehicle also.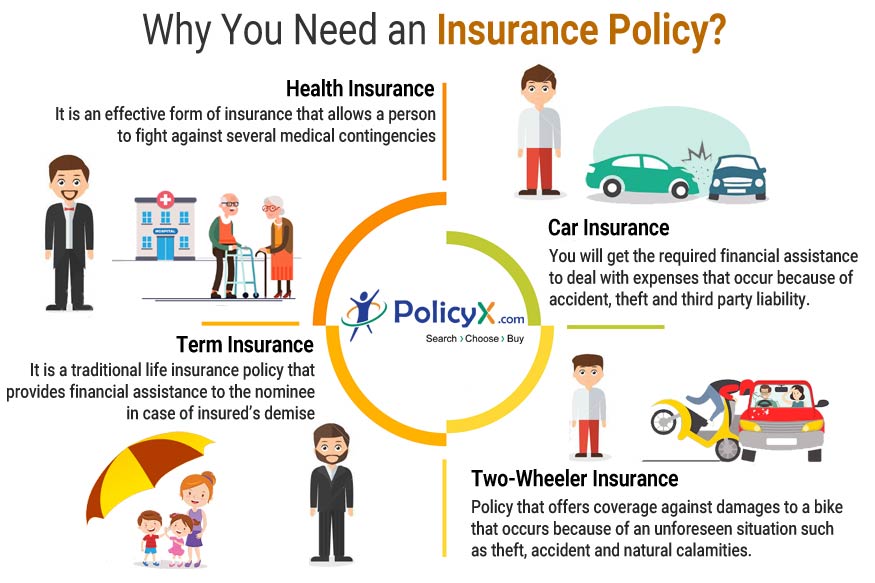 From where You Can Get all of Such Effective Insurance Plans ?
It is true that finding a platform where you can buy all such policies and that too at an affordable cost is difficult. And visiting different insurance companies one by one to get the quotes that you can compare is also a daunting task. In such a situation you can take help of PolicyX.com that offer free insurance quotes of health insurance, car insurance, term insurance, two wheeler insurance, life insurance etc, at a single platform.
"PolicyX in terms of a brand is something of value which our clients can trust. We not only provide the comparison among different policies but we believe in delivering a trusted advice to our customers" - Naval Goel, CEO
With such quotes, it will become easier for you to compare plans on the basis of features, benefits, cover, etc to get the best one according to your needs. The helpful customer care service of the company will help you from start till the end of your purchase and after that as well, whenever you need it.
We never know what is waiting for us in the future, and we can't stop the uncertainties of life but we can easily stay protected and can offer the needed protection to our family with effective insurance plans. We should always wish to have the best for our family and there is nothing better than a gift of protection.
Disclaimer: This is a sponsored article and does not necessarily reflect the views of News18.com or Network18. News18.com doesn't hold any responsibility for the content.
Read full article
Countdown To
Elections Results
To Assembly Elections 2018 Results