Political leaders condoles former president APJ Abdul Kalam's death
Former president and Bharat Ratna Dr Avul Pakir Jainulabdeen Abdul Kalam died in Shillong on Monday after he collapsed during a lecture at the Indian Institute of Management in the Meghalaya capital. Leaders across the political spectrum condoled the sudden demise of Kalam.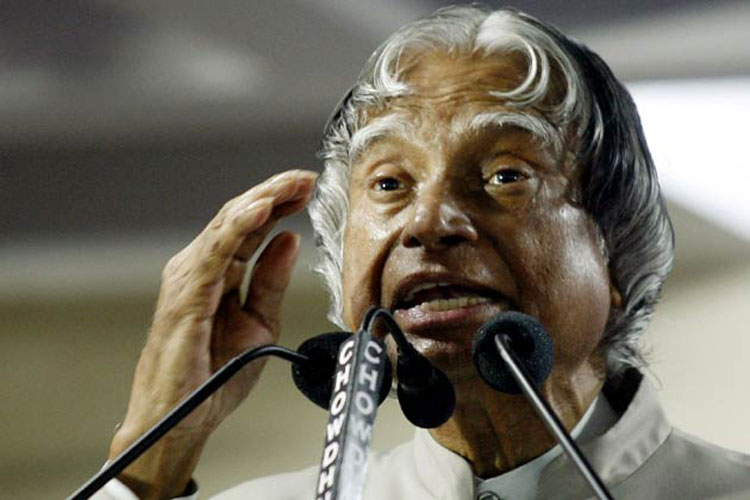 Former president and Bharat Ratna Dr Avul Pakir Jainulabdeen Abdul Kalam died in Shillong on Monday after he collapsed during a lecture at the Indian Institute of Management in the Meghalaya capital. Leaders across the political spectrum condoled the sudden demise of Kalam.
Former president and Bharat Ratna Dr Avul Pakir Jainulabdeen Abdul Kalam died in Shillong on Monday after he collapsed during a lecture at the Indian Institute of Management in the Meghalaya capital.
Kalam, who was the 11th President of India, was popularly known as India's 'missile man' for ensuring the success of Integrated Guided Missile Development Programme (IGMDP).
The government has declared national mourning for seven days as a mark of tribute to the former president.
Leaders across the political spectrum condoled the sudden demise of Kalam.
Pranab Mukherjee, President: The nation has lost a great son who was people's President during his lifetime and shall remain so even after his death. "His warmth, humility and simple ways endeared him to one and all. He had a special love for children and sought to constantly inspire the youth of our country through motivational speeches and personal interaction.
Hamid Ansari, Vice President: Kalam's contributions to the nation, in his capacity as a man of technology, a teacher and a leader "will be deeply cherished by a grateful nation."
Pratibha Patel, former president: Dr Kalam made India a big country with his missile reseach.
Narenda Modi, Prime Minister: He was a great scientist who contributed immensely in the filed of science and technology as well as space. I have lost a marg darshark. He was a source of inspiration for the whole country, particularly the youth. Even in his last days, he remained connected.
P Chidambaram, former finance minister: In recent history, only a few people had endeared themselves to the young and old, to the poor and the rich, to the educated and the unlettered, and to the people belonging to different faiths and speaking different languages.
Arvind Kejriwal, Delhi CM: Very sad to hear that Dr APJ Abdul Kalam is no more. Nation has lost a real bharat ratna.
Mamata Banerjee, West Bengal CM: Very, very sad news. I had a special bond with Kalam'ji. He was one of India's favorite sons and one of my favourite people. A very sad day.
Anandiben Patel, Gujarat CM: Nation has lost an eminent scientist and a polite human being. I pray for heavenly peace of the departed soul.
Nitish Kumar, Bihar CM: This is a personal loss for me. Dr Kalam was a great scientist and eminent social worker. On my request, he had come to Bihar on a number of occasions and guided the development of the state.
Oommen Chandy, Kerela CM: In the arena of Space research, India to International heights and made the office of President more "people friendly'.
Devendra Fadnavis, Maharashtra CM: Kalam saheb taught us to dream big and made us believe that dreams can come true. He led us on the path of making India the superpower. Kalam sahab's demise is a huge loss. Saddened & shocked!
Ram Naresh Yadav, Madhya Pradesh Governor: Kalam was not only a scientist, but also a person of versatile talent as well an able administrator.
Shivraj Singh Chouhan, Madhya Pradesh CM: Kalam, who was known as "the Missile Man", had great foresight and vision about India's development. He not only dreamt to make India a developed country by 2020, but also prescribed a concrete vision and guidelines for this.
N Chandrababu Naidu, Andhra Pradesh CM: I am deeply saddened. My deepest condolences. Kalam and I shared a great bond. His achievements as a fine scientist, scholar, teacher and a mentor are immeasurable. He will remain in our hearts.
K Chandrashekar Rao, Telangana CM: The former president's death is a great loss to the country.
Naveen Patnaik, Odisha CM: He was instrumental in strengthening the country's defence capabilities. Throughout his life, he lived only for the country. More than this, he was one of the finest human beings of our times. He inspired and guided millions of children to follow their dreams and explore their inherent talent. He has also written several inspiring books for the children.
Keshri Nath Tripathi, West Bengal Governor: "A scientist, teacher and an able administrator, A P J Abdul Kalam was known as the Missile Man of India and was instrumental in making the nation's defence invincible through his pioneering role in missile technology and Pokhran II nuclear test.
Vasundhara Raje, Rajesthan CM: Kalam's death was a great loss to the nation and she prayed for the peace of the departed soul.
Parkash Singh Badal, Punjab CM: Kalam was a towering and multifaceted personality apart from being a true statesman, an eminent academician, a noted nuclear scientist and above all a fine human being.
Mufti Mohammad Sayeed, Jammu and Kashmir CM: The nation has lost one of its true heroes and the void left behind by him will be difficult to fill.
Smriti Irani, HRD Minister: A man who has ignited minds, gladdened hearts and steered the nation to glory; with profound grief my 'shraddhanjali'.
Suresh Prabhu, Railway Minister: Dr Kalam made us all believe in future of our great nation by each of us working towards building our country together. Salam! RIP.
Sumitra Mahajan, Lok Sabha Speaker: I am pained to learn about Dr. Kalam's sad demise. He was one of the favorite Presidents of India whose personality was so amiable that he was liked by each one of us. The missile man of India, after relinquishing the charge of President of India, had relentlessly taught science to the youth of our country. It is indeed difficult to believe that he is no more among us
AK Singh, Lt Governor of Puducherry: The great soul departed, doing what he best liked, delivering a lecture at IIM Shillong and inspiring the students. Humanist at heart, his humility, simplicity, infectious positive spirit, who reached out to the powerful and the powerless with the same amplitude, changed the contours of the Office of President giving him the most deserving title of People's President.
Shashi Tharoor, Congress MP: Mourning APJ AbdulKalam -- a man anchored in traditional Indian culture with a vision of India's future possibilities, the People's President
Najeeb Jung, Lt Governor of Delhi: Abdul Kalam had great respect for Poetry and Art.
Lal Thanhawla, Mizoram CM: I and the people of Mizoram join the nation in mourning the death of a great leader who endeared him with one and all, The people of Mizoram will always remember his loving and friendly smiles during his visits to Mizoram. Kalam was truly the 'People's President'.
Amit Shah, BJP chief: Kalam dreamt of a developed, prosperous and strong India and dedicated his life to realising this dream. Nation will always be in debt for his contributions. His death has caused an irreparable loss to the nation.
Shatrughan Sinha, BJP MP: Apart from being a great scientist and genius in his own field, Kalam was very popular among the children. After Pandit Nehru, he was the most loved statesman by the young ones. Kalam's contribution for Bihar was huge and he had a passion for the people of the state as he always wanted growth of Bihar and its proper development
LK Advani, BJP patriarch : The news of the sudden demise of A P J Abdul Kalam, India's beloved former President, has left me in a state of shock and sorrow. I had known Dr Kalam very closely during, and also after, the six-year rule of the NDA when Atal Bihari Vajpayee was the Prime Minister. He graciously released my autobiography in 2008.
Nitin Gadkari, Union Minister: In his death the nation has lost a visionary and the scientific community a missile expert. He extensively travelled across the country with the mission of inspiring the students and the youth. As President, he discharged his constitutional responsibilities to perfection and to the admiration of all.
Ghulam Nabi Azad, Leader of the Opposition in Rajya Sabha: He was a "darling" of the people of this nation. After Pandit Jawaharlal Nehru, he was the second most
popular leader among the youth and students. In his death, the nation has lost a youth icon.
Manohar Lal Khattar, Haryana CM: Saddened by the demise of the former President of India Dr. APJ Abdul Kalam - the country has lost a great statesman and an ace scientist
JP Nadda, Union Health Minister: My homage to the great son of India Dr. Kalam. His
demise has left a void that can't be filled ever. Great loss to humanity.
Prakash Javadekar, Union Environment and Forest Minister: #DrKalam was great patriot & scientist was instrumental in launching first Satellite Launch Vehicle & development of ballistic missiles.
Sushma Swaraj, External Affairs Minister : Dr.APJ Abdul Kalam was people's President. My homage to the great soul.
Ram Vilas Paswan, Union Minister: On my party's behalf, I pay him my humblest condolences. He was rooted to the ground and was humble even when he occupied the top post in the country.
Get the best of News18 delivered to your inbox - subscribe to News18 Daybreak. Follow News18.com on Twitter, Instagram, Facebook, Telegram, TikTok and on YouTube, and stay in the know with what's happening in the world around you – in real time.
Read full article