Ponty Chadha murder: Delhi court defers framing of charges
<p>A Delhi court on Saturday deferred for January 13 its order on framing of charges against sacked Uttarakhand minorities panel chief S S Namdhari and 21 others, arrested in connection with the killing of liquor baron Ponty Chadha and his brother Hardeep in a shootout last year.</p>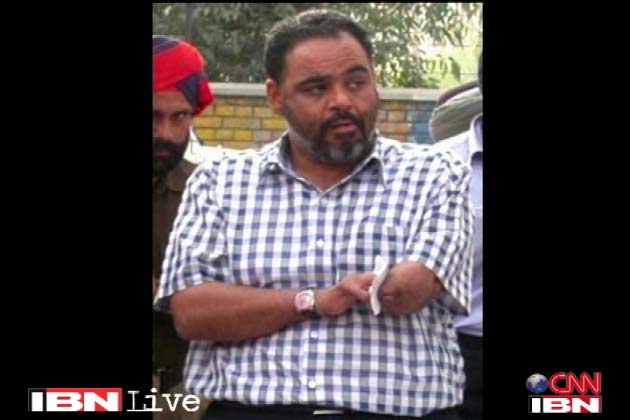 <p>A Delhi court on Saturday deferred for January 13 its order on framing of charges against sacked Uttarakhand minorities panel chief S S Namdhari and 21 others, arrested in connection with the killing of liquor baron Ponty Chadha and his brother Hardeep in a shootout last year.</p>
A Delhi court on Saturday deferred for January 13 its order on framing of charges against sacked Uttarakhand minorities panel chief S S Namdhari and 21 others, arrested in connection with the killing of liquor baron Ponty Chadha and his brother Hardeep in a shootout last year.
"Come for order on January 13, 2014," Additional Sessions Judge Vimal Kumar Yadav said, adding that he could not write the order as some important CD related to the case was missing and he was only able to trace it on Saturday. On December 14, the court had reserved the order for Saturday after arguments on framing of charges were concluded by the Delhi Police and 22 accused.
The counsel for Delhi police had claimed before the court that Ponty, Namdhari and his PSO Sachin Tyagi alongwith the their hench men had conspired together to take away Hardeep's farmhouse from his possession by any means and kill him.
However, Namdhari and others refuted the allegations of the probe agency and had said that they are "innocent" and have been "falsely implicated" in the case.
Ponty and Hardeep, who allegedly had a property dispute, were killed in a shootout at a Chhattarpur farmhouse in Delhi on November 17 2012. During the course of arguments, the prosecution had told the court that the two brothers were not on talking terms as there was property dispute between them.
"The dispute had not resolved on November 16, 2012 night, so the planning was to take away the property by any means, in which the two brothers were killed," prosecution had said. Countering the prosecution's claim, Namdhari and others claimed that Hardeep had conspired with one senior Delhi police official and a Congress MLA to take possession of the farmhouse where the two brothers were killed.
Altogether, 22 persons were charge sheeted for offences including attempt to murder, causing grievous harm, dacoity, rioting with deadly weapons, house trespass, kidnapping, illegal confinement and destruction of evidence. However, the trial against Hardeep, against whom a separate FIR was lodged in the case, and Ponty has been abated as they died in the shootout.
The charges of criminal conspiracy, common intention and those under the Arms Act were also levelled against all the 22 accused, including Ponty, for trying to take over the disputed farmhouse from the possession of Hardeep.
The first charge sheet had named Ponty as an accused as he had reached the place of incident with Namdhari and others as part of his "well-hatched conspiracy" to take possession of the south Delhi farm house.
The second supplementary charge sheet had accused Hardeep in the case, saying the probe has shown Ponty was killed by the shot fired at him by his brother.
Get the best of News18 delivered to your inbox - subscribe to News18 Daybreak. Follow News18.com on Twitter, Instagram, Facebook, Telegram, TikTok and on YouTube, and stay in the know with what's happening in the world around you – in real time.
Read full article