GET Stock

Quotes


Portal to Expedite Disbursal of Mudra Loans to Weavers
The portal, developed by Ministry of Textiles in association with Punjab National Bank, will become operational from April 1.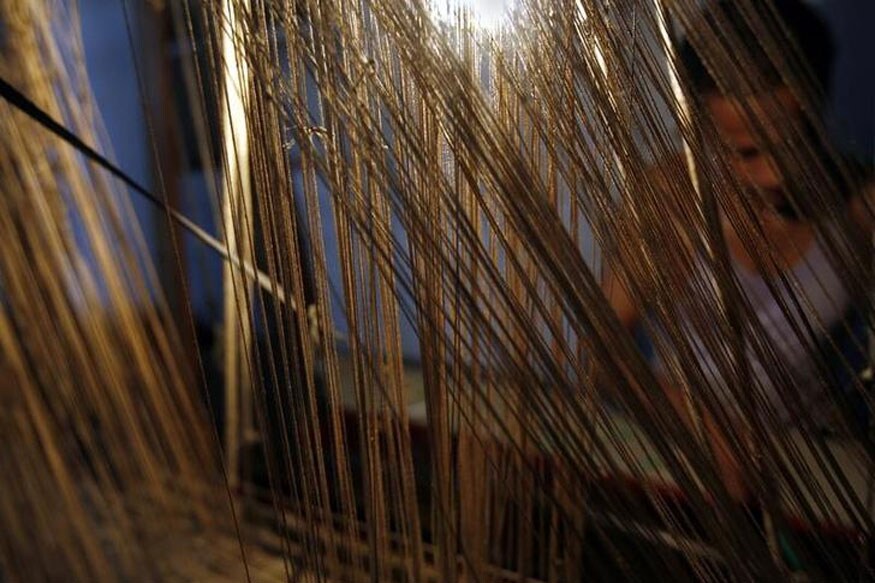 In this file photo, Mohammad Talib weaves clothes at his handloom workshop in his home in the northern Indian city of Varanasi. (Photo: Reuters)
New Delhi: A Mudra portal was on Wednesday unveiled by Union Minister Smriti Irani that will enable banks to deposit financial assistance to handloom weavers in electronic mode and credit the loan directly to their accounts.
Through the portal, regional offices of banks will be able to submit the claims in electronic mode. The fund transfer will also be made in electronic mode. The money will be credited directly to the loan account of the weavers.
Moreover, interest subvention and credit guarantee fee will be credited directly to the bank.
"The Mudra portal launched today(Wednesday) will be functional from April 1. It will enable weavers to track the status of their loan applications. We are making efforts to link all banks with the portal so that weavers availing Mudra loans can track the processing status of their applications," Textiles Minister Irani said while addressing a conference on International Women's Day in New Delhi.
She pointed out that women comprise 70 per cent of the beneficiaries of the Mudra (Micro Units Development &
Refinance Agency) loan scheme.
The portal, developed by Ministry of Textiles in association with Punjab National Bank, will become operational from April 1.
The Minister announced that an award has been instituted in the name of social reformer and freedom fighter Kamaladevi

Chattopadhyay, which will be presented to extraordinary women weavers on the Handloom Day on August 7.
Irani observed that an analysis undertaken by the Textile Ministry revealed that only one woman has received the Sant Kabir Award till now. Moreover, from 1995 onwards, only 10 per cent women were bestowed the National Merit awards and other national level awards related to the Textile Ministry.
She said the Buniyaad reeling machine will be distributed to artisans to end the 'unhygienic and inhuman practice' of thigh reeling adopted by almost 30 per cent women to produce Tussar silk.
The Minister highlighted that an MoU has been signed between the Office of the Development Commissioner (Handicrafts) and the National Scheduled Caste Finance Development Corporation under the Ministry of Social Justice and Empowerment to promote SC artisans, especially females.
The Pradhan Mantri Mudra Yojana, which has a corpus of Rs 20,000 crore, can lend between Rs 50,000 and Rs 10 lakh to small entrepreneurs.
It has been set up for development and refinancing activities relating to micro units. It provides refinance to
banks and other institutions at 7 per cent interest.
The Ministry of Textiles has adopted Mudra platform for providing loan to handloom weavers and weaver entrepreneurs.
RuPay cards are also issued to the beneficiaries to withdraw the loan amount upto Rs 50,000.
Also Watch
Read full article