Potholed India makes life miserable in cities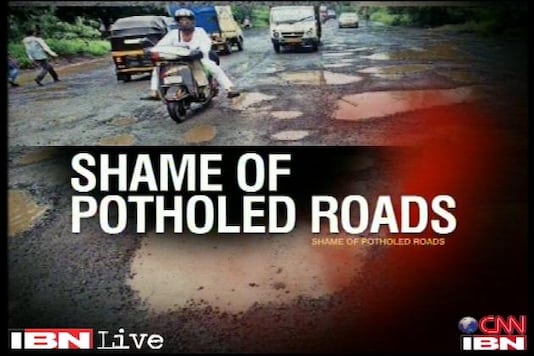 New Delhi: Come monsoon and the Indian city people struggle to commute. As it rains, in potholed India, it's all about bumpy rides, accidents and traffic jams.
In the cities of Mumbai, Delhi and Bangalore, where authorities claim to be spending lakhs and crores on maintenance of roads, commuters are leading a miserable life struggling to sail through potholed roads every day.
No escape from potholes in Mumbai, Rs 3,800 crore going down the drain?
Even after spending crores for over five years on reconstruction of roads in Mumbai, potholes continue to trouble commuters in the financial city of the country.
"It's a nightmare to drive on Mumbai roads," says one of the commuters. "BMC hasn't done anything over the years to improve the condition of Mumbai roads," adds another commuter.
Since 2008, the Brihanmumbai Municipal Corporation (BMC) has spent a whopping Rs 3,800 crore in reconstruction of roads. For potholes and spot repairs, the municipal corporation has spent Rs 336 crore in the past five years. But with no improvement seen on the roads, the people are questioning where all the money is going.
For over a decade now, six companies - RP Shah, Relcon Infrastructure, Prakash Engineers, Vitrag Construction, J Kumar and KR Constructions have been bagging the contracts for road repairing but despite the situation not improving, the government has not tried to pass the contract to other companies.
"The pre-condition is designed for the six contractors. The political class does not have the guts to confront them. They have backing from Mantralaya and BMC," Standing committee member Rais Shaikh alleged.
The potholes have also claimed a life recently. The Shinde family, which resides in Mumbai suburbs of Andheri, are still in shock after their eldest son, 28-year-old civil engineer Umesh, was killed when his two wheeler hit a six inch pothole on the Western Express Highway. Despite wearing a hemlet, Umesh sustained injuries and was declared dead on arrival at hospital.
"We thought we should buy asphalt and go fill the potholes ourselves. My brother died, I don't want anybody else to meet the same fate," Umesh's brother Sujit Shinde said.
The Shinde house that saw week-long celebration only two months ago when Umesh tied the knot is now struggling to come to terms with his death.
While the distraught family is yet to make up its mind about filing a case, the civic activists and legal experts say a case like this merits not just a civil action but even criminal prosecution.
BBMP misses deadlines to repair roads in Bangalore
The road here from St John's to Sarjapur is being called the best road to give one an off-roading experience in the Bangalore city. "You are seeing in front of us only how deep the pothole is. When the rain comes, water will be filled, we will not be knowing how deep it is," said a commuter.
"Three to four months back while elections, our leaders told us that our votes were valuable and now we see how much they value our votes through this road," said another troubled commuter.
The Bruhat Bengaluru Mahanagara Palike (BBMP) says it has allotted Rs 5 lakh for each ward in the city, that has 198 wards, to repair the conditions of the road. It is nearly about Rs 10 crore that the BBMP is spending to fix the roads but statistics don't mean much to commuters in Bangalore.
Drivers and passengers struggle and the BBMP has already missed two deadlines to fix the roads in the city with the state government giving the BBMP another extension of two weeks to get its act together. It has to be seen whether Bangalore can be pothole-free and whether driving or riding in the rains will be a comfortable experience.
Potholed roads a recurring phenomena in Delhi
Potholed roads is a recurring phenomena even in the national capital. Every year after the monsoon several roads in Delhi tend to cave in and cause huge potholes. CNN-IBN came across a 28-feet wide pothole in east Delhi. The entire road had caved in and that was not the only crater but many causing huge problems for traffic.
"Be it rain or no rain, this road has always had potholes. In the past 3 to 4 years the condition of this road has only become worse and there hasn't been any sort of repairs done," said a commuter.
The repair work, too, is an eye wash as it is basically a mixture of some concrete and the rubble thrown into the potholes and that's the end of it. Now, Delhi has nearly 24,000 km of road including its main and internal roads and with the monsoons just about approaching, the situation is only going to get worse and it's certainly going to take more than this to solve the pothole problem of Delhi.
Potholes are not a new story in any of the above mentioned cities. Despite the plight of commuters being highlighted every year, the pothole problem remains in many cities. While authorities claim crores are being spent, it remains to be seen whether the bumpy potholed ride in India can become a smooth one.
####
Next Story