Pranjal Patil, India's First Visually Challenged Woman IAS Officer, Takes Charge as Sub-Collector of Thiruvananthapuram
Pranjal Patil, who hails from Ulhasnagar in Maharashtra, had lost her vision when she was just six years old.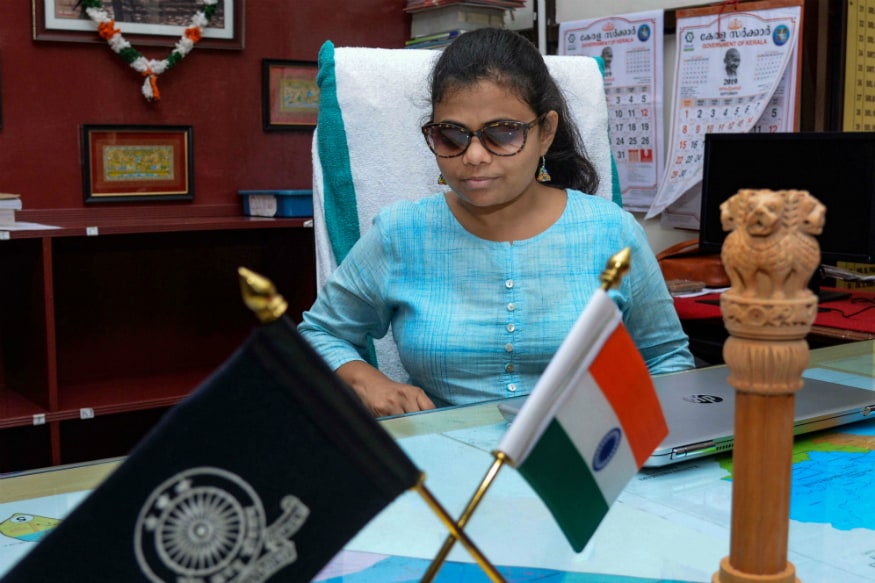 Visually challenged IAS officer Pranjal Patil assumes charge as Thiruvananthapuram Sub-Collector in Thiruvananthapuram (PTI)
Thiruvananthapuram: India's first visually impaired woman IAS officer on Monday took change as Sub-collector of Kerala's Thiruvanthapuram district.
Pranjal Patil, who hails from Ulhas Nagar in Maharashtra, lost her vision at the age of six. She won 733rd rank in her first civil service attempt in 2016 while she managed to secure 124th rank in 2017.
While assuming charge Pranjal said, "We should never be defeated and we should never give up. With our efforts, all of us will get that one breakthrough which we want."
"I am feeling extremely glad and proud to take charge. Once I start working, I will have more idea about the sub divisions of the district and can have more plans to what to do for the subdivision," she added.
She added that she expects support and co-operation from people of Thiruvanthapuram and her staff as she begins her work here.
Pranjal Patil completed her graduation in political science from St. Xavier's college and Master's in International relations from JNU. She had studied at the Kamala Mehta Dadar School for the blind.
Patil was appointed Ernakulam Assistant Collector during her training period.
Biju Prabhakar, former district collector and social justice department secretary also reached her office to congratulated her.
Get the best of News18 delivered to your inbox - subscribe to News18 Daybreak. Follow News18.com on Twitter, Instagram, Facebook, Telegram, TikTok and on YouTube, and stay in the know with what's happening in the world around you – in real time.
Read full article