News18
»
News
»
India
»
India settles border dispute with Bangladesh as Narendra Modi signs Land Boundary Agreement with Sheikh Hasina
1-MIN READ
India settles border dispute with Bangladesh as Narendra Modi signs Land Boundary Agreement with Sheikh Hasina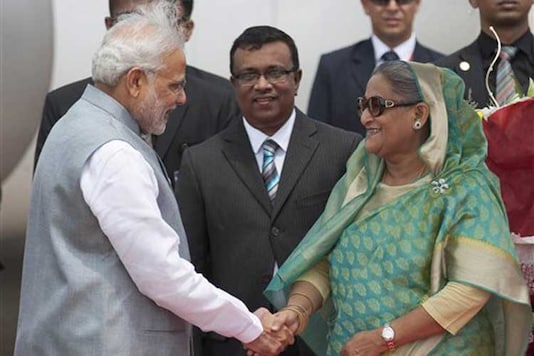 Dhaka: In a big breakthrough in Indo-Bangladesh ties, Prime Minister Narendra Modi signed the Land Boundary Agreement with his Bangladeshi counterpart Shiekh Hasina.
With this agreement in place, India has control of 510 acres of land while Bangladesh will have control of 10,000 acres of land at the India-Bangladesh border thereby settling the border dispute.
"History is made as the Instruments of Ratification of the Land Boundary Agreement are exchanged," Modi tweeted.
The exchange of documents paves way for the operationalisation of the 1974 India-Bangladesh LBA that provides for exchange of 161 enclaves between the two countries. A total 111 border enclaves will be transferred to Bangladesh in exchange for 51 that will become part of India.
In the recently concluded Budget Session, Parliament had passed a historic Constitution Amendment Bill seeking to settle India's 41-year-old border issue with Bangladesh. The bill will operationalise the India-Bangladesh Land Boundary agreement that provides for exchange of 161 enclaves between the two countries.
Earlier in the day, Modi and Hasina along with West Bengal Chief Minister Mamata Banerjee flagged off the bus service between Kolkata and Agartala via Dhaka and the Dhaka-Shillong-Guwahati bus service.
The Prime Minister has a tight schedule during his two-day Bangladesh visit as besides holding detailed talks with Hasina, he will attend several programmes and pay a visit to the Memorial of the 1971 liberation war.
Besides signing pacts to improve connectivity between the two countries, there will be efforts by both the sides to enhance trade.
Bangladesh is an important trading partner for India, with two-way trade in 2012-2013 standing at $5.34 billion and India's exports to Bangladesh accounting for $4.776 billion besides imports of $0.564 million.
The two countries are keen to strengthen railway connectivity, particularly to revive railway links which were in existence prior to 1965.
The two countries are also set to sign a coastal shipping agreement to facilitate sailing of small vessels from India to various ports in Bangladesh which now go through Singapore.
Next Story