Project Report For 30 River Links Across India Being Prepared: Says Sanjeev Balyan
In an exclusive interview to News18's Uday Singh Rana and Aishwarya Kumar, Union minister of state (MoS) for water resources Sanjeev Balyan speaks over pending projects, river linking, agrarian distress and farmer unrest in the country.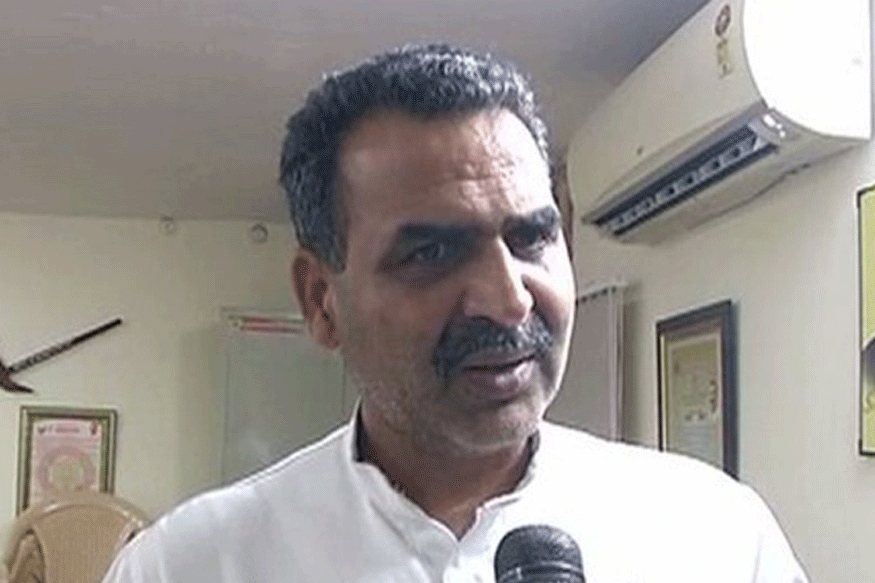 Union minister of state (MoS) for water resources Sanjeev Balyan.
With agrarian crisis affecting state after state, the ministry of water resources has its hands full. Union minister of state (MoS) for water resources Sanjeev Balyan spoke to News18's Uday Singh Rana and Aishwarya Kumar over pending projects, river linking, agrarian distress and farmer unrest in the country. Edited excerpts:
News18: Over the past three years, we have seen droughts in several states. Irregular weather patterns have led to agricultural crises. Does the water resources ministry have a roadmap to deal with this problem?
Sanjeev Balyan (SB) : Water resources ministry's mandate used to be to assist states in irrigation projects. Now the mandate also includes Ganga rejuvenation and river water conservation. When our government came to power, our priority was to work on pending projects. A committee was formed, under three ministries, which compiled a list of 99 projects that had been pending for the last 30 years. These were projects such as dams and canals. We were asked not to take on any new project for a while. The total budget of these projects was Rs 77,000 crore, of which Rs 32,000 crore was the Center's share and the rest was to be contributed by the states. National Bank for Agriculture and Rural Development (NABARD) was brought in to raise the money for both. This is how the Modi government started work on 99 incomplete projects.
News18: One of the biggest crises facing the country today is groundwater depletion. Groundwater recharge is simply not happening in several parts of the country. What is the government's strategy on this front?
SB: In 2012, the Central Groundwater Board, which is part of our ministry, did a nationwide study. They created a National Water Policy and identified dark blocks where water tables were depleting. But it is true that state governments have not been able to do much work in this direction. In fact, most state governments don't even have a water policy of their own. Now we are preparing a proposal with the World Bank for a project tentatively costing Rs 7,000 core. In four states — Rajasthan, Punjab, Haryana and Uttar Pradesh (western UP and Bundelkhand) — we are working to recharge groundwater levels.
I requested the UP chief minister to also create a Pond Development Authority. Two governments that have done especially well in this area are Rajasthan and Maharashtra. And now I am confident the new UP government will also work well. We are now forming a policy to ensure that industries recharge as much groundwater as they take from ponds and lakes. I would like to also mention Maharashtra government's initiative to ensure that sugarcane farming only takes place through drip irrigation. A similar policy can also be implemented in Uttar Pradesh.
News18: In Tamil Nadu, one of the farmers' biggest demands is river linking, which was PM Modi's poll promise. What progress has the government made on this front?
SB: South India is our priority in terms of irrigation projects. River linking across states is a tricky thing to do. If the Ken-Betwa project starts this year, then it will encourage other state governments. I am glad that UP and Madhya Pradesh agreed to cooperate but the Center cannot do anything till two states, in this case Karnataka and Tamil Nadu, are on the same page. We have started preparing the detailed project report (DPR) for 30 river-links across the country. Wherever the state governments agree, we will roll out these projects. The Ken-Betwa project has received all approvals and clearances. We are now preparing the Cabinet note for the project. In 2017, we will start the nation's first big river linking project. The total cost of the project is likely to be around Rs 18,000 crore. Our job is to help states and cooperate with them.
News18: It's been three years and PM Modi's promise of implementing the Swaminathan Committee's recommendations remains unfulfilled. Why is there a delay?
SB: It is true that this has been delayed due to technical reasons. You see, the government purchases only two crops, wheat and rice, from the farmers. Over the last two years, we have also started purchasing pulses. So farmers are largely dependent on market forces, which we cannot allow. The present unrest can be resolved if farmer leaders sit and talk with the government. The government is committed to ensure that farmers get their fair share. Still, the government has started some excellent policies such as the Pradhan Minister's Crop Insurance Scheme. But I admit that more work needs to be done and we are committed to it.
News18: In Madhya Pradesh, things spiraled out of control in the first week of June but the writing has been on the wall for quite some time now. Don't you think the MP Chief Minister has failed in containing the violence?
SB: As a farmer, if there is one chief minister I respect then it is Shivraj Singh Chouhan. Nobody can compare with Chouhan sahib when it comes to creating pro-farmer policies. In MP, the agricultural growth rate has been between 16% and 20%. Almost the entire irrigation framework of the state has been created during his tenure. The situation was so bad that there was no water available for the crops. I agree that all of the farmers' issues have not been resolved but there is no doubt that he is a pro-farmer CM.
News18: What need was there for a chief minister to sit on a fast? Why not take charge of situation and engage with protesting farmers instead?
SB: It is possible for him to run the state from a day-long fast as well. Engagement should continue and farmers should meet the government. Farmer protests have happened before. I am from western UP and I remember Mahendra Singh Tikait's protests. But they never got violent. We should all ensure that things never turn violent. Non-violence is good for everyone.
News18: In UP, Chief Minister Yogi Adityanath is getting ready to roll out a farm loan waiver. Has Yogi's waiver put pressure on other BJP-ruled states? Isn't that why Maharashtra, too, announced a waiver?
SB: Every Chief Minister has the right to decide the direction for his or her state, depending on the fiscal situation. It is not right for me to comment on which state wants to take what direction.
News18: Another big promise of the BJP was the Ram Temple in Ayodhya. You have a majority in Lok Sabha and in the UP Assembly. What's your plan ahead?
SB: The issue is taking time to resolve because the case is in the Supreme Court as of now. Till the time the case is in court, I don't think the government can pass the law. We all want a Ram Mandir but Supreme Court is supreme. Let's wait for their verdict.
News18: The Center's notification on cattle slaughter has backfired. After Kerala, Meghalaya has rebelled against the notification. Is it really fair to impose one way of life on the entire country? Also, does it not undermine the federal structure?
SB: This is not a case of imposing one way of life on the entire country. We don't intend to do that at all. If you look at cow slaughter, it is banned in all states except a handful. We respect the cow as an article of faith. We all want illegal slaughtering of animals to stop.
News18: There was a Hindutva wave during the 2017 Assembly polls and people voted above caste lines. Has that alliance dissipated after the Saharanpur riots?
SB: No, that wave has not dissipated. Some things are created for political gain. It's evident for all to see how a senior Congress leader has been hobnobbing with radical elements. There seems to be a larger conspiracy in this case. Such elements cannot function without support and this will be investigated. This is not indicative of any larger trends. I am certain that under the BJP government in UP, caste divisions will reduce drastically.
News18: What would you say to Dalits who feel that BJP and Sangh Parivar remember them only during elections?
SB: We have stood with the downtrodden and will continue to stand with them. Our government in the state has not discriminated in the investigation. Besides, I don't think any national leader has paid tribute to Dr. BR Ambedkar the way the Prime Minister Narendra Modi has.
Get the best of News18 delivered to your inbox - subscribe to News18 Daybreak. Follow News18.com on Twitter, Instagram, Facebook, TikTok and on YouTube, and stay in the know with what's happening in the world around you – in real time.
Subscribe to Moneycontrol Pro and gain access to curated markets data, trading recommendations, equity analysis, investment ideas, insights from market gurus and much more. Get Moneycontrol PRO for 1 year at price of 3 months. Use code FREEDOM.
| Edited by: Bijaya Das
Read full article