Hunger Strike to Protest Against Targeting of Dalit Activists During Bharat Bandh, Says Bhim Army Chief
Azad has been in jail for the last nine months in connection with last year's Saharanpur riots.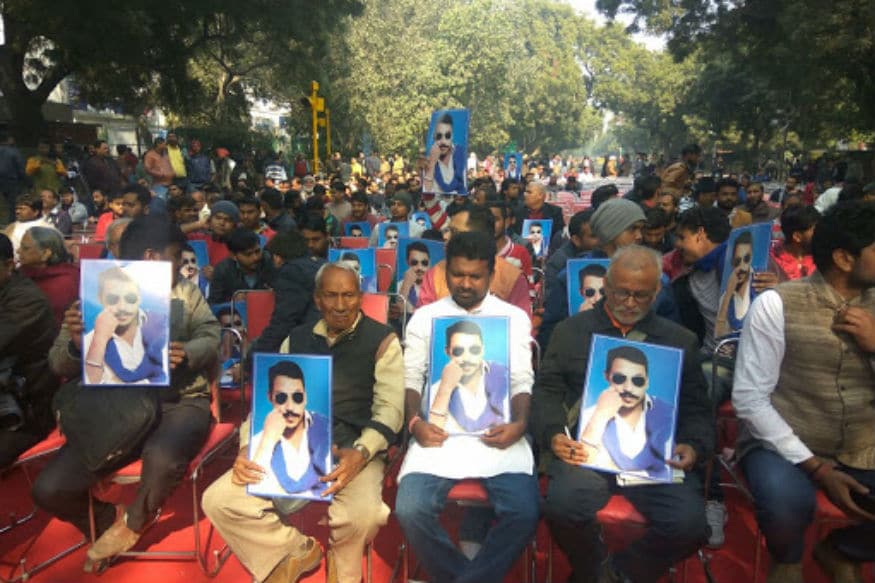 File photo of supporters of Bhim Army chief holding his picture during a protest rally in New Delhi.
Saharanpur: In the aftermath of the nation-wide protests by Dalits against the alleged dilution of the SC and ST (Prevention of Atrocities) ACT, Dalit activists are claiming they are being unfairly targeted by the police, especially in Uttar Pradesh and Uttarakhand.
To protest against these alleged atrocities, Bhim Army founder Chandrashekhar Azad Raavan will launch an indefinite hunger strike from Saharanpur district jail, where he is currently lodged.
Azad has been in jail for the last nine months in connection with last year's Saharanpur riots.
"The Dalit community came out onto the streets to fight for their rights. The Constitution, which was framed by Baba Saheb Ambedkar, gives us that right. Yes, it is true that there was violence in some parts during the protests, but Dalits were the worst victims of it. Most people who died in these protests were Dalits. Since then, the police in UP and Uttarakhand have intensified their campaign against Dalits and Bhim Army activists," said Kamal Walia, Bhim Army's Saharanpur district chief and close confidant of Chandrashekhar.
Walia, who spent eight months with Azad in prison, added, "Scores of boys are being picked up in all districts of western UP, where Bhim Army is active. They are being picked up without any evidence against them. In Uttarakhand, even Dalit policemen are being looked at with suspicion. This is an unprecedented attack on Dalits and to protest this, Bhim Army founder Chandrashekhar Azad Raavan will launch a hunger strike against the BJP governments in these states and the Centre. Unless the activists, who have been unfairly held, are released, he will not end his fast."
Vinay Ratan Singh, Bhim Army's acting president, said, "We have recieved input from fellow Bahujan activists that RSS men infiltrated our protests on April 2. They instigated violence in different parts of the country so that our peaceful movement gets blamed."
Bhim Army and its founder Chandrashekhar shot to national prominence last year after a caste conflict broke out in Western UP's Saharanpur district.
The Bhim Army, in protest against alleged atrocities on Dalits, had called for a Mahapanchayat in Saharanpur on May 9, 2017.
While the police denied permission for the public meeting, invitations had already gone out on social media. Hundreds had started making their way to the venue of the meeting when things turned sour.
Supporters of the Bhim Army clashed with the police, following which Chandrashekhar was booked by the police.
A month later, he was arrested by a team of UP Police in Himachal Pradesh's Dalhousie. Chandrashekhar was booked by the UP Government under the stringent National Security Act (NSA) and has been lodged in jail ever since.
| Edited by: Ashutosh Tripathi
Read full article