Protests dog Olympic torch run in Bangkok
About 200 China supporters taunted pro-Tibet demonstrators in Bangkok.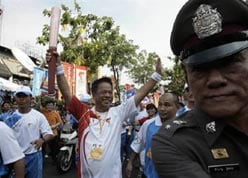 About 200 China supporters taunted pro-Tibet demonstrators in Bangkok.
Bangkok: About two hundred China supporters taunted pro-Tibet demonstrators as the Olympic torch was paraded through Bangkok amid tight security on Saturday.
Police pushed back several people who tried to advance beyond barricades to counter demonstrations by scores of activists angry at China's human rights record and rule over Tibet.
A crowd dressed in red waving China flags gathered outside the regional headquarters of the United Nations, chanting pro-China slogans as the demonstrators held aloft banners saying "no torch in Tibet" and "one world, one dream, free Tibet".
"They are killing many Tibetans, like animals," said one protester, who had "free Tibet" scrawled on his bare chest.
A police helicopter hovered overhead as the torch and runners began their 10.5-km relay in the city's China Town, watched by Olympic marshals and tightly escorted by police patrols and motorcycles.
The parade got underway without incident with crowds cheering as the symbolic flame made the short journey towards the golden-spired Grand Palace.
"We, Thailand, confirm our pure intention to separate politics from sport and give our support to China for the 2008 Olympics in Beijing," deputy prime minister Sanan Kajornprasart, told the crowd.
State television in China made no mention of the protests in its report on the relay in the Thai capital, saying that it received a rapturous welcome.
"There were no disharmonious voices," the report said.
Several thousand police have been drafted in to protect the parade route, which has not been altered by security chiefs despite the planned demonstration.
On the previous leg of the torch's swing through Asia, India had to deploy 15,000 police to keep at bay protesters from the world's largest community of exiled Tibetans.
Malaysia announced on Saturday it will deploy police commandos to beef up security for Monday's run through Kuala Lumpur. They will escort the torch bearers over the 16.5-km route, newspapers said.
There were some early signs of concerns on Friday after about 20 followers of Falun Gong, the religious group outlawed by Beijing, protested peacefully outside the Chinese embassy in Kuala Lumpur.
"We are prepared to counter any form of disturbance from anyone or any organisation," the Star newspaper quoted the city's police internal security chief K Kumaran as saying.
The official China Daily on Saturday quoted French ambassador to China, Herve Ladsous, as saying he regretted what happened on the Paris leg of the relay, and would like to meet the disabled Chinese athlete targetted by protesters there.
"I deeply regret what happened," he said.
"I hope I can meet Jin Jing in person to show friendship and my deep regret," Ladsous added, referring to the disabled athlete, who has rocketed to national fame in China after fending off anti-China protesters in Paris.
The Olympic Games take place in Beijing from August 8-24.
Get the best of News18 delivered to your inbox - subscribe to News18 Daybreak. Follow News18.com on Twitter, Instagram, Facebook, Telegram, TikTok and on YouTube, and stay in the know with what's happening in the world around you – in real time.
Read full article