Proud to be a Political Prisoner's Son, Says Sagar Gonsalves
Vernon Gonsalves, a Mumbai resident, is one of the prominent activists and lawyers whose homes were raided by the Pune Police on August 28 on suspicion they had links with Maoists. He and four others were later arrested.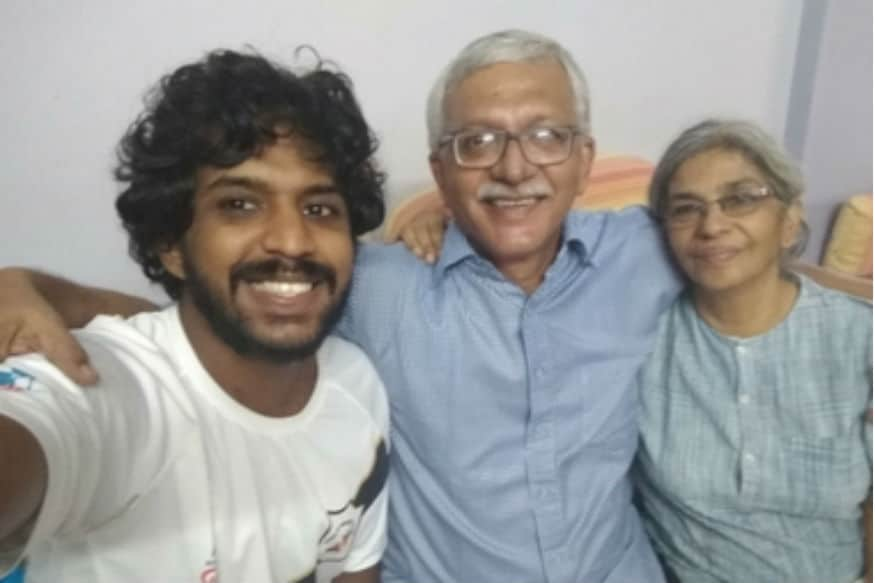 Seen here is Vernon Gonsalves with his son Sagar and wife Susan Abraham.
Sagar Gonsalves, son of Vernon Gonsalves, one of the five activists arrested for alleged Maoist links, rejected the police charges against his father and termed them as "laughable".
Vernon Gonsalves, a Mumbai resident, is one of the prominent activists and lawyers whose homes were raided by the Pune Police on August 28 on suspicion they had links with Maoists. He and four others were later arrested.
Besides Vernon Gonsalves, the other arrested were Varavara Rao (Hyderabad), Arun Ferreira (Mumbai), Sudha Bharadwaj (Faridabad) and Gautam Navalakha (New Delhi).
The raids were carried out as part of a probe into the "Elgaar Parishad", an event organised in Pune on 31 December, 2017, which allegedly triggered violence at Bhima-Koregaon village in Pune district the next day.
Here are the edited excerpts from the interview with Sagar Gonsalves:
Q) What do you think of your parents' political views? Does it influence you?
A) The best thing about my parents is that they don't force me into following anything. They have their own ideology and they let me follow mine. I love the fact that my father stands up for things he believes in. I simply love it. My father is a left leaning person. If you ask me my political inclination is, I'd say that I don't really understand politics and I feel I'm too young for it. The current system surely irritates me. The rich are just getting rich and the poor are getting poorer.Yes,then maybe you can say I'm a slight left leaning.
Q) How did your parents' activism shape you as a person?
A) While growing up people have idols, for example, Abdul Kalam, Kalpana Chawla. I admired no one but my parents. From a young age, I wanted to be like my parents who have always worked for the rights of the downtrodden. My father is an activist who worked in Chandrapur region of Maharashtra with the tribal community.He helped in increasing awareness among the community and worked for their development.
When I grew a little older, I went to see this place and realised that these people respected my parents a lot. I undertook my Gandhi fellowship recently where I got to work in the rural India. After this experience I learnt a lot and I want to keep working in this field like my father.
Q) What are your apprehensions about the house arrest?
A) The policemen just walked into our house with those huge AK-47 guns. My colony consists of simple middle class people. But now the media and police keep coming in. We don't want to cause any discomfort to people around us. I feel bad for them.
Q) I read in one of the articles that your mother offered tea to the cops when they came to arrest your father Vernon Gonsalves. What could be the reason that your parents were so calm in such a situation?
A) My parents are calm by nature. They have always told me that there is no point in being angry. I feel that they are very strong. My dad always has a smile on his face and people like my father are fighters and it takes a lot to break such people.
Q) In 2007, your father was arrested under UAPA(Unlawful Activities Prevention Act). What were your feelings then? How did your mother and people around you react?
A) No matter how much ever I want to deny it, it was indeed hard for both my mother and I. My mother is a very strong woman.Looking at her each day gave me the hope and inspiration to go on. Moreover, we got support from everyone. Even when my father was in jail, the people in our colony gave us a lot of support. They stood by us and believed in us.
Q) Despite being a lawyer, your mother couldn't do anything for your father while he was in jail in 2007, why so?
A) The police at that time was rude and they misbehaved with us. Right now they are very cooperative as this case is getting a lot of media attention. Back then, they warned my mother: "Agar zyada kuch kia toh tujhe bhi andar kar denge (If you will try to do something, we will lock you up as well)." Those were the exact words. I was 12 years old then and hearing that really scared me. You can't really do much when you get such a threat.
Q) You father was in prison since 2007, any memories of your father from his time at prison?
A) My dad was mostly away, working with tribals even before 2007. During his time in jail, he would regularly write me letters and would ask me about school and studies. I remember in college I had gone to Nagpur to meet him. I was going through a break-up and my father was giving me relationship advice even then. Despite not being physically present he was always there with me.
Q) How was school as a child, did you face any problems because of your father?
A) I was a pretty low-key student and would be in my own world. I was barely in conflict with anyone and did not attract much attention. No one really knew about me. Moreover, in 2007 my mother had warned the media to not include my name in the reports that were being published at the time since I was a child. But once my personal information got leaked in papers and my teacher spoke to me about it but it didn't cause any problem.
Q) Your father has been critical of the current regime. He was first arrested in 2007 when the BJP was not in power. What do you think could be the reason?
A) My father was helping the tribal community, making them aware of their rights. This doesn't go well with any government.
Q) Do you feel scared that because of your family you would face problems?
A) I think I am proud to be a son of a political prisoner; my father is my hero.
Though once I posted a Facebook article and got some hate messages but that doesn't stop me from anything. We are very optimistic about everything.The truth triumphs over everything.
Get the best of News18 delivered to your inbox - subscribe to News18 Daybreak. Follow News18.com on Twitter, Instagram, Facebook, TikTok and on YouTube, and stay in the know with what's happening in the world around you – in real time.
Subscribe to Moneycontrol Pro and gain access to curated markets data, trading recommendations, equity analysis, investment ideas, insights from market gurus and much more. Get Moneycontrol PRO for 1 year at price of 3 months. Use code FREEDOM.
| Edited by: Ashutosh Tripathi
Read full article