Pune:
In a multi-city crackdown, Maharashtra police on Tuesday raided the home of several prominent Left-wing activists, writers and lawyers and arrested five over alleged Maoist links. The arrests in a probe related to the Bhima-Koregaon violence created a hue and cry among other human rights activists.
The Bhima-Koregaon violence in Pune last year was allegedly triggered by the Elgar Parishad, a conclave that was attended by several Leftist organizations and activists on December 31 last year.
Noted author and Booker Prize winner, Arundhati Roy told New18, "The simultaneous state-wide arrests are a dangerous sign of a government that fears it is losing its mandate and is falling into panic. That lawyers, poets, writers, Dalit rights activists and intellectuals are being arrested on ludicrous charges... while those who make up lynch mobs and threaten and murder people in broad daylight roam free, tells us very clearly where India is headed."
Simultaneous raids targeted the residences of prominent Telugu poet Varavara Rao in Hyderabad, activists Vernon Gonzalves and Arun Farreira in Mumbai, trade union activist Sudha Bharadwaj in Faridabad and civil liberties activist Gautam Navalakha in New Delhi.
Subsequently, Rao, Bharadwaj, Farreira, Gonzalves and Navalakha were arrested under IPC Section 153 (A), which relates to promoting enmity between different groups on grounds of religion, race, place or birth, residence, language and committing acts prejudicial to maintenance of harmony, said the official.
Some other sections of the IPC were also pressed against those arrested, along with Unlawful Activities (Prevention) Act for their "alleged naxal activities," said the police official, without elaborating. The premises of Father Stan Swamy, a tribal leader in Jharkhand, too were searched but he was not detained, the official said.
In New Delhi, soon after Navalakha's arrest, the Delhi High Court ordered police not to take him out of the national capital at least until Wednesday. The High Court was hearing a habeas corpus petition filed on behalf of Navalakha by his advocate Warisha Farasat after he was picked up from his Delhi home this afternoon by the Maharashtra police.
Few hours later, the transit remand of Bharadwaj, too, was stayed for two days.
According to unconfirmed reports, others whose residences were raided are Susan Abraham, Kranthi Tekula and Anand Teltumbde in Goa.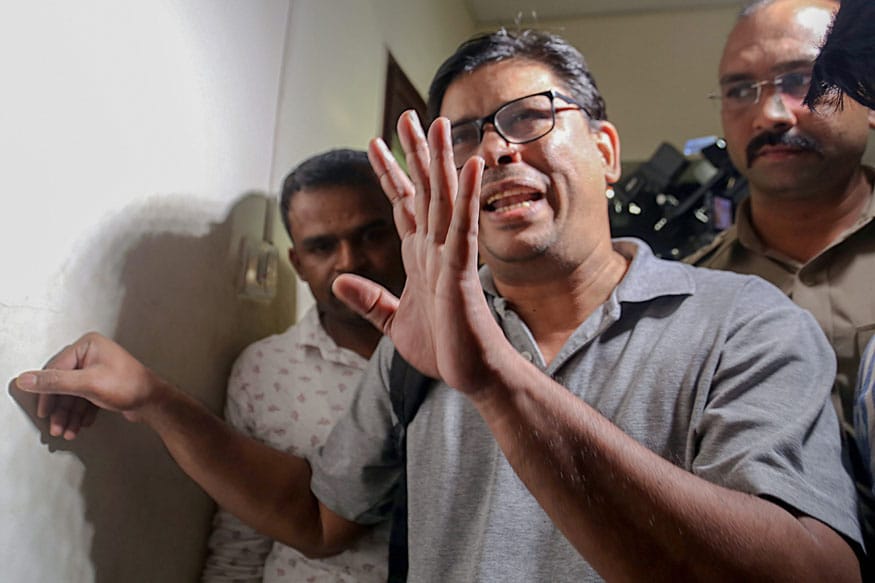 Arun Ferreira, a human rights activist and lawyer, after he was arrested in Mumbai on Tuesday. (PTI Photo)
Koregaon-Bhima occupies a central place in Dalit history -- it witnessed a major battle in which the Peshwa rulers were defeated on January 1, 1818 by the British army, comprising a large number of Dalit soldiers. Every year, the anniversary of the battle is marked by thousands of Dalits assembling in Pune and marching to Koregaon-Bhima to a war memorial.
Police say the speeches made at the conclave on December 31, a day before the 200th anniversary of the battle, were one of the triggers for the violence.
These arrests follow the similar raids and arrests made in June, in which five activists were arrested in connection with the Bhima-Koregaon violence.
"While arresting them, we had seized some documents, and while scrutinising these documents the connection of these five people surfaced," a police official told PTI. "Their exact role in the case is part of the investigation."
Varavara Rao's name had figured in a letter which the Pune police claimed to have seized during searches at the premises of one of the five people arrested in June in connection with the Elgar Parishad. The five were accused of having close Maoist links, according to an FIR registered at the Vishrambaug Police Station after the event.
Rao was arrested from his residence at Gandhi Nagar in Hyderabad by a Pune police team, which earlier searched the residences of his two daughters.
"Pune police sought our assistance. We have provided them with local force to assist in conducting searches and making the arrest. He (Rao) ... will be produced in a court and taken to Pune on transit warrant," Deputy Commissioner of Police (Central Zone) Viswa Prasad told PTI.
In June, Dalit activist Sudhir Dhawale was arrested from his home in Mumbai, while lawyer Surendra Gadling, activist Mahesh Raut and Shoma Sen were picked up from Nagpur and Rona Wilson was arrested from his flat in Munirka in Delhi in simultaneous raids.
"During our investigation in connection with the Elgar Parishad event, some evidence came to light about members of a proscribed organisation, following which the police carried out raids in Chhattisgarh, Mumbai and Hyderabad" today, the police official said.
The searches were conducted at homes of people having Maoist links and those directly or indirectly connected with the five arrested people, the official said.
The police claimed to have recovered "some incriminating documents" during the searches.
"We are also checking the financial transactions of these people, their modes of communication and also trying to gather technical evidence," the police official said.
However, outgoing joint commissioner of Pune police Ravindra Kadam, had said on August 2, that no Maoist links were found in the Koregaon-Bhima violence.
Tuesday's arrests were condemned widely.
"Fascist fangs are now openly bared," tweeted lawyer Prashant Bhushan.
"It is a clear declaration of emergency. They are going after anyone who has spoken against the government on rights issues. They are against any dissent," Bhushan said.
Noted historian Ramachandra Guha called the action "absolutely chilling" and demanded the intervention of the Supreme Court to stop this "persecution and harassment" of independent voices.