GET Stock

Quotes



Punjab: Farmers should be given subsidies in a big way, says CM Badal
"The condition of farmer is pitiable. Every farmer who is doing only farming is under heavy debt. This is not because of any weakness in him but is also due to polices of the government," Punjab Chief Minister Parkash Singh Badal said.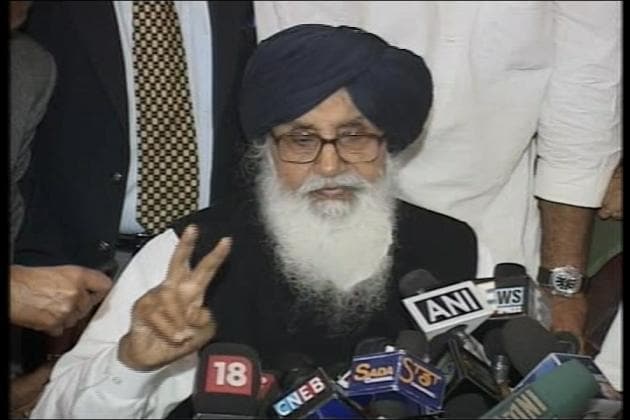 "The condition of farmer is pitiable. Every farmer who is doing only farming is under heavy debt. This is not because of any weakness in him but is also due to polices of the government," Punjab Chief Minister Parkash Singh Badal said.
Chandigarh: Amid facing criticism on giving free power to farmers from several quarters, Punjab Chief Minister Parkash Singh Badal on Wednesday said that the farming sector should be given subsidies "in a big way" for producing sufficient foodgrain to meet country's requirement.
Badal also sought cooperation of all the MPs irrespective of their affiliations with political parties to put pressure on the Centre for bringing change in formula fixed for arriving at minimum support price (MSP) of food grain in order to ensure remunerative prices to farmers.
"The condition of farmer is pitiable. Every farmer who is doing only farming is under heavy debt. This is not because of any weakness in him but is also due to polices of the government," Badal said while addressing the inaugural session of Commonwealth Parliamentary Association (CPA) workshop in Punjab Vidhan Sabha on Wednesday.
Noting that farmers are at the receiving end due to non- remunerative and diminishing returns, Badal said that farmers should be given more subsidies to bail them out of agrarian crisis.
"If you want sufficient food grain for the country then you have to subsidise farmers in a big way," he said while justifying the state government's decision of giving free power to farm sector.
"Framing is a profession and if you want to keep it alive then you have to subsidise it highly," he said, adding, "media and some other people are criticizing us for giving free power."
Referring to his conversation with Bangladesh Speaker Shirin Sharmin Chaudhary who also present on this occasion, Badal said the country like Bangladesh is also giving subsidy on power to its farmers. "What we are doing (giving free power) in Punjab they are doing in Bangladesh. They do not charge anything for tubwell," said Badal. SAD-BJP led state government has been facing sharp criticism from several quarters for doling out free power to the tune of Rs 5,000 crore.
Describing the current formula fixed for determining food grain MSP as "very defective", Punjab CM said that all Member of Parliaments (MP) should pressurize the Centre for bringing change in the formula. "This formula can be changed only by pressure of all MPs," he said, adding that farmers should get assured income for sowing crop.
Badal also mooted a proposal to form a working group of members of Commonwealth nations with a permanent headquarters in the state to create a mechanism for the exchange of ideas, experiences and future strategies. In his address, the Chief Minister said that countries taking part in this conference had almost similar social- economic conditions and were confronted with nearly similar challenges.
He sought cooperation and support from the Lok Sabha Speaker Sumitra Mahajan for establishing a permanent headquarter of CPA in Punjab, the state known for the most advanced agriculture practices on one hand and its enormous contribution in the country's food bowl by making it self reliant in food production on the other.
Pleading for ameliorating the lot of beleaguered peasantry in the entire region, the Chief Minister hoped that the deliberations during this conference would be extremely result oriented paving the way for closer cooperation in agriculture at all levels.
Badal said that he was sure that the discussions in this workshop would surely go a long way in enhancing understanding amongst people of different countries and offering solutions to the vexed agriculture scenario to make it economically viable and self sustainable.
Dwelling on the Indian agriculture scenario, the Chief Minister said that our national economy was predominantly agrarian in nature, with more than 60 per cent of its population still relying on farming but unfortunately the share of agriculture in national income had been constantly falling.
In 1965-66, 65 per cent population depended on agriculture and contributed almost 65 per cent of GDP, however, now nearly 60 per cent population was still dependent on agriculture but its contribution to GDP had drastically dropped to 17 per cent.
In her address, Speaker of Bangladesh and Chairperson of CPA Shirin Sharmin Chaudhary said that agriculture was the lifeline of any nation and its development was of paramount significance. Advocating the cause to help the peasantry in general and the poor farmers in particular, she said all governments both at state and national level should come forward to bail them out from the existing worldwide crisis by extending liberal incentives.
Chaudhary quoted the instance of Bangladesh government as how it was helping the poor farmers through its pro-farmer pragmatic policies. In his address, Punjab Deputy Chief Minister Sukhbir Singh Badal stressed on the role of Parliamentary Agricultural Committees in formulating policies and giving directions to sustain agricultural production besides creating a check on the excess use of pesticides and fertilisers.
The Deputy Chief Minister said that in India governments never considered agricultural as priority area. He said if you look at any budget leased amount was fixed for agricultural research and development. He said that the biggest economic issue being faced by farmers was a price fixation of their crops.
Speaking on the occasion, the Leader of Opposition in Punjab Vidhan Sabha Sunil Jakhar said the allocation for agriculture sector in union budget should be realistically enhanced to empower the farming community across the country by implementing pro-farmer policies in the right earnest.
He said that this workshop could offer a healthy platform to evolve a consensus for guidelines to be uniformly followed by the CPA for determining the quantum of budget keeping in view the ground realities and the challenges faced by the disadvantaged peasantry.
Earlier, in his welcome address Speaker of Punjab Vidhan Sabha Charanjit Singh Atwal said the growth in agricultural sector has a crucial role to play in reducing poverty.
The International Fund for Agricultural Development (IFAD) estimates that seven out of 10 of the world's poor, still live in rural areas. They include small-holders, landless labourers and marginalised groups such as refugees, indigenous peoples and female-headed households.
Their incomes could be boosted by pro-poor measures, such as ensuring fair access to land, water and other assets and inputs, and to services, including education and health, he said. He expressed hope that the discussions during this workshop would go a long way in helping the commonwealth countries for eradicating the poverty.
Also Watch
Read full article