Punneth Rajkumar writes book on his father
Puneeth brings out a book on his father, Dr Rajkumar titled 'The Person Behind the Personality'.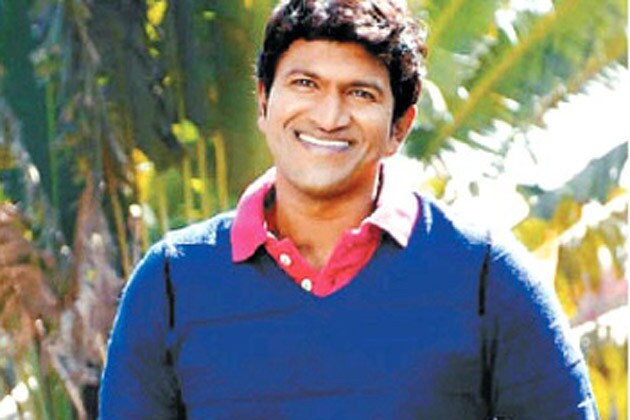 Puneeth brings out a book on his father, Dr Rajkumar titled 'The Person Behind the Personality'.
Singanalluru Puttaswamayya Mutturaju, better known as Dr Rajkumar or Annavaru (elder brother) emoted, laughed, mourned, fought, danced, sang and ruled with the masses not only in reel life, but also in real life. The state had witnessed untold sorrows when Dr Rajkumar was kidnapped by forest brigand Veerappan and then later when he died, leaving behind frenzied masses. The John Wayne of south Indian cinema, he had acted in more than 200 Kannada films in his 50-year career.
With an immensely mass-oriented status, enhanced further by his kidnapping resulting in political turmoil and a state in unrest, getting a complete picture of Annavaru, the actual man and his charisma was a little bit difficult.
However, his youngest son Puneeth Rajkumar took up the challenge to get the person behind the characters played by Annavaru in front of the world. It took eight years for Puneeth to bring out a book on his father, a dream which finally came true when he recently released the book, 'The Person Behind the Personality'. The pictorial biography is a classy coffee table book authored with the help of his friend Prakruthi N Banavasi. The book depicting Annavaru's private life with 70 per cent photographs, portrays a person rather than a superstar.
The book reveals that he lived as Dr Rajkumar on screen and as Mutturaju, a simple man, in real life. Puneeth saw the kind of dedication his father had towards work. Even with the kind of fame he attained with films, fans and people falling at his feet, it never took him off the ground. Fear, jealousy, pride and other human characteristics were always shown on screen, but Appaji never showed them in real life.
Asked about his inspiration to write his father's biography, Puneeth says, "I was inspired by a story that appeared in a Kannada magazine. In fact, the article itself was very comprehensive, almost like a book. That's when I decided to bring out a coffee table book, which could be read by all Kannadigas across India and globally."
The book is a comprehensive introduction to the Kannada film industry with the icon holding a special place. Out of the 6,600 photos which were collected in a span of two to three years, the book was able to incorporate 1,750 photographs.
"I took the help of the entire family to reflect on the life of my father right from his birth till his last days. My mother, Parvathmma Rajkumar, my sisters, Poornima and Lakshmi, my brothers, Shivarajkumar and Raghavendra Rajkumar have revealed some interesting anecdotes and other details which they have not told anybody. It is a train of threads, which has never been pulled out before."
The book that captures the very private moments of Appaji was written in stages. "My wife Ashwini sat with me at every stage of the book. If I was busy, she used to co-ordinate on my behalf," says Puneeth, adding, "I selected the cover page of the book using some personal photographs given by my mother. The title was suggested by my friend, Prakruti Banavasi."
Puneeth also read as many biographies as possible before coming out with the book. "Among them, the biography on Amitabh Bachchan was a major guiding factor. Books written by Sivaji Ganeshan and a biography of Rajnikanth, other biographies of Bollywood and Hollywood celebrities were also taken into consideration," he adds.
Approximately 3,108 films have been churned by the Kannada film industry till date. Annavaru entered the cine world in 1942 and by the time the industry was making its 54th film, he was doing his 11th film. 'Bedara Kannappa' (1952) was the 54th film of Annavaru and the 109th film of the Kannada film industry. Back then, out of the 30 to 40 films made in Kannada, 1 per cent belonged to Rajkumar. Till 1970, he had 38 per cent of share, having acted in 125 films out of the 335 films. From 1985 till 2000, he did not act in many films. The cultural icon of Kannada died in 2006.
Get the best of News18 delivered to your inbox - subscribe to News18 Daybreak. Follow News18.com on Twitter, Instagram, Facebook, Telegram, TikTok and on YouTube, and stay in the know with what's happening in the world around you – in real time.
Read full article