Questions That Lt Ummer Fayaz's Martyrdom Pose to Kashmiri Society
So what is the context which justifies the murder of a 22-year-old Army officer who came for a wedding? And it cannot be justified only because another 22-year-old Kashmiri youth had lost his life in a protest.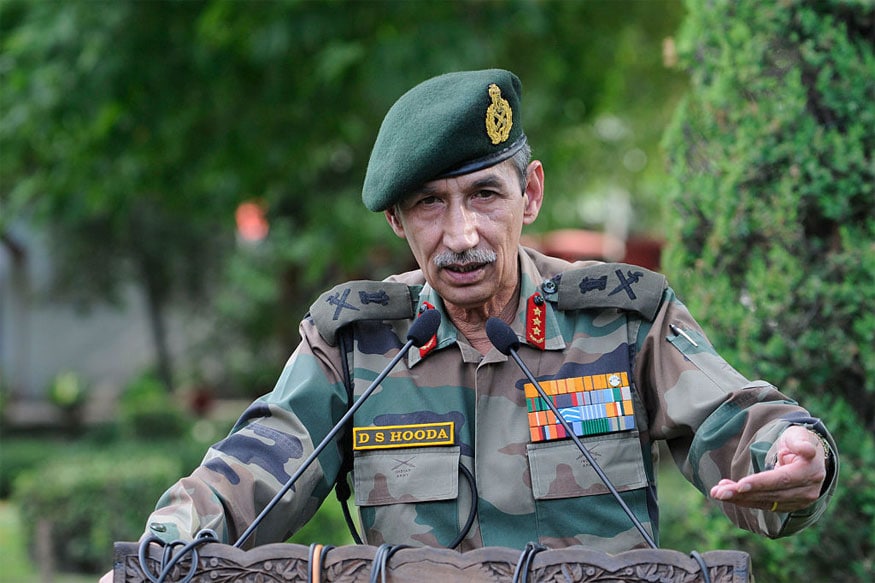 File photo of Lt Gen (Retd) DS Hooda.
Weddings are a time of joy, laughter, songs and dances. One wedding in Kashmir turned into deep mourning when the bullet-ridden body of Lt Ummer Fayaz was found recently. He was pulled out by terrorists from the wedding celebration and gruesomely murdered. The Army lost a brave young soldier, and Kashmir, one more young son. In 1884, in an address for Memorial Day, Oliver Wendell Holmes said, "Year after year lovers wandering under the apple trees and through the clover and deep grass are surprised with sudden tears as they see black veiled figures stealing through the morning to a soldier's grave." These scenes will play out in Sursun.
There are thousands of Kashmiris serving in the armed forces. Hundreds would be on leave at any time. Unarmed and living in their villages, these men are an integral part of the community first, and soldiers later. Targeting them will drive one more nail in the coffin of Kashmiri values, which are already under tremendous pressure.
The Army will react strongly, just as any other family that loses an innocent member to senseless violence. In the coming days, we will probably see an increase in counter-terrorist operations as the security forces fan out in South Kashmir.
Unfortunately — and this is the reality — this conflict will play out in the towns and villages amongst the people. Everyone will end up getting hurt and bruised.
Is there a way out of this morass? There are numerous facets to the current vexed situation and no single approach can provide all the answers. Many things have to come together before resolution occurs. However, one large part of the solution lies in the role of the Kashmiri society. Lake and Rothschild, in their work,
Containing Fear: The Origin and Management of Ethnic Conflict
have argued that a society's collective fears of the future often result in conflicts. These fears are exploited by 'ethnic activists' and 'political entrepreneurs'. Assuming this to be true for Kashmir, it would also be right to say that society structures will have a major role to play in conflict resolution.
We have a clear example south of the Pir Panjal range. Today we look at the Jammu region as largely militancy-free. It was the local Muslim population of the border districts of Poonch and Rajouri who played a major role in driving terrorism out of these areas.
They refused to accept the brand of extremism that was being forced upon them by terrorists from Pakistan. They were not cowed down despite the many killings that took place and played a key part in the return to normalcy.
Kashmir society must introspect about the way forward. It is neither my aim to sermonise nor downplay the causes of the problem. I am only suggesting that the people of the state have an important role to play.
A human rights activist, when commenting on Ummer's death, said that we need to transform the context in which these killings are taking place. So what is the context which justifies the murder of a 22-year-old Army officer who came for a wedding? And it cannot be justified only because another 22-year-old Kashmiri youth had lost his life in a protest. We are then accepting the logic of both killings. Families, friends and the impact on society be damned.
The separatists are making statements about 'being indebted to the martyrs' and pledging 'to take their mission forward with passion'. This predatory attitude will only result in more killings and more blindings.
The most compelling lie is often accompanied by the most logical argument to give it the colour of truth. Has any attempt been made to cool passions, to see how the society will get impacted by more and more blood spilled on its soil?
Who is winning this battle? Clearly the hateful, prejudiced and elitists who don't suffer the direct consequences of this conflict. Fayaz's death is a stark reminder of the brutalization, which has overtaken this fight. The Kashmiris have suffered the most and therefore have the most to invest in resolving the conflict. They must take a united step forward. The Hon'ble Governor was spot on when he urged all local leaders to closely join hands to secure the restoration of peace and normalcy.
The Central government and the civil society in India also have a responsibility. They must help strengthen society structures in Kashmir by allaying their fears and through reassurance and confidence building. It is not easy to divorce ourselves from the daily cacophony of TV channels and the social media war. These are powerful influences but Kashmir is too important an issue to be decided on emotions.
Edmund Burke said, "The only thing necessary for the triumph of evil is for good men to do nothing." The choice for Kashmir's society is clear.
(The author is former Northern Commander, Indian Army, under whose leadership India carried out surgical strikes against Pakistan in 2016. Views are personal.)
| Edited by: Nitya Thirumalai
Read full article
Countdown To
Elections Results
To Assembly Elections 2018 Results