In Germany, Rahul Gandhi Blames Demonetisation, Unemployment for Spate in Lynching Incidents
Demonetisation led to unemployment across the country, which in turn has triggered a sudden spate in mob violence, Rahul Gandhi said on Wednesday, while addressing a gathering in Germany.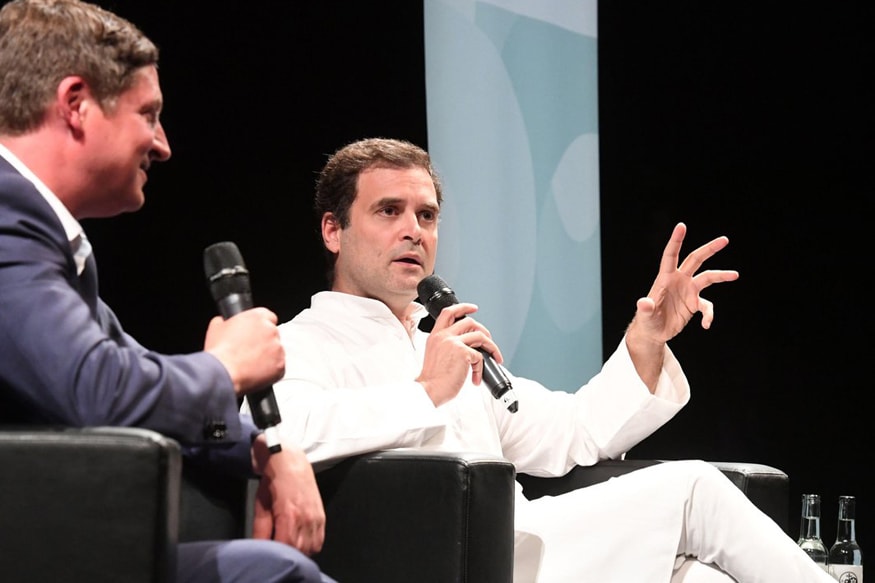 Rahul Gandhi speaks at the Bucerius Summer School. (Image: Congress/Twitter)
New Delhi: Demonetisation led to unemployment across the country, which in turn has triggered a sudden spate in violence, particularly lynching, said Congress President Rahul Gandhi on Wednesday night, while addressing a gathering at Germany's Hamburg.
"Couple of years back, the Prime Minister demonetised the Indian economy and destroyed the cash flow of all MSMEs and millions of people who worked in the informal sector were left unemployed. A large number of people who worked in small businesses were forced back into villages. This is what's making people angry. All the lynchings we hear about are the result of this," Gandhi said while addressing the Bucerius Summer School, his alma mater.
The government, in the meanwhile, continues to grapple with the menace of mob violence and has also formed a committee to decide if the country needs stricter provisions on lynching in particular.
Speaking on his famous hug with Prime Minister Narendra Modi, Gandhi said some of his own party members did not like it when he hugged PM Modi in Parliament.
After a no-holds barred attack on PM Modi and his government, Gandhi walked across the aisle to hug the Prime Minister sitting inside the Parliament. While the gesture surely took PM Modi by surprise, it created quite a flutter across political lines.
Addressing the major issue of unemployment in India, Gandhi said that it is a big problem in India but the prime minister refuses to see it.
"You have to accept the problem to fix it," he said.
Coming to India's competition with China on growth scales, Gandhi said, "There is no race between India and China. China might be growing at a higher rate than India, but in India people are allowed to express what they want, and that's what matters."
Gandhi also talked about his father former Prime Minister Rajiv Gandhi's assailants.
"When I saw the man who killed my father lying dead in a field in Sri Lanka, I did not like it, I saw his crying children in him," he said.
Liberation Tigers of Tamil Eelam (LTTE) Velupillai Prabhakaran, responsible for the killing of Rajiv Gandhi, was shot dead by Sri Lankan troops in 2009.
Get the best of News18 delivered to your inbox - subscribe to News18 Daybreak. Follow News18.com on Twitter, Instagram, Facebook, Telegram, TikTok and on YouTube, and stay in the know with what's happening in the world around you – in real time.
| Edited by: Sanchari Chatterjee
Read full article