GET Stock

Quotes


Rahul Gandhi Visits Jayalalithaa in Hospital, Says She is Recovering
Congress vice-president Rahul Gandhi paid a visit to the Apollo Hospital in Chennai on Friday where Tamil Nadu chief minister J Jayalalithaa has been admitted for over two weeks now.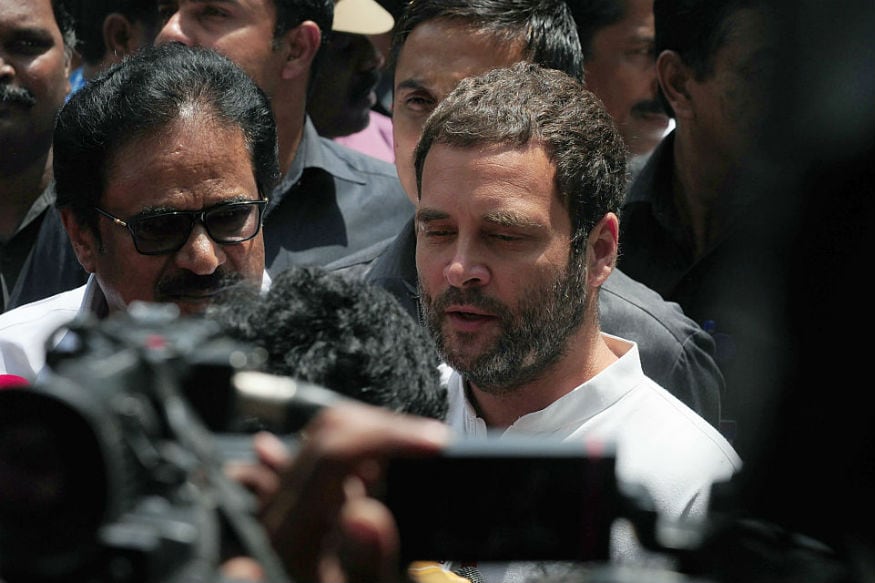 Congress Vice President Rahul Gandhi addresses the media after visiting Tamil Nadu Chief Minister J Jayalalithaa at a hospital in Chennai on Friday. (PHOTO: GETTY IMAGES)
New Delhi/Chennai: Congress vice-president Rahul Gandhi paid a visit to the Apollo Hospital in Chennai on Friday where Tamil Nadu chief minister J Jayalalithaa has been admitted for over two weeks now.
Rahul told media that he came to extend his support to Jayalalithaa. "She is recovering. I wish her maximum energy, so she would be able to get well soon," he said.
The visit, however, set tongues wagging since Jayalalithaa and her AIADMK has been political adversaries of Congress. After Congress went to polls with the DMK in 2004, the AIADMK and the Congress have never been on the same side on any issue.
Angered by the Congress-DMK alliance, Jayalalithaa started moving closer to the BJP and has always maintained good personal equations with Prime Minister Narendra Modi.
"It is a courtesy call. But since AIADMK and DMK have been behaving more like enemies with regard to one another, one can attribute some political significance," political Analysts RK Radhakrishnan told News18.
DMK, too, toed the line that there was nothing wrong in one political leader calling on another who is ailing. Party spokesperson Manu Sundaram said it would not be fair to attribute political motives to Rahul Gandhi's visit. "I am sure politicians across party lines wish her well. Even leaders from People Welfare Front have visited the hospital. Does that mean everyone visiting the hospital has a political motive?" he asked.
Jayalalithaa and Congress president Sonia Gandhi came together for the last time in 1999 when Dr Subramanian Swamy had arranged a famous tea party which helped topple AB Vajpayee-led NDA government. They fought the 2001 Assembly polls together, but that relationship did not lost long. The Congress is officially with the DMK, though the ties have soured.
The visit of Rahul Gandhi has set the rumour mills abuzz in Chennai. Some feel that he is trying to woo AIADMK by calling on its supremo in the hospital. But TN Congress leaders dismiss such theories as absurd.
Rahul Gandhi's father the late Prime Minister Rajiv Gandhi had a cordial relationship with Jayalalithaa.
In her recently released biography, senior Congress leader Margarate Alva writes that, as an MP, J Jayalalithaa was sending all secret communications to the then PM through her.
At that time Alva was a Union minister and was a member of Rajiv Gandhi's inner circle. They together swept the 1991 TN Assembly and Lok Sabha elections. After the assassination of Rajiv Gandhi in Sriperumbudoor, Tamil Nadu, Jayalalithaa had saved PV Narasimha Rao's minority government between 1991 and 1996.
Jayalalithaa was admitted to Apollo Hospitals on September 22 on complaints of "fever and dehydration". It's been over 14 days since she has been hospitalised. The latest medical bulletin by Apollo said she will have to stay longer in the hospital. The release said a team of experts from All India Institute of Medical Sciences examined the CM and concurred with the present line of treatment.
A UK specialist Dr. Richard John Beale had visited Jayalalithaa on September 30 and again on Friday. The chief minister is being treated with antibiotics, respiratory support and other clinical measures, said the hospital. The line of treatment also includes nebulisation, drugs to decongest the lungs, and supportive therapy. The release also talked of a history of diabetes and winter bronchitis in inclement weather afflicting the chief minister.
Also Watch
Read full article