New Delhi:
In an unprecedented move, all passenger train operations, Metro rail services and inter-state bus travel has been suspended across India till March 31 to contain the spread of the deadly coronavirus, which has claimed six lives in the country.
As many as 80 districts across the country where Covid-19 cases were confirmed will also be placed under lockdown. The lockdown will extend essentially to the entirety of urban India as all major cities like Delhi, Mumbai, Bengaluru, Chennai, Hyderabad and Kolkata will be covered. Here's the
full list
of the districts.
Suburban train services will also remain suspended till March 31 midnight. The railways had already trimmed down its services on Friday by cancelling a majority of trains. However, it had allowed all trains that had already started the journey to continue.
"No train except goods trains will run till 2400 hrs of March 31. However, a bare minimum of suburban services and the Kolkata Metro Rail service will continue to run till 2400 hours of March 22. Thereafter, these services will also be stopped till 2400 hours of March 31," a spokesperson of the Indian Railways said.
The national transporter said in continuation of the measures taken in view of the coronavirus outbreak, it was decided that all passenger train services, including premium trains, mail and express trains, passenger trains, suburban trains, Kolkata Metro Rail, Konkan Railway, will be cancelled till the midnight of March 31.
The trains that had already commenced their journey prior to 4 am on March 22 will run up to their respective destinations, the railways said, adding that adequate arrangements would be made for the passengers during the travel and at their destinations.
"To ensure the essential supplies in various parts of the country, movement of goods trains will continue," the railway ministry said in a statement.
It added that passengers could claim a full refund for all trains cancelled in this period till June 21.
The decision to put the districts under lockdown were taken at a high-level meeting attended by chief secretaries of all states, the cabinet secretary and the principal secretary to the prime minister.
"In view of the need to contain the spread of COVID 19, it was agreed that there is urgent need to extend the restrictions on the movement of non-essential passenger transport," a home ministry official said.
State governments will issue orders allowing only essential services to operate in about 80 districts with confirmed COVID 19 cases or casualties, the official added.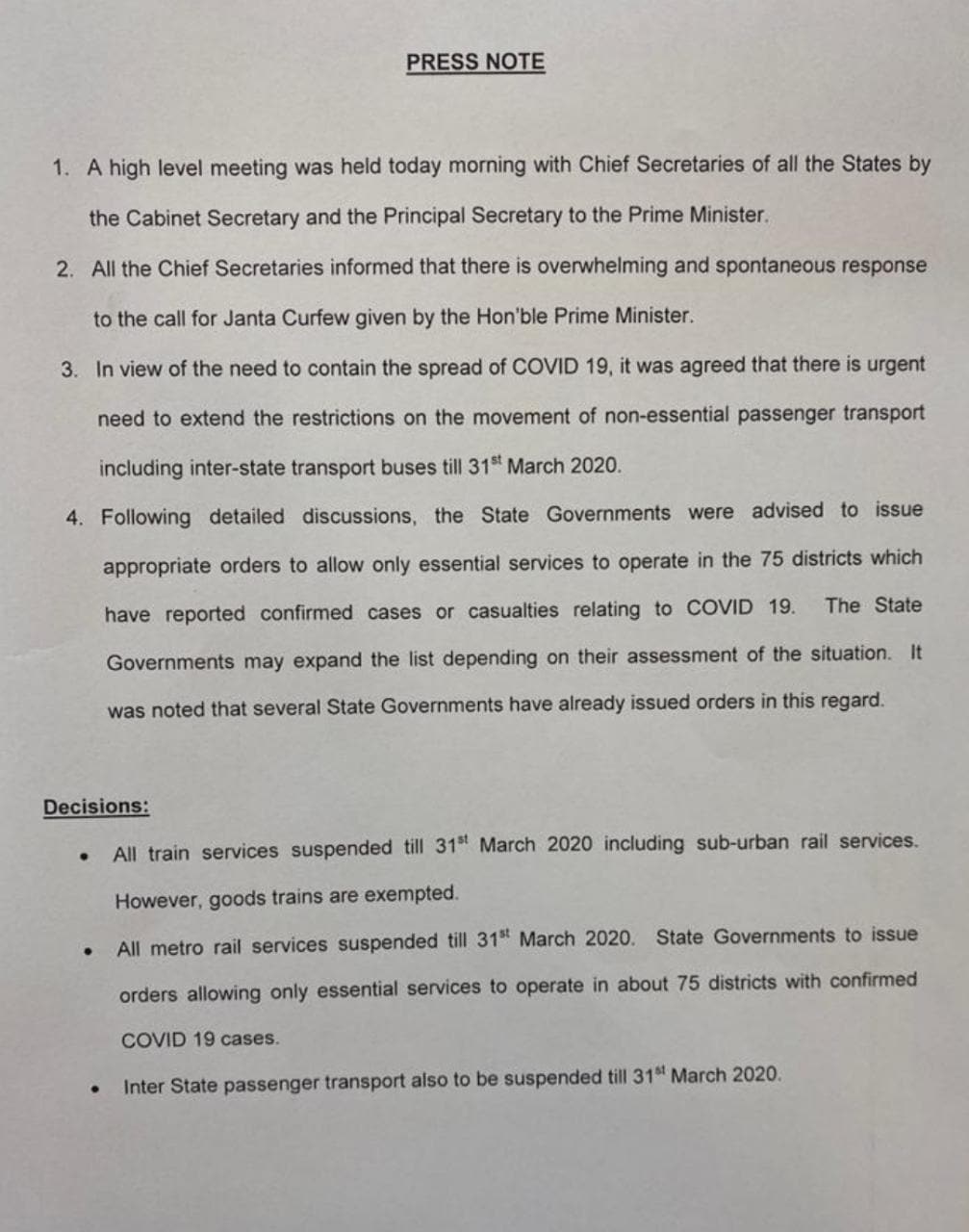 India reported two more coronavirus deaths on Sunday, taking the death toll to six. Bihar reported its first death due to COVID-19, as a 38-year-old man with travel history to Qatar died at the AIIMS in Patna. In Maharashtra, a 63-year-old coronavirus patient died in Mumbai, taking the death toll in the state to two.