Rains Bring Mumbai to its Knees; Schools, Colleges Closed on Wednesday as Well
According to the Indian Meteorological Department (IMD), Mumbai recorded 102 mm of rainfall and the suburbs of the city saw a staggering 316 mm rainfall between 8.30 am and 8.30 pm on Tuesday.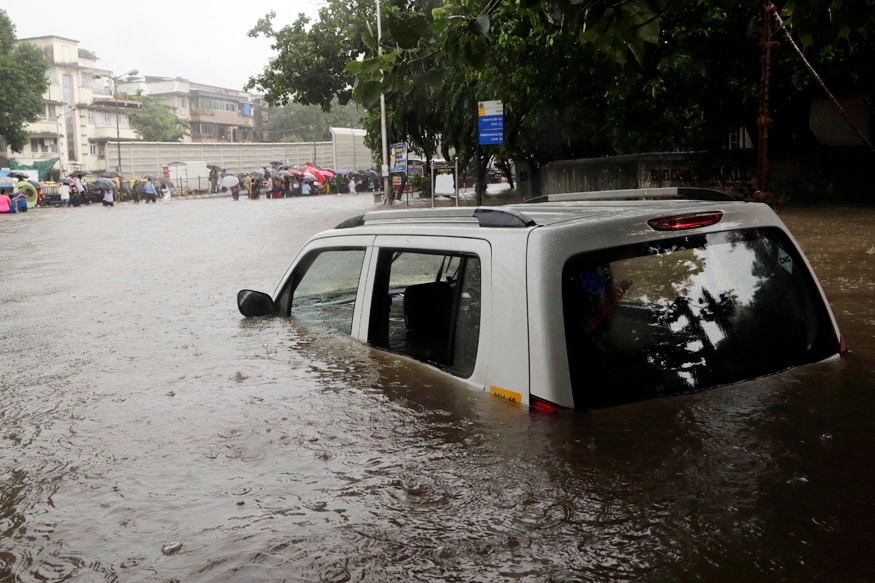 A car seen seen submerged in a flooded street following heavy rains in Mumbai on Tuesday, August 29, 2017. (AP Photo/Rajanish Kakade)
New Delhi: Normal life in Mumbai was thrown out of gear following torrential rains which are likely to continue on Wednesday, according to forecast.
According to the Indian Meteorological Department (IMD), Mumbai recorded 102 mm of rainfall and the suburbs of the city saw a staggering 316 mm rainfall between 8.30 am and 8.30 pm on Tuesday, IANS reported.
The IMD has also forecast heavy to very heavy rains for Mumbai and entire Konkan region during the next 24 hours.
As a precaution, schools and colleges have been closed with the Maharashtra government asking all non-essential government staff to stay at home if the rain persists.
However, stock markets in the country's financial capital will remain open on Wednesday, leading exchanges BSE and NSE said. Officials at both BSE and NSE told PTI several of their employees were still at office as they could not go home because of heavy rains.
Rain and strong winds battered Mumbai disrupting rail, road and air services, uprooting trees, swamping homes, and bringing the megapolis and satellite towns to their knees. However, no casualties have been recorded so far.
The lifelines of Mumbai -- local train and bus services -- were paralysed by the rain.
Apart from that, several trains to and from the city were either rescheduled or cancelled. The heavy rainfall also severely affected operations in Mumbai airport.
Expressing concern about the situation in Mumbai, Prime Minister Narendra Modi urged the people of the state to "stay safe" and take all essential precautions after taking stock of the situation from Chief Minister Devendra Fadnavis. Union Home Minister Rajnath Singh also took stock of the situation.
Meanwhile, the Navy has also stepped in to help relief work in Mumbai and have made arrangements to provide shelter to Mumbaikars stranded after heavy rains.
Apart from Mumbai, Thane, Palghar, Raigad and other parts of Maharashtra were hit by heavy rains. Around 6:30 am, rains triggered a landslide in Thane district, causing the derailment of 10 coaches of the Nagpur-Mumbai Duronto Express. However, there were no casualties.
The Brihanmumbai Municipal Corporation (BMC) told IANS that in one hour, Mumbai recorded a staggering 70 mm rainfall, while it touched 100 mm between 8:30 am and 1 pm. Till 3 pm, the BMC said Mumbai received 106 mm rainfall in about six hours, while the eastern suburbs got 78.5 mm and the western suburbs notched 85 mm during the same period.
The suburban train network was massively hit with disruption in services as the tracks were flooded in several areas. The Central Railway mainline was completely suspended for over four hours, Harbour Line was completely down, the Western Railway worked slowly and erratically, while there were disruptions on the Konkan Railway, IANS reported.
Lakhs of commuters, including students, were stranded in trains, railway stations or at bus stops. Many failed to reach their destinations and were compelled to return to their homes walking large distances, often waterlogged, in the city.
Waterlogging was reported from Dahisar, Borivali, Kandivali, Malad, Andheri, Jogeshwari, Vile Parle, Santacruz, Bandra, Matunga, Dadar, Elphinstone, Mumbai Central, Mazagaon, Lalbaug, Parel, Sion, Wadala, Kurla, Bhandup and other areas.​
(With agency inputs)
Get the best of News18 delivered to your inbox - subscribe to News18 Daybreak. Follow News18.com on Twitter, Instagram, Facebook, Telegram, TikTok and on YouTube, and stay in the know with what's happening in the world around you – in real time.
| Edited by: Ashish Yechury
Read full article