Rajat Gupta a good man: Judge before sentencing
Judge Jed Rakoff sentenced Rajat Gupta to two years in prison and ordered him to pay a fine of $5 million.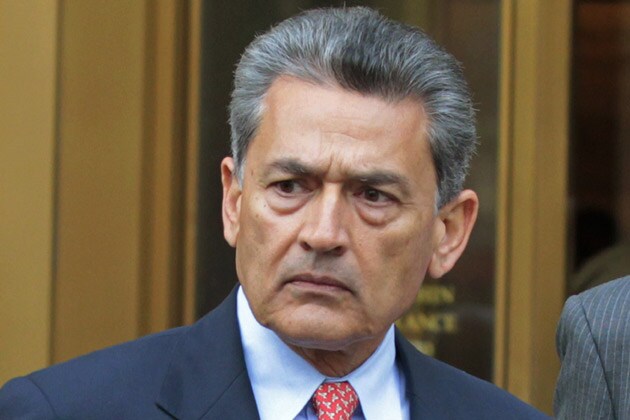 Judge Jed Rakoff sentenced Rajat Gupta to two years in prison and ordered him to pay a fine of $5 million.
New York: US District Court Judge Jed Rakoff, who sentenced Rajat Gupta, the former Goldman Sachs and Procter & Gamble Co. board member once widely respected worldwide for his business smarts, to two years in prison and also ordered him to pay a $5 million fine, on multiple occasions gave Gupta credit for his life of philanthropic works. He said at the heart of Gupta's offences is his "egregious breach of trust." "He is a good man," Rakoff said.
"But the history of this country and the history of the world is full of examples of good men who did bad things." Rakoff said the evidence that Gupta passed illegal information about Goldman Sachs to now-jailed hedge fund founder Raj Rajaratnam was "not only overwhelming, it was disgusting in its implications... It was a terrible breach of trust."
Rakoff said the urgency and manner in which Gupta shared information about Warren Buffet's five billion dollar investment in Goldman Sachs with Rajaratnam "was the functional equivalent of stabbing Goldman in the back." "In the eye of the law, Gupta's crime was to breach his fiduciary duty of confidentiality to Goldman Sachs; or to put it another way, Goldman Sachs, not the marketplace, was the victim of Gupta s crimes as charged," the judge said.
Rakoff said he does not dispute Gupta's innumerable charitable works and his intentions to help out others selflessly but his personal history and characteristics "starkly contrast" with the nature and circumstances of his crimes.
Gupta's two year sentence is a lot less than the 8-10 years that the prosecutors had sought for him. It is also less than Rajaratnam's prison term of 11 years and the USD 92.8 million fine the Sri Lankan had been ordered to pay. Judge Rakoff is known to deviate from federal sentencing guidelines in handing down punishment.
Gupta was ordered to report to prison on January 8. Reading from a statement, Gupta said: "The last 18 months have been the most challenging period of my life since I lost my parents as a teenager. "I regret terribly the impact of this matter on my family, my friends and the institutions that are dear to me. I've lost my reputation I built for a lifetime. The verdict was devastating."
The Judge said the tips that Gupta passed on to Rajartanam in September and October 2008 on Buffet's five billion investment in Goldman Sachs and the global financial giant's quarterly losses resulted in an illegal "gain" of over five million dollars to Rajaratnam's hedge fund galleon.
"In the court's view, the evidence at trial established, to a virtual certainty, that Gupta, well knowing his fiduciary responsibilities to Goldman Sachs, brazenly disclosed material non-public information to Rajaratnam at the very time when our financial institutions were in immense distress and most in need of stability, repose, and trust."
Rakoff said, "All the evidence before the court - not just the letters written on Gupta's behalf but also the objective facts of record - establish beyond cavil that Gupta has selflessly devoted a huge amount of time and effort to a very wide variety of socially beneficial activities.
"Such activities are but illustrations of Gupta's big heart and helping hand, which he extended without fanfare or self-promotion, to all with whom he came in contact," Rakoff said.
He said the court can say without exaggeration that it has never encountered a defendant whose prior history suggests such an extraordinary devotion, "not only to humanity writ large, but also to individual human beings in their times of need."
The judge said he does not agree with a general perception that the nearly 400 letters of support, including from Microsoft co-founder Bill Gates and former UN Chief Kofi Annan, for former McKinsey head "are simply the strategem of a rich, well-connected defendant."
"This is simply not the case, for the facts recited in most of the letters are well documented and, indeed, undisputed by the government."
Rakoff said one can only speculate as to why Gupta, who once sat on the boards of Procter & Gamble and American Airlines and was an advisor to the UN as well as the Bill and Melinda Gates Foundation, ended up committing the crime of insider trading.
"Having finished his spectacular career at McKinsey in 2007, Gupta, for all his charitable endeavours, may have felt frustrated in not finding new business worlds to conquer; and Rajaratnam, a clever cultivator of persons with information, repeatedly held out prospects of exciting new international business opportunities that Rajaratnam would help fund but that Gupta would lead
"There is also... an implicit suggestion that, after so many years of assuming the role of father to all, Gupta may have longed to escape the straightjacket of overwhelming responsibility, and had begun to loosen his self-restraint in ways that clouded his judgement," Rakoff said.
"But whatever was operating in the recesses of his brain, there is no doubt that Gupta, though not immediately profiting from tipping Rajaratnam, viewed it as an avenue to future benefits, opportunities, and even excitement. Thus, by any measure, Gupta's criminal acts represented the very antithesis of the values he had previously embodied."
Gupta's lawyer Gary Naftalis told the court that his client should be spared jail time as his loss of reputation due to the insider trading case was punishment enough.
"The fall from grace that Gupta has suffered as a result of the case is as steep as I have ever seen. This is a fall from grace of Greek tragedy proportions. This was a man who was an iconic figure, a role model for countless people around the world. He is no more," Naftalis said.
Rakoff said Gupta is unlikely to repeat his "transgressions" after having suffered such a blow to his reputation.
"General deterrence, however, suggests a different conclusion. Others similarly situated to the defendant must therefore be made to understand that when you get caught, you will go to jail."
Get the best of News18 delivered to your inbox - subscribe to News18 Daybreak. Follow News18.com on Twitter, Instagram, Facebook, Telegram, TikTok and on YouTube, and stay in the know with what's happening in the world around you – in real time.
Read full article