Rajnath Terms Death of 7 Civilians in J&K 'Very Unfortunate', Announces 5 Lakh Compensation for Kin of Deceased
The Home Minister reviewed the security situation in Jammu and Kashmir and said the cooperation of people will help end terrorism in the State.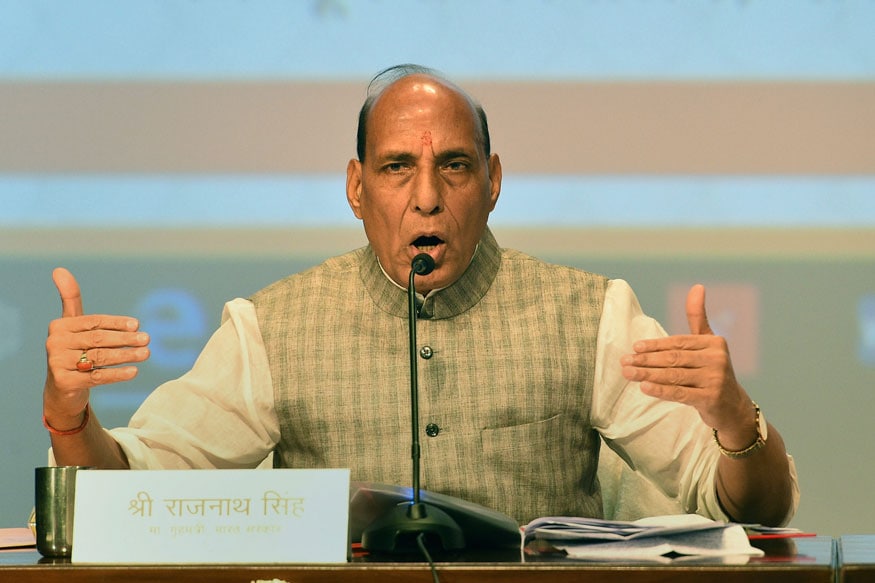 File photo of Union Home minister Rajnath Singh.
Srinagar: Union Home Minister Rajnath Singh on Tuesday termed as "very unfortunate" the death of seven civilians in a blast after an encounter had ended in Kulgam district of Jammu and Kashmir and appealed to people not to venture such places where security operations were on.
The minister also announced an ex-gratia of Rs 5 lakh for next of kin of the deceased. "There has been an incident in Kulgam. I have been informed that some civilians have been killed in it. It is very unfortunate. I have been told that the operation had concluded and the security forces had left but some people went there and an explosion took place due to some reason. We are pained at the loss of lives," Singh told reporters.
Singh said he wanted to convey his heartfelt condolences to the bereaved families. "The price of a life cannot be set in monetary terms but still I announce an ex-gratia relief of Rs five lakh for each affected family," he said.
The Home Minister, who reviewed the security situation in the state, said that with the cooperation of people, terrorism in Jammu and Kashmir will end and the state will join the queue of developed states of India. "If there is an operation by security forces, I appeal the people that they should not try to go there. The security forces do take precautions and we have repeatedly directed them to do it," he said.
Seven civilians were killed Sunday in a blast at an encounter site in Laroo village in Kulgam district, after a gunfight between militants and security forces in which three ultras were eliminated had ended.
Singh said during the discussions with officials and various delegations, the issue of constructing a good road for border residents in Keran, Tangdhar, Kargil, Drass, Machil and Gurez was raised.
"I have directed the Road Transport Ministry to prepare a detailed project report for it. This road will be constructed," he said.
Read full article