Ram Janmabhoomi-Babri Masjid Dispute: Past Attempts to Resolve Issue
Tuesday's observation by the Supreme Court to resolve the dispute around the site of Babri Masjid in Ayodhya has reignited the debate.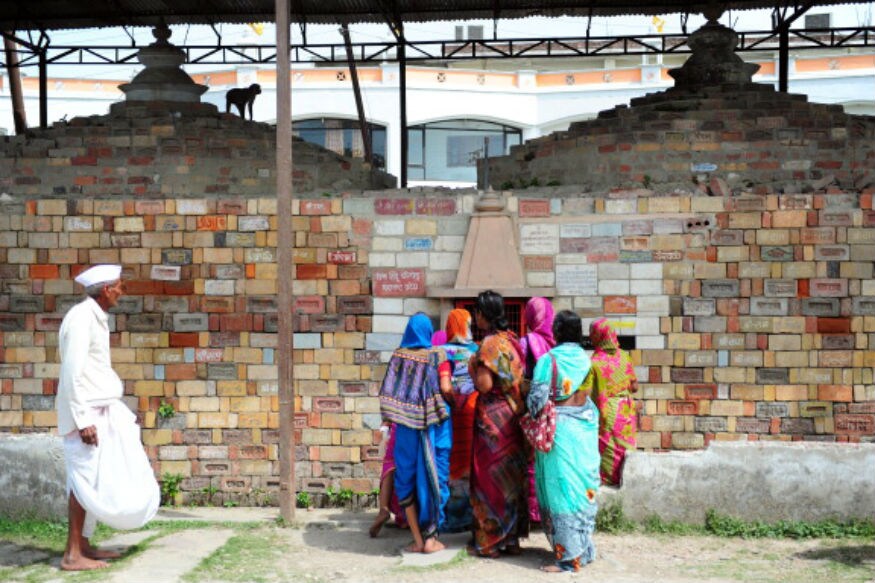 Indian Hindu devotees stand at a wall of bricks bearing the name of 'Shri Ram' at the Karsevak Puram workshop in Ayodhya. (Photo credit: Sanjay Kanojia/AFP/Getty Images)
New Delhi: Tuesday's observation by the Supreme Court to resolve the dispute around the site of Babri Masjid in Ayodhya has reignited the debate.
The dispute itself, however, is decades old and the court asking the parties involved in the case to resolve their differences out of court is just the latest in a series of attempts.
Here is a list of past attempts to resolve the issue:
Dec 1990: PM Chandra Shekhar's attempt
- PM Chandra Shekhar made a breakthrough by bringing both VHP and all India Babri Masjid action committee to the negotiating table.
- Representatives of the two organisations met and presented the "evidence" of their sides to the Union government. However the negotiation soon fell apart.
June- July 2003: Efforts by Kanchi Shankaracharya
- Vajpayee govt. openly backed efforts by Kanchi Shankaracharya Jayendra Saraswati's efforts to negotiate settlement on the issue with AIMPLB.
- However, AIMPLB rejected Shankaracharya's proposals questioning Govt's sincerity over the issue. VHP too protested over parleys between the Sankaracharya and AIMPLB.
Dec 2003: Another track II attempt by the BJP
- The Ayodhya Jama Masjid Trust (AJMT)—a MHA-backed body—came with formula said to be the brain child of Kartik Chopra, an AJMT trustee.
- The AJMT formula had 3 basic points: 1. Muslims should give up their claim on the disputed plot. 2. They'll be allotted land close to the house of the original claimant, Hashim Ansari. 3. After the land is allotted, the govt would allocate RS 400 crore to build a mosque on the new site.
April 2011: Temple-Mosque at Ayodhya site
- Mahant Gyan Das (Mahant of the Hanumangarhi Temple) and late Hashim Ansari (oldest litigant) indulged in track-II negotiation post 2010 Allahabad High Court verdict.
- The formula has provision for both a temple and a mosque on the disputed 70-acre land. But, the two structures would be separated by a 100-foot wall.
August 2010-13: Locals floats its own solution: Mandir at idol site, Masjid 400m away
- Justice Palok Basu, a retired judge of the Allahabad High Court, spearheaded "local" effort by residents of Ayodhya and Faizabad to resolve the dispute.
- It proposed a Ram Temple at the disputed site and a mosque 400 m away, but within the 67 acres of land acquired by the government.
Get the best of News18 delivered to your inbox - subscribe to News18 Daybreak. Follow News18.com on Twitter, Instagram, Facebook, Telegram, TikTok and on YouTube, and stay in the know with what's happening in the world around you – in real time.
| Edited by: Ananya Chakraborty
Read full article