New Delhi:
Ram Vanji Sutar, a Padma Bhushan and Padma Shri recipient, known for creating 50 monumental sculptures, has one more feather in his hat — the Statue of Unity. He is said to have taken special care to ensure that the statue's face resembles Patel's facial features by going through 2,000 photographs of the leader.
Ninety-four-year-old Sutur's lengthy career, which commenced in the 50s, began to flourish after his Chambal Symbolic monument at the Gandhi Sagar Dam in the last years of decade of the 50s.
According to a report in the
Ahmedabad Mirror
, impressed by the beauty of the architecture, the then-Prime Minister late Jawaharlal Nehru commissioned him to create a 50-ft bronze monument to mark the craftsmanship of workers who constructed the Bhakra Dam. The Triumph of Labour statue, which was installed on Republic Day 1959, still remains a focal point on May Day celebrations.
Over the last eight decades, his list of artistic and architectural contributions to the nation, have become longer than the springs he has seen. However, among all his admirable works of art, the latest in line and soon to be unveiled statue of Sardar Patel is an iconic site.
"I made the first statue of Mahatma Gandhi in 1948 which was installed in a government school in Dhulia, Maharashtra, which is also my birthplace. It is 4ft tall and made of cement. Since, then, I have made over 350 statues of Mahatma Gandhi, which include a bust model, a meditation model, a walking model and one where Gandhi is walking with two children,"
Times of India
quoted the sculptor as saying.
Sutar's workshop stands out amidst the factories and industries in Noida's industrial sector with with tall and humongous statues peeking out. Sutar has been one of the favourite sculptors for governments across generations,
TOI
report stated.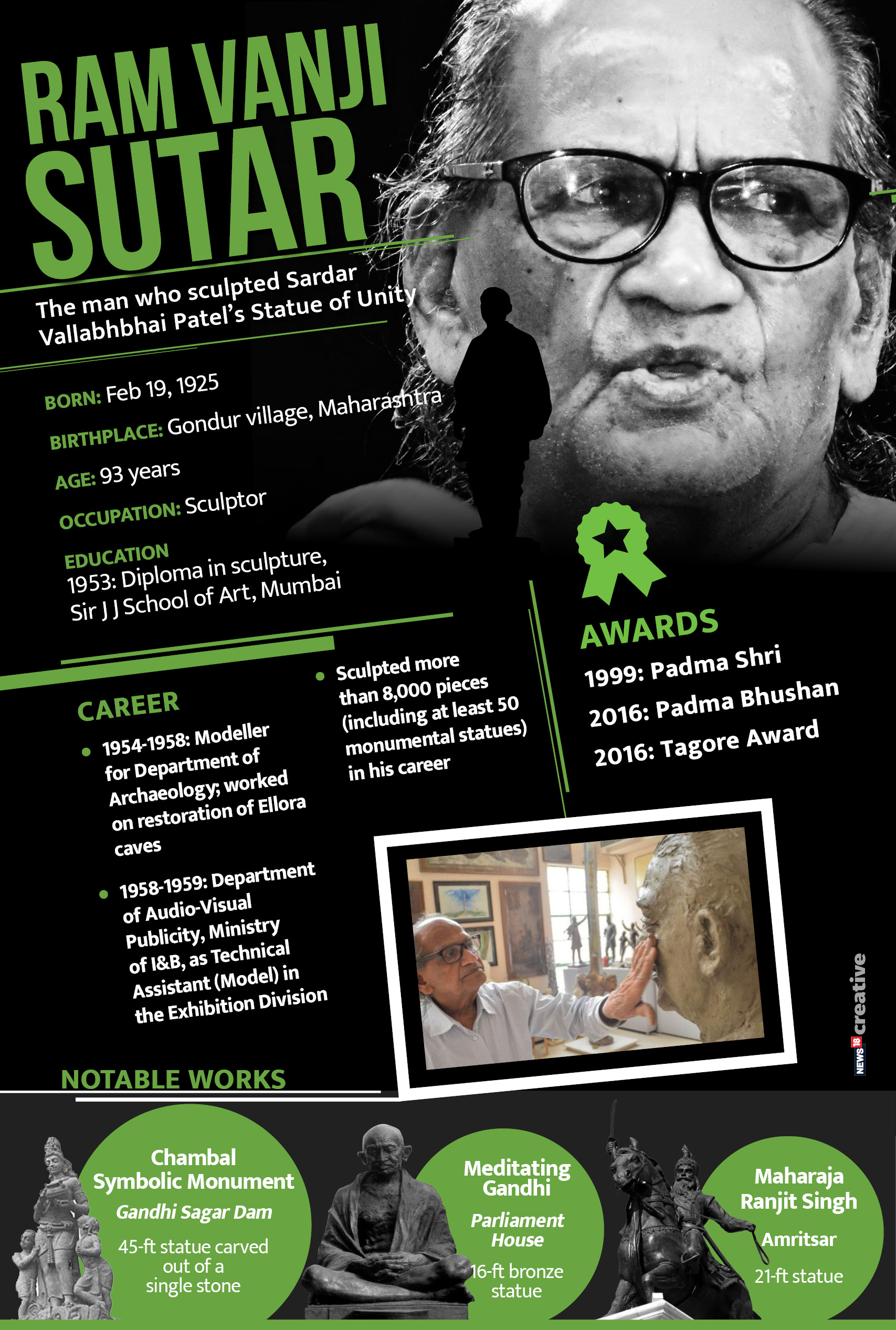 He has been making sculptures ever since the country got independence and has been instrumental in giving landmarks at prominent places. "Governments come and go but their love for statues remains. I can't even recall how many governments I have worked for to provide the sculptures of their leaders. But I do remember the story behind each sculpture I have made and why they are unique in their own way," said Sutar, a resident of Sector 19.
A
Hindustan Times
report stated that teams comprising historians, artists and academicians studied various Sardar Patel statues across India before they zeroed in on a design proposed by Noida-based sculptor. Interestingly, of the 2,000 tonnes of bronze sheet used to cover the statue, 135 tonnes of iron was donated by farmers to support the project.
Besides galleries with light and sound shows and a museum on the life and times of Sardar Patel, the project also incorporates has a 52-room, 3-star hotel, and auditorium.
The engineering marvel that is said to become world's tallest statue at a height of 182 metres will be unveiled by Prime Minister Narendra Modi in a few minutes from now in Gujarat's Sadhu Bet, a hillock between the Vidhyanchal and Saputara ranges.